Spoils shared on final day of weightlifting
Tonga won their first medal in weightlifting at the Samoa 2019 XVI Pacific Games on Saturday in the final day of competition at Gym 1 Faleata.
First up was a fierce battle between Papua New Guineas Steven Kari and Israel Sutino Kaikilekofe from Wallis and Futuna in the men's 96kg group A.
Kaikilekofe went on to win gold for the snatch category with a lift of 161 kg while Kari grabbed gold for the clean and jerk category.
Spectators went wild watching such an amazing close encounter that saw both athletes differ by just 1kg at the overall category.
Final results saw Kari win gold with a total weight of 354kg, while Kaikilekofe claimed sliver with 353 kg.
The Bronze medal went to Samoan Maeu Livi. Kari also claimed gold for the Oceania (seniors) and Commonwealth (seniors) while Kaikilekofe set a new Oceania Junior record with his total lift of 353kg.
David Katoatau from Kiribati injured himself in the men's 102 kg when he attempted and failed to lift a new record of 201kg in the clean and jerk category, yet still managed to secure gold in the overall due to his previous lift of 196kg.
Men's 102 kg group A overall results: Katoatau won gold with 338kg. Petelo Lautusi from Samoa won Silver with 310kg. No bronze medal was awarded as Samoan weightlifter Petunu Opeloge failed to complete a lift.

The third event of the day was the mens 109kg group A.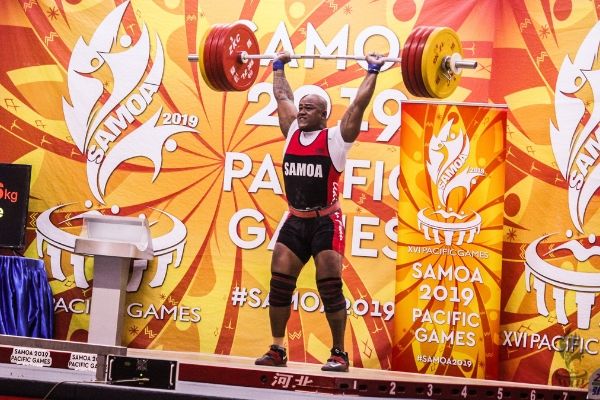 Sanele Mao, current Commonwealth senior record holder and gold medallist at the 2018 Commonwealth Games on the Gold Coast, represented Samoa and made the home crowd go wild by winning gold. He also set 4 new records including breaking his own current Commonwealth record.
Mao lifted strongly to break the Oceania and Commonwealth Senior clean and jerk record of 206kg and the Oceania and Common Wealth Senior Overall record of 366kg
Men's 109kg group A overall results: Mao won gold with 366kg. Jungblut Tanumafili from American Samoa won silver with 336kg and Australian Jackson Robert-Young bagged the bronze with 333kg.
Laurel Hubbard from New Zealand took gold with a total lift of 268kg and became the new Senior's Oceania and Commonwealth Champion in the fourth medal event , the women's 87kg group A.
Women's 87kg group A overall results: Hubbard won gold with 268 kg. Samoans Feagaiga Stowers and Iuniana Sipaia took home silver and bronze respectively with 261 kg and 255 kg lifts.
The last medal event saw underdogs Aisake Tuitupou from Tonga win gold and Malachi Faamau claimed silver in the overall category. This is the first Pacific Games gold medal for Tonga in the weight lifting games.
Lui Lauititi from Samoa claimed gold in the snatch category with a lift of 178kg only to fail at completing a single clean and jerk lift.
Likewise New Zealand's David Andrew Liti who managed to grab sliver in the Snatch category with 177kg failed to complete a single lift in the clean and jerk category.
This gave the opportunity for Tuitupou to win gold with a total of 330kg and Samoan Faamausilifala win silver with 281kg since Lauititi and Liti had no totals.