PNG Tere-Apisah beats niece in tennis women's final
Papua New Guinea's Abigail Tere-Apisah made the most of her insider's knowledge of her niece's game to clinch a provisional gold in women's singles final at Samoa 2019 XVI Pacific Games, leaving Violet Apisah with the silver medal as compensation.
Tere-Apisah, who played with a very low error rate at the Apia Park tennis courts, said: "I think I was striking the ball well but she made it easier for me.... I like fast pace and she gave me that."
Somewhat subdued about her gold medal, won 6-2, 6-0, she commented: "It was tough playing a team mate but I'm at a stage of my career I don't care who I'm playing against. On the court, I'm there to compete.
"My goal this week was to defend all four of my titles. My game has been improving day by day."
Read more: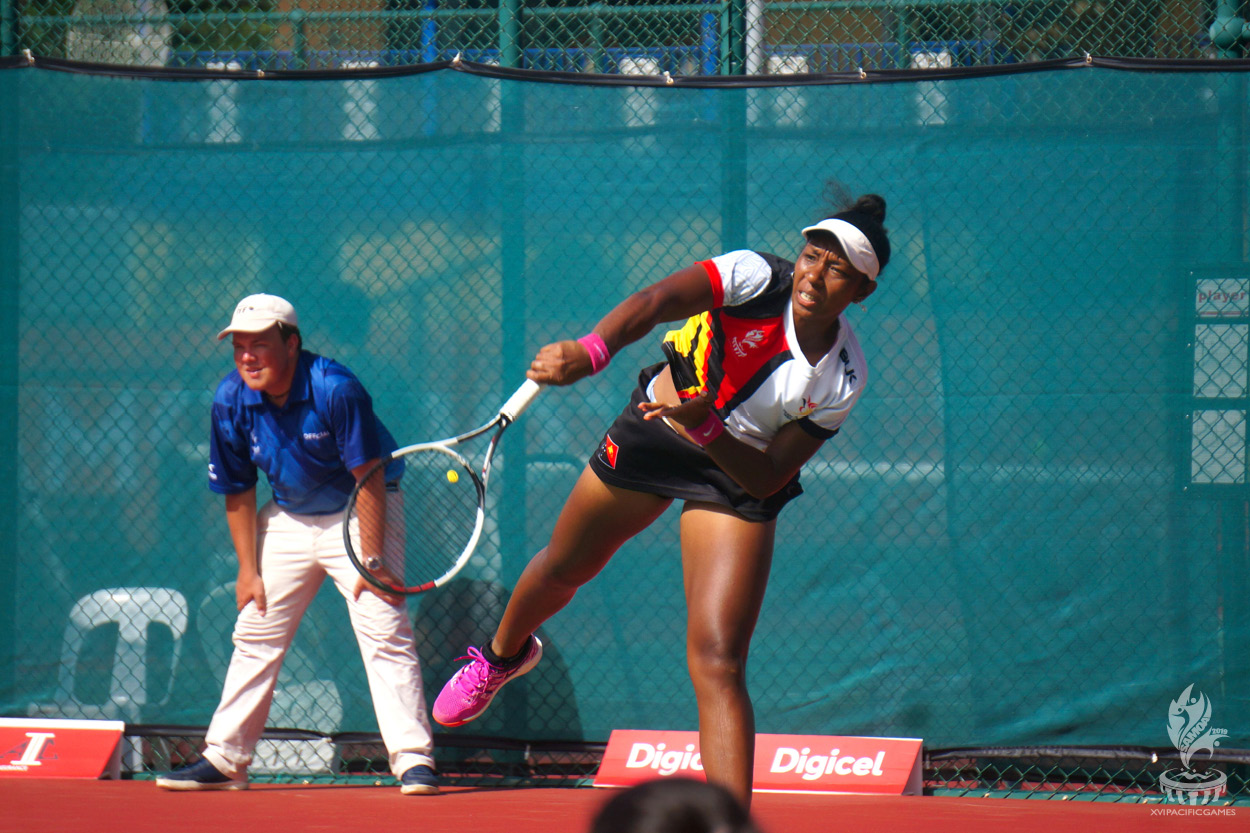 Abigail Tere-Apisah defeated her niece for the single's gold. (Image: Karen Anaya/Pacific Games News Service)
Violet Apisah was in tears after her match, commenting, "I knew I could do better and was frustrated with my game. Abigail had me so under the pump, it was hard to change my game."
Asked what the silver medal meant for her, she said: "I'm very happy with silver; it's a big improvement on the last [Pacific] Games. And it's good for PNG."
Violet Apisah is off to college in Texas in two weeks time to focus on her education but hoping that USA college tennis will also develop her tennis, preparing her for a post-college focus on tennis.
Her aunt will be heading back to the international circuit, trying to make it in professional tennis.
The bronze medal match between Samoa's Steffi Carruthers and American Samoa's Kalani Pisi Soli was a contrastingly tight match with first set tie break which went to American Samoa, 7-6 (7-1).
Second set tie break to Samoa with another rain break 7-6 (6-2).
Soli, who ran away with the third 6-3, was very understated about her win. She said: "It's a big win. She's a strong player but she wasn't feeling well today. The rain delay helped me. Steffi was ahead in the third until the break but I got the momentum once we came back".
PNG grabbed both gold and silver in the women's doubles when Abigail Tere-Apisah with niece Violet Apisah defeated their sisters, respectively, Marcia Tere-Apisah and Patricia Apisah 6-0, 6-3.
Patricia Apisah commented: "We share a room so there'll still be gold medal in my room."
Their team manager commented that Abigail and Violet were expected to win, whoever they played, but Marcia and Patricia making the final was a huge bonus for PNG.