Pacific Games experience opens doors for PNG tennis family
Four years ago, a quartet of PNG sisters and nieces made tennis headlines at the Port Moresby 2015 XV Pacific Games as they contested the women's doubles final against each other.
Since then, much has changed for sisters Abigail and Marcia Tere-Apisah, whose international tennis careers have skyrocketed as they fly the PNG flag in a sport in which Pacific islanders have traditionally enjoyed limited success.
Abigail, now 26, first represented PNG at the Pacific Games as a 14-year-old, last time it was hosted in Samoa in 2007.
Read more: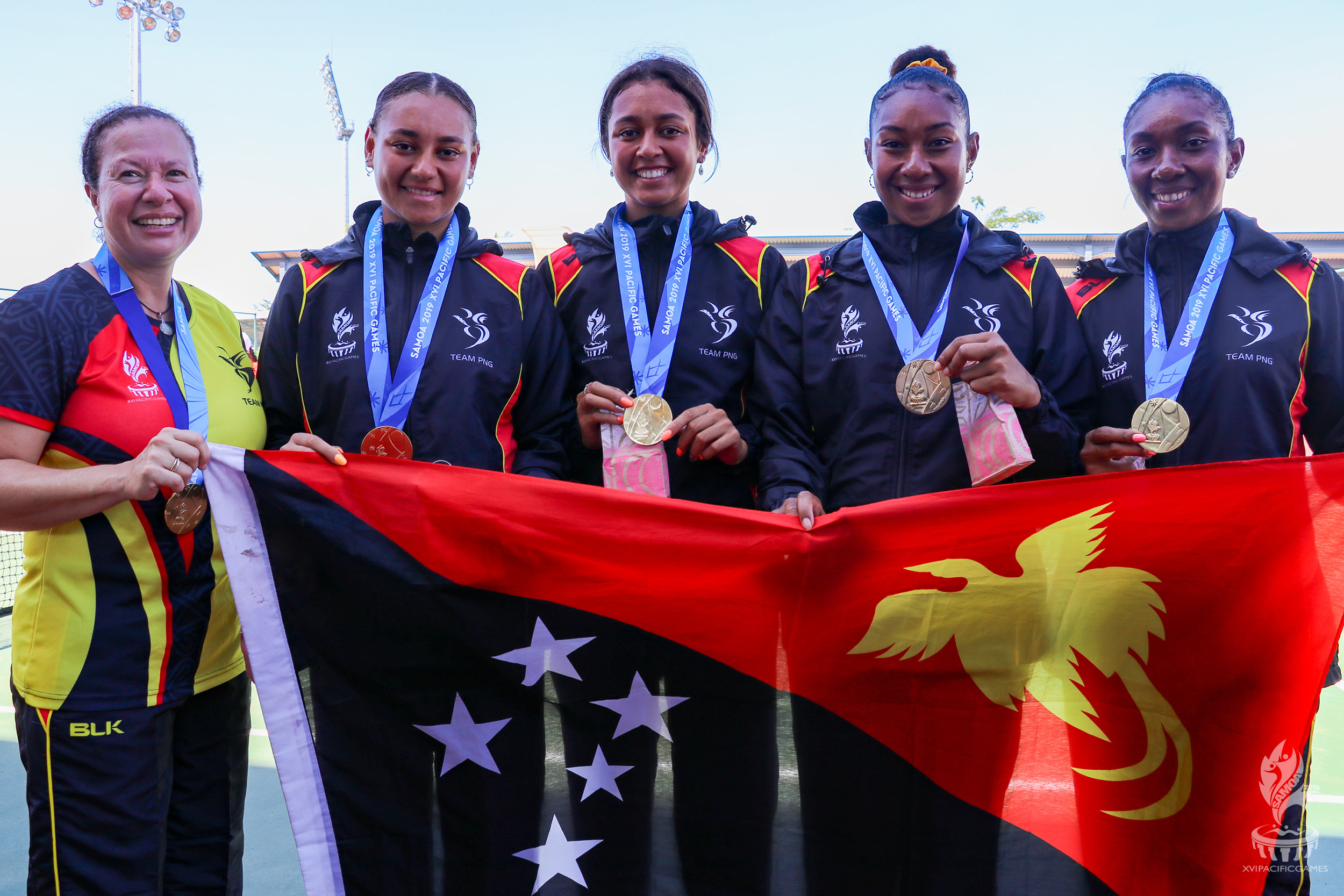 Marcia Tere-Apisah is one of four members of the same PNG family taking women's tennis by storm (Credit: Pacific Games News Service)
In May this year she proudly became the first Pacific islander to win a professional singles tennis title when she beat the top seed, Russia's Valeria Savinykh, at Singapore.
Abigail and Marcia are back at Samoa 2019 with their nieces Violet and Patricia Apisah, to defend the various medals they won between them at Port Moresby 2015.
Abigail and Violet got the family off to a great start when they took gold in the women's team event on Friday, beating Samoa 6-3, 6-0.
Marcia and Patricia had contributed to earlier matches which got PNG into the finals. To round out the family affair, Abigail and Marcia's older brother Patrick, father of Violet and Patricia, is their team coach.
They are all excited to have the opportunity to create a good news story for Papua New Guinea, a country they say mostly attracts negative headlines.
"Whatever we achieve internationally is made much of in PNG," they agree.
They said they are recognised as elite tennis players at home in the streets of Port Moresby, hence their successes matter to those at home and so matter more to them too.
However the girls revealed: "The best thing about Samoa 2019 is it's the first time we've been together since the 2015 Games. We are laughing all the time."
The Games is a family reunion because, as is the case for many aspiring Pacific athletes, Abigail and Marcia had to move overseas to progress their careers.
Growing up in Port Moresby where their parents, both ex-Pacific Games tennis competitors, were coaching PNG youth tennis, Abigail and Marcia said: "We didn't really have a choice about playing tennis. We'd be hanging around the courts every night after school while our parents coached, and we were the last to leave."
They each started at the International Tennis Federation Centre in Fiji when they were 10 years old and have more or less lived away from home ever since.
Abigail took a sports scholarship to Georgia State University in the USA to further her education and tennis career, twice being an All American tennis player, before heading to the international circuit.
The others admit: "Following behind Abigail made it easier for us. It opened doors".
Marcia took the same route. She earned her Masters in Sports Management on a sports scholarship in the USA and is currently an assistant coach at Northern Illinois University.
When asked about an international playing career, she responded: "No way! Coaching is what I want to do". She is on track with this goal and doesn't want her sister's tough route of international travel and all its associated costs and hardship while developing a ranking.
Marcia reflected: "The toughest thing for me is the cold in Michigan. I really miss island food and warmth."
Abigail admitted: "I actually hate flying! I'm on an international flight every two weeks and I hate it." Obviously her ambition and determination override this fear.
As for the younger Apisah sisters, 19-year-old Violet is finishing high school this year with final exams in a matter of weeks, and will soon join her aunts in the USA on a sporting scholarship at Texas Tech.
And she could certainly be the next Apisah to watch. She had an International Tennis Federation (ITF) junior ranking of 24 in 2018, was runner-up in the Australian Open junior doubles, and appears on the way to achieving her ambition to follow Abigail in seeking a professional tennis career.
Patricia, who is 17, declares she has no bigger tennis ambitions for the moment, as she is focussed on her education.
These amazing four athletes are hoping to successfully defend all their gold medals from Port Moresby 2015, and then cap it off with a short holiday together. Before heading back to different corners of the globe they are looking forward to a shared Samoan adventure, possibly at To Sua Ocean Trench, plus having more island food and being close to the water.
The tennis action continues at Apia Park Tennis Courts from 9am until late every day until Friday 19 July (apart from Sunday 14 July). Entry is $5.