Pacific Games record set in shooting at Samoa 2019
A new Pacific Games record was set at Samoa 2019 today when Freddy Yen Kway of Tahiti shot 550 – 12X for the 25m sports pistol individual event.
Yen Kway was always one to watch as he won silver in the 25m pistol mix and 25m standard pistol mix at the Pacific Games in Papua New Guinea in 2015.
Silver and bronze medalists Cedric Limousin (New Caledonia) and Douglas Creek (Norfolk Islands) were at a tie of 539 – 10X.
All three medalists broke the previous record of 526 - 7X.Competitors came with different expectations, but Yen Kway's was "to win gold".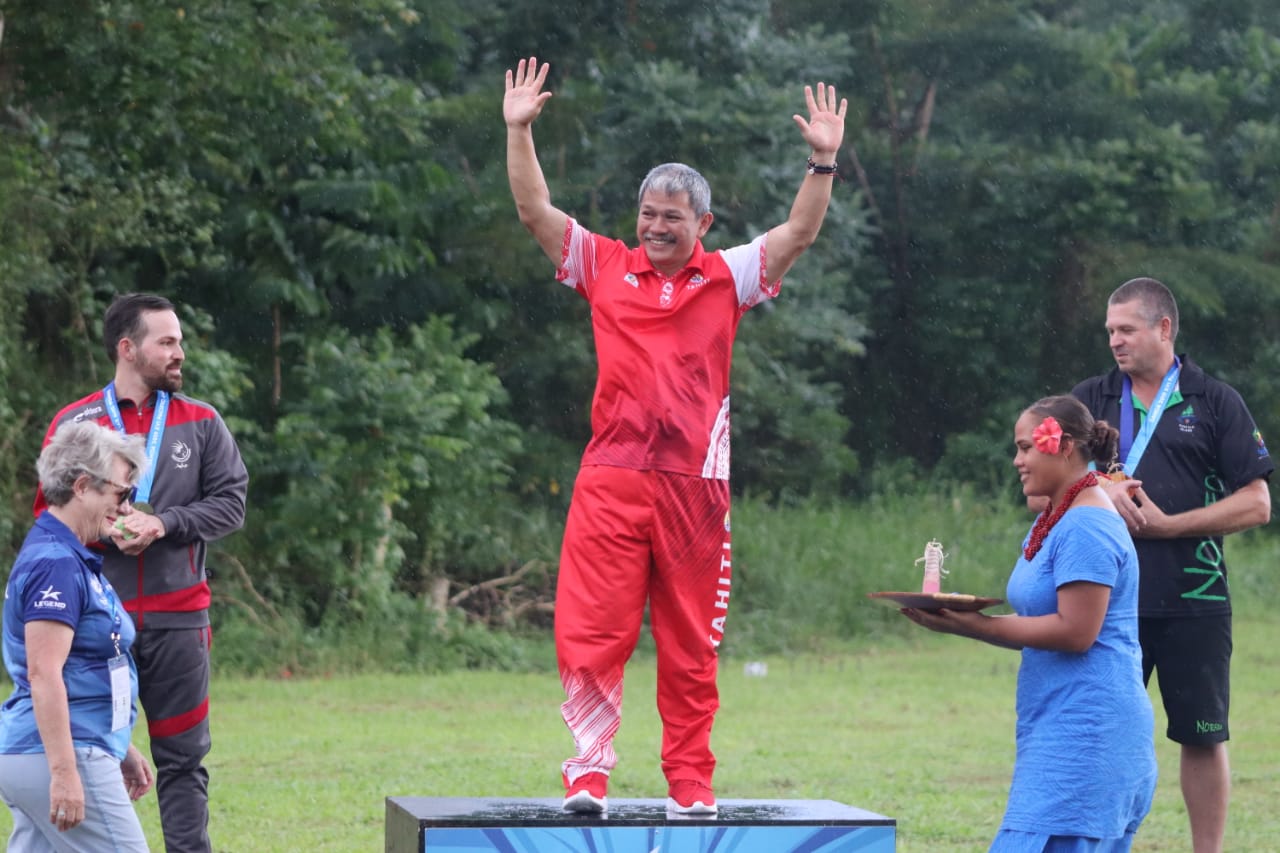 Limousin also won gold in the dual event, and spoke on his and fellow team mate Johan Perchard's behalf: "It's a really good experience. It's my first Games and so it's a really good experience. I'm really happy to win this medal with my friend Johan Perchard. Yep, really happy."
For the team event, Limousin and Perchard won gold medal with total 1047 points, followed by husband and wife team Yen Kway and Maeva Normand with 5 points difference.
Kevin Coulter and Creek (Norfolk Island) won bronze with 987 points in total.
The atmosphere was friendly and well-disciplined as the sound of gun fire erupted and the smell of gun powder filled the air at Tafaigata Shooting Range.
Normand had mixed emotions about the podium placings of her husband and herself. "We feel united, but I'm not very happy. I should do better to win the gold medal... I'm a little disappointed not to have follow him and bring us to the gold medal."
A hint of nervousness was seen among the competitors as they stationed themselves, loaded, and got ready to shoot.
The youngest player on the field at 20 years of age, Shayal Prasad of Fiji, spoke about her experience shooting in Samoa for the first time. She was also the only female competitor in the first session for individual event.
Prasad said she was "nervous but okay".
"It's a good experience. Basically the range here is better compared to the one we have in Fiji. Plus some things here are quite new. Like some techniques that were not taught to me in Fiji.. so yeah, [I'm] trying to adjust to it."
Shooting continues till 19 July with eight nations competing - Fiji, New Caledonia, Niue, Norfolk Island, Papua New Guinea, Samoa, Tahiti and Tonga - in the five day programme at Taifagata.

Results
25m Sport Pistol - Individual:
Gold: Freddy YEN KWAY (TAH) 550 12X

Silver: Cedric LIMOUSIN (NCL) 539 10X

Bronze: Douglas CREEK (NLK) 539 10X
Teams:
Gold: New Caledonia: Team - Cedric LIMOUSIN and Joann PERCHARD (total 1047)

Silver: Tahiti: Team - Maeva NORMAND and Freddy YEN KWAY (total 1042)

Bronze: Norfolk Island Team - Kevin COULTER and Douglas CREEK (total 987)