What to watch on day 6
Saturday and it is day six at Samoa 2019 XVI Pacific Games with 14 opportunities to watch SPORTS at elite levels across a range of VENUES from Fagali'i to Mulifanua.

Medals will be decided in 11 sports: Badminton, Cricket, Golf, Lawn bowls, Rugby 7s, Sailing, Swimming, Table tennis, Tennis, Va'a and Weightlifting, so it's all on.
And don't miss your chance to see Badminton, Cricket, Golf, Lawn bowls, Rugby 7s, Swimming, Table tennis, Va'a and Weightlifting for the last time at the Samoa 2019 VXI Pacific Games.

Badminton finishes, today, so medals are up for grabs and it's the last chance to see athletes perform at elite level. Action starts at 9am and finishes at 9pm.
Entry is free.
Basketball 5 x 5 has been a crowd favourite all week.
Today is another full day starting at 12 noon until 9pm
Entry is SAT$5.00 at Gym 2, Faleata Sports Complex.
Cricket finals are on today and the weather forecast is good! Be there for the start at 9am at the Cricket Oval, Faleata for a full day of action.
Entry is free.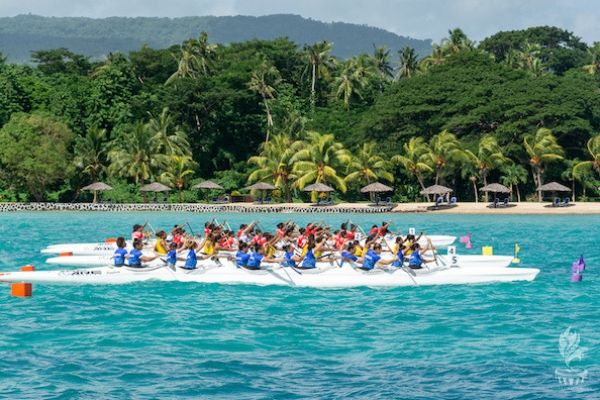 Golf tees off for the last day of competition at the beautiful Fagalii Royal Samoa Golf Course from 7.30am Medal placings will be decided today.
Entry is free.
Lawn Bowls goes into the final day of the six day competition.
The first bowls will hit the green at 9 a.m. It's a full on day of action including Men's Singles, Fours, Women's Pairs, Triples and medal ceremonies.
Entry is free.
Rugby 7s moves into the second and final day of competition at Marist St Joseph's Stadium, Lotopa, today at 8am.
Podium placings will be decided today in both Women's A and B pools and Men's A and B pools.
Ticket prices: Saturday: Adults $10, Children and athletes (excluding 7s players) $5.
Moving out to Mulifanua…
Sailing is continuing and medals will be won or lost today.
Va'a competitors put their paddles in the ocean for the last time today at 8am at Mulifanua.
Sailing continues next week with the last sailing on Friday 19 July including Para sailing will compete in day three of their competition.
Entry is free for both.
Squash moves into day 6 of 11.
Players have had the chance to get the feel of the courts and competition is fierce.
Be there at 9.30am as the first ball bounces off the walls. Action will continue until 6.30pm
Entry is free.
Swimming finishes today after a swag of medals has been shared across different countries. Competitors will be on the starting blocks at 9am and competition will wind up at 8pm. If it's fast paced continual action you want be at the Aquatic Centre in Faleata.
Entry is SAT$5.00
The final ball will be smashed across the table at Table Tennis today.
Teams are fighting it out for the Gold, silver and bronze medals at the Harvest Centre Faleata. Action commences at 0900 and finishes at 2100. Entry is free.

Lob out to Apia Park at 9am for another day of Tennis action. The weather looks perfect and medals will be won today before close of play at 8pm.
Entry is SAT$5.00
Volleyball serves up the action on day three of competition at the NUS gym at 12 noon. It is the first day of Women's Volleyball while the Men's competition is up to day three.
Entry is SAT$5.00 at the National University of Samoa Gym.
Weightlifting will power into the last day of completion at Faleata Gym 1. The show of strength starts at 9am and continues until 9pm. New Pacific Games, Oceania and Commonwealth records have been set this week so the last day will draw the crowds.
Entry is $5 at the venue.
Day 6 timings
0800 Rugby 7s Match 25 Men's Cook Islands vs Wallis & Futuna
0822 Rugby 7s Match 26 Men's New Caledonia vs Nauru
0844 Rugby 7s Match 27 Men's Tonga vs American Samoa
0900 Lawn bowl Men's Singles, Fours, Women's Pairs, Triples (Round 7)
0900 Tennis Men's Singles New Caledonia vs Tonga / Court 1
0900 Tennis Men's Singles Cook Islands vs Vanuatu / Court 3
0900 Tennis Men's Singles Tahiti vs Solomon Islands / Court 5
0900 Weightlifting Women's 81kg B & 87kg B
0906 Rugby 7s Match 28 Men's Solomon Islands vs Tuvalu
0928 Rugby 7s Match 29 Medal QF1 Women's Australia vs Solomon Islands
0950 Rugby 7s Match 30 Medal QF2 Women's New Caledonia vs Papua New Guinea
1000 Badminton Women's Doubles Fiji vs Tahiti
1000 Badminton Mixed Doubles
1000 Tennis Men's Singles Samoa vs Fiji / Court 1
1000 Tennis Men's Singles Solomon Islands vs Kiribati / Court 3
1000 Tennis Men's Singles Tonga vs Vanuatu / Court 5
1012 Rugby 7s Match 31 Medal QF3 Women's Samoa vs Nauru
1030 Badminton Men's Singles
1034 Rugby 7s Match 32 Medal QF4 Women's American Samoa vs Fiji
1056 Rugby 7s Match 33 Men's Fiji vs Nauru
1100 Badminton Women's Singles Fiji vs New Caledonia
1100 Badminton Men's Doubles New Caledonia vs Fiji
1100 Weightlifting Women's 81kg B & 87kg B
1118 Rugby 7s Match 34 Men's Cook Islands vs New Caledonia
1130 Tennis Men's Singles Tahiti vs Solomon Islands / Court 1
1130 Tennis Men's Singles Solomon Islands vs Tonga / Court 3
1130 Tennis Men's Singles Cook Islands vs Guam / Court 5
1140 Rugby 7s Match 35 Men's Samoa vs Tuvalu
1200 Basketball Women's Guam vs Tahiti
1202 Rugby 7s Match 36 Men's Tonga vs Solomon Islands
1215 Table tennis Men's Doubles Tahiti vs New Caledonia Bronze Medal Match
1224 Rugby 7s Match 37 Women's Loser Match 29 vs Loser Match 30
1246 Rugby 7s Match 38 Women's Loser Match 31 vs Loser Match 32
1300 Tennis Women's Singles Tahiti vs Solomon Islands / Court 1
1300 Tennis Women's Singles Cook Islands vs Samoa / Court 3
1308 Rugby 7s Match 39 Women's Winner Match 29 vs Winner Match 30
1315 Table tennis Men's Doubles Papua New Guinea vs Vanuatu Gold Medal Match
1330 Rugby 7s Match 40 Women's Winner Match 31 vs Winner Match 32
1400 Badminton Men's Singles Tahiti vs New Caledonia
1400 Badminton Women's Singles Final New Caledonia vs Tahiti
1400 Tennis Women's Singles Vanuatu vs Tahiti / Court 1
1400 Tennis Women's Singles Fiji vs Tonga / Court 3
1400 Tennis Women's Singles Tonga vs Kiribati / Court 5
1400 Tennis Women's Singles American Samoa vs Vanuatu / Court 5
1400 Volleyball Men's Guam vs American Samoa
1415 Basketball Men's Guam vs New Caledonia
1416 Rugby 7s Match 41 Men's 5th Pool A vs 5th Pool B
1400 Badminton Men's Doubles Final
1430 Volleyball Women's Tahiti vs American Samoa
1438 Rugby 7s Match 42 Men's 4th Pool A vs 4th Pool B
1500 Badminton Women's Doubles Final New Caledonia vs Fiji
1500 Badminton Mixed Doubles Final Fiji vs Tahiti
1500 Rugby 7s Match 43 Men's 3rd Pool A vs 3rd Pool B
1522 Rugby 7s Match 44 Women's Loser Match 37 vs Loser Match 38
1544 Rugby 7s Match 45 Women's Winner Match 37 vs Winner Match 38
1600 Table tennis Men's Ambulant Singles Tahiti vs Fiji Bronze Medal Match
1600 Table tennis Women's Ambulant Singles Solomon Islands vs Fiji Bronze Medal Match
1606 Rugby 7s Match 46 Women's Loser Match 39 vs Loser Match 40, Bronze Medal Final
1628 Rugby 7s Match 47 Men's 2nd Pool A vs 2nd Pool B, Bronze Medal Final
1630 Basketball Women's American Samoa vs Papua New Guinea
1650 Rugby 7s Match 48 Women's Winner Match 39 vs Winner Match 40, Gold Medal Match
1700 Table tennis Women's Ambulant Singles Tahiti vs Papua New Guinea Gold Medal Match
1700 Volleyball Women's Wallis & Futuna vs Guam
1701 Swimming Men's Final 100M Breaststroke
1706 Swimming Women's Final 100M Breaststroke
1712 Rugby 7s Match 49 Men's 1st Pool A vs 1st Pool B, Gold Medal Match
1721 Swimming Men's Final 400M Free
1730 Volleyball Men's Federated States of Micronesia vs Tahiti
1741 Swimming Women's Final 400M Free
1801 Swimming Men's Final 200M Fly
1819 Swimming Women's Final 200M Fly
1836 Swimming Men's Final 50M Free
1845 Basketball Men's Samoa vs Tonga
1851 Swimming Women's Final 50M Free
1900 Table tennis Men's Ambulant Singles New Caledonia vs Papua New Guinea Gold Medal Match
1900 Volleyball Women's Samoa vs Solomon Islands
1916 Swimming Mixed 4x50M Medley Relay
1930 Volleyball Men's Papua New Guinea vs Solomon Islands