New Caledonia wins men's individual golf gold
Hard work has paid off for New Caledonia's Dylan Benoit, taking home a gold medal from the men's golf at Samoa 2019 XVI Pacific Games.
The 23-year-old was over the moon as he took the podium earlier this evening and watched the flag of his nation being raised in the air; it was a sign of victory for him.
Overall in today's competition, Benoit won gold for the individual men golf competition, with his teammate settling for silver, Guillaume Castagne. Bronze went to Samoa's Van Wright.
"I'm really happy. I didn't think I would win a gold medal for the Pacific Games. I'm so excited to win because it's one of the biggest wins in my amateur career," said Benoit.
Read more:
Full Golf Results: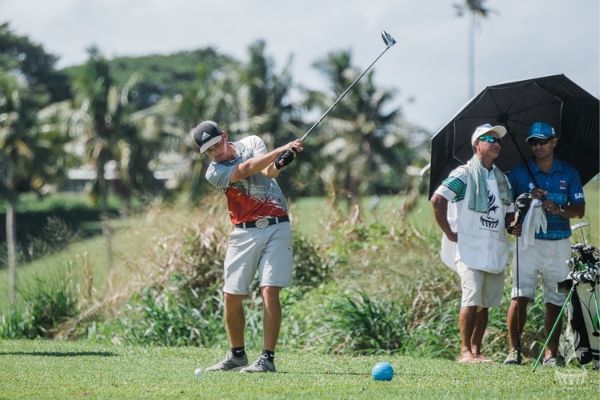 New Caledonia's Dylan Benoit's daily training paid off with a gold medal (Image: Trina Edwards/Pacific Games News Service)
In preparation for the Games, the golfer has put in more than 100 percent in ensuring he would be able to make his coach back home proud and also his country.
"I'm training every day to make everyone proud, my friends, family and coach. I'm a hard worker, I work every day."
At the age of fourteen Benoit started to play golf and through his passion for the sport he was able to travel the world.
"The way you play golf really reflects the personality of the player - to be patient, calm and to stay focussed. My motto in life is to make everyone I love proud of me and also to be the best. I'm very competitive and I like to win," he added.
Regardless of the many commitments Benoit has in life, he will always make time for the sport he fell in love with nine years ago.
"I study management of sports in France, to become a golf director. I just got a diploma three weeks ago. For me, we all share the same passion; we all play together and are friendly with each other and to play fair in the sport. It's beautiful that this event is organised and all the players get along and share the same passion."