Golf a passion for leading Papua New Guinean woman
Passion is the magnetic force for Kristine Seko the top female golfer from Papua New Guinea competing in the XVI Pacific Games.
After a taste of different sports, such as squash, nothing compares to being on the fairway.
"My parents played golf and they also represented Papua New Guinea. I found the passion and I started playing competitively in 2011," she said.
The dual gold medalist from the last Pacific Games shared her experience with the different sports she was involved in and the contribution of golf to her character.
"Golf is one of those games that you need a lot of patience and to be focused. Concentration and patience are the two things you need. It's comes with believing in yourself, with your swing and every shot."
Though there are tough days in the sport, she is certain "if you focus on the process, the result will take care of itself."
Read more: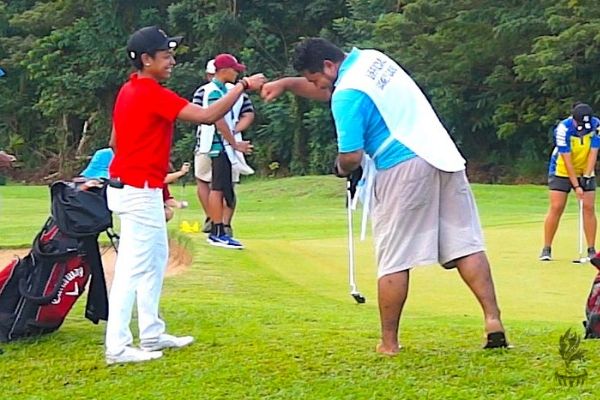 Kristine Seko (PNG) celebrates with her caddy at the Royal Samoa Golf Course, Fagali'i
The sports lover was born and raised in Madang, in northern Papua New Guinea. She is currently based in Melbourne to study. While she is away from home, she is definitely going to make the most of it, joining a golf club to keep the fire burning and maintain her love for the sport.
"It's definitely a different setting and you need a different kind of mindset as well for being out in the rain and just slouching through the mud. [Representing your country and] your love of the game is what keeps you going. You play for your team and for your home and try to do your best."
She first received her golf handicap when she was eleven and ever since then she has never turned back.
"The plan is to keep playing competitively and get to a few tournaments in Australia. But there are no big tournaments planned right now. I'm involved in the Pacific Games and, hopefully, in two years if I'm still playing, I can go to the mini games."
Seko is one of the oldest female golfers in Team PNG and seeing the younger players fall in love with the same sport she's involved in underlines that it is for any age and race.
"We're just enjoying ourselves, the girls' team are young and this is their first time travelling together. So we're trying not to be too hard on ourselves and to have fun at the same time. If we do that I think we will get the results that we want."
Being in Samoa and the slogan for this year's Games resonates with her at a very intimate level.
"Papua New Guinea is a land of a thousand cultures and over a thousand languages and this binds us together as one nation and spirit."