New Caledonia defends gold and silver in para-shot put
New Caledonia's para-athletes have defended their Pacific Games gold and silver medals in the men's shot put secured throw at the Samoa 2019 XVI Pacific Games in rainy conditions.
Thierry Cibone of New Caledonia, the defending Pacific Games medalist from 2015, whose disability is classified as F34, secured gold with a throw of 9.45 metres and an overall percentage point of 78.92 percent.
The final results are calculated based on an athlete's throw distance and a weighting that correspondents to their para classification, and how close their throw is to the record score in that classification.
This means that athletes do not know who has won medals immediately after the event, and have a nervous wait while officials calculate the final scores.
Read more:
Tonga soar to gold and silver in men's hurdles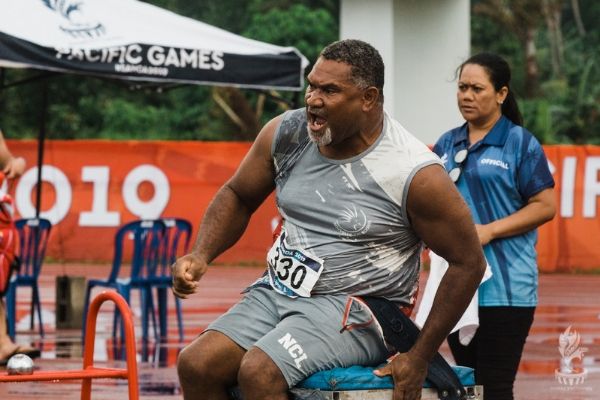 Thierry Cibone of New Caledonia secured a gold medal again. (Image: Trina Edwards/Pacific Games News Service)
"I'm extremely happy and proud to contribute this medal for my country. That was my mission and it's a proud moment to see the flag of New Caledonia raised again," Cibone said.
Cibone's team mate and defending silver medalist from the 2015 Pacific Games, Marcelin Walico also defended his silver medal with a throw of 11.12 metres, the biggest of the afternoon and finished with 74.53 percent for his classification (F57).
"It doesn't get much better than finishing first or second," Walico told the Pacific Games News Service.
Solomon Island's Timothy Shadrack claimed the bronze medal in his first time at the Pacific Games after patiently waiting for almost two hours for his turn to throw.
With a couple of red flags from his six attempts the youngest competitor in the men's shot put secured throw managed a 6.74 metre throw that earned him 59.12 percent and the bronze medal.
"I am happy to win bronze. I did not expect it because all the men I competed against are great athletes, but I did my best and got over my red flags and I am very excited to win this medal for myself and my country," he said.
The final day of athletics, July 19, will feature more para-athletics action with the women's shot put ambulant throw at Apia Park.