Men's volleyball gold goes to Tahiti
Tahiti men's team has won the volleyball gold at Samoa 2019 XVI Pacific Games, beating Wallis and Futuna.
They won 3-0 at NUS Gym on the final day of the fortnight-long sporting event in Apia.
Tahiti scored 25-23, 25-22, 25-17 to win. Their coach said: "We prepared for this Pacific Games three months ago and we were ready to fight and today we proved that the gold is ours."
"Every player played very well," he added.
Read more: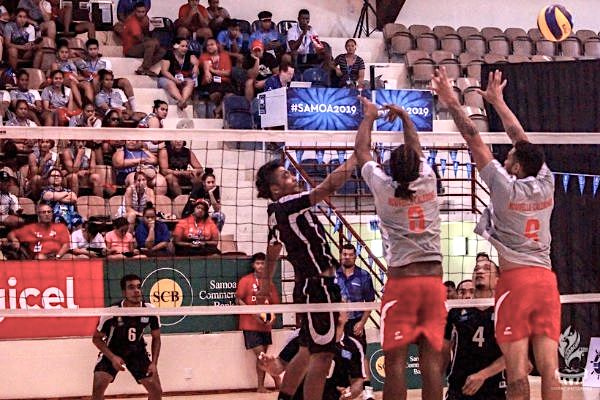 Volleyball has attracted big crowds during the competition at NUS Gym.
Tahiti took the first set 25-23, but no matter what the score Wallis and Futuna supporters roared in the stands.
The second set was a nail biter. Wallis and Futuna seemed to have sustained some injuries in the last set with two of their athletes limping throughout the game and off the court. Tahiti took advantage, ending the set 25-22.
Tahiti never seemed to tire, maintaining continuous momentum to win the third set. To celebrate their gold medal, they performed a haka.
In the bronze medal match, New Caledonia beat Samoa 3-2. The match went down to the wire, with NCL winning the first set 25-15, then Samoa 27-25, followed by another win for Samoa with 25-20. New Caledonia equalled the scorecard (25-16), and finally won the final set 15-10.
The New Caledonian coach said: "We always hope to get the gold. Our team is still very young, so I hope it will go better at the next Games."
He added: "There was still a lot that was good. And it's ok - our objective was to make the podium.
"It makes sense, we gave it our all until the end, and then they won. They played better at the end. For most of the time we were ahead, but once we got to 20 points, we started to make mistakes, and our 1 or 2 point lead that we'd had since the beginning was lost."
In the women's event, gold went to New Caledonia, beating Tahiti.
Host nation Samoa won bronze when they defeated Wallis and Futuna 3 - 0.