New Caledonia triathlete bookends Samoa 2019 with gold
New Caledonia's Charlotte Robin has bookended her appearance at Samoa 2019 XVI Pacific Games by winning gold on the final day to match her gold on the first day.
Robin finished in a time of 1 hour 5.07 seconds to win the women's triathlon on the Apia waterfront, on the final day of competition for the fortnight-long sporting event.
She had won the first gold of Samoa 2019 two week earlier - on July 7 in the open water 5km swim.
It was also a repeat of her gold medal finish from the four years ago at Port Moresby, where today's silver medalist, Tahitian Salome De Barthez, also chased her home.
Read more: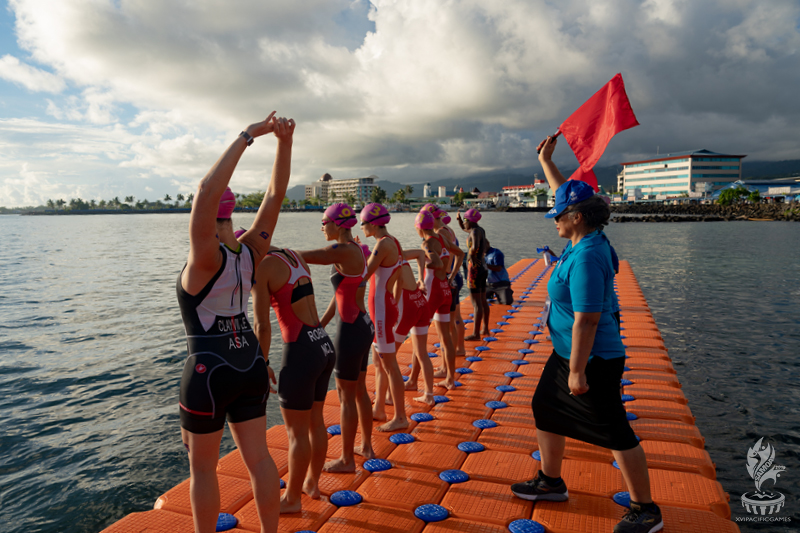 On Saturday Robin was first out of the 750m swim (9.33) and first to finish the 20km bike section (33.43) to set off on the 5km run.
"I think I did a perfect race for today. I knew the Tahitian [De Barthez] was a very good runner, so I had to do a very good race on the bike."
Her lead of approximately three minutes at the transition from bike to run felt "very comfortable" to her, but was eventually narrowed to De Barthez who finished in 1:06.48.
De Barthez, who turned 22 today and won gold in the aquathlon the day before, said: "Everything happened as it has to - there were no technical problems. I feel good.
"I swam as fast as I could to not be too far from the first [swimmers] because I know that I'm less good at swimming. I thought I would be better on the bike - but I wasn't. I think that my competitors were just better on the bike.
"Then I did my best in the running to catch the second medal. I'm very happy."
New Caledonia' Nathalie Viratelle won bronze in 1:08.05.
In the men's triathlon, Tahiti took the top two places on the podium, followed by New Caledonia.
Tahiti's Benjamin Zorgnotti took gold, adding to his gold from Friday's aquathlon, while Raphael Amour-Lazzari took silver. Bronze went to New Caledonia's Patrick Vernay.
"We planned to do this, and the plan was good. It worked and it's wonderful," Zorgnotti said.
He had raced in Apia in December, and felt the hot, humid conditions were worse then. But his racing in China and other hot countries had prepared him for the conditions.
"My time is not a good time, but... who cares? I got a gold medal, that's all you need to know."
The 24-year-old said he had felt the pressure to get two gold individual medals and two team gold medals. "It was ambitious, but it was a good target because I reached it."
His plans include racing in Japan in September and China in November.