Kiwi Laurel Hubbard wins gold at Pacific Games
New Zealand weightlifter Laurel Hubbard has won gold at the Samoa 2019 XVI Pacific Games, putting aside recent media coverage of her bid to keep her name suppressed over a driving charge.
The 41-year-old is attempting to qualify for the Tokyo 2020 Olympics, and won five gold medals at Apia's Faleata Sports Complex in front a large and boisterous local crowd.
She won medals for Oceania Senior champion, Commonwealth senior champion, Pacific Games senior champion with a total lift of 268kg in the women's 87kg category.
Hubbard declined to comment to the Pacific Games News Service after her medal-winning performance.
Read more: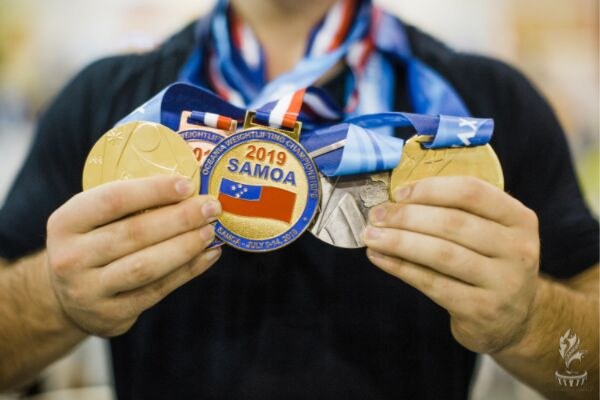 New Zealand weightliifters will be taken home handfuls of medals from Samoa 2019. (Image: Trina Edwards/Pacific Games News Service)
She was charged with careless driving causing injury after her vehicle fishtailed on a sharp bend near Queenstown in October 2018. Name suppression was lifted a day before her appearance on the weightlifting stage.
Simon Kent, high performance director (HPD) for Olympic Weightlifting New Zealand, speaking on her behalf, said: "She's been in a great space all week."
Samoans Feagaiga Stowers and Iuniana Sipaia took home silver and bronze respectively, with 261kg and 255kg lifts.
Hubbard had two weeks preparation at the Oceania Weightlifting Institute in Fiji before arriving in Samoa.
It has been a long road of rehabilitation for the transgender weightlifter after she ruptured an elbow ligament at the Commonwealth Games on the Gold Coast in 2018.
She returned to the international weightlifting stage at the Arafura Games in Darwin in April of this year but failed to register a successful lift.
To qualify for Tokyo 2020, athletes must compete in six international events in 18 months. To date Laurel has competed in two - Arafura and Samoa 2019.
Kent confirmed that Hubbard will lift in the International Weightlifting World championships in Thailand in September. After that they will decide how best to move forward.
Hubbard's medal haul adds to New Zealand's weightlifting success this week.
Kanah Andrews-Nahu won seven medals in one event, as she can compete as both a junior and senior weightlifter in the women's 76kg.
Cameron McTaggart was crowned men's 81kg champion by achieving a total of 305kg, while he also took clean and jerk gold and snatch silver.
Kent said: "I have been really happy with our week. It's a purpose-built weight lifting stadium and it's world class".