Samoan weightlifter sets new record
Samoan weightlifter Vaipava Nevo Ioane has set a new Pacific Games record, new Oceania record and new Commonwealth record in the men's 67kg division.
Ioane lifted 289kg (total weight) to set the records. Ruben Katoatau won silver and Nauru's Ezekiel Moses won bronze.
Speaking in Gym 1 at Faleata Sports Complex, he said: "Without God and the people of Samoa's prayers I wouldn't have been able to win gold. So, glory to God and thank you Samoa for the support".
Ioane also went on to praise his coach. "My coach encouraged us to make sure we win gold, for we are the host nation, therefore no other country should take gold because it is our responsibility to make sure we win gold and make our people proud."
Read more: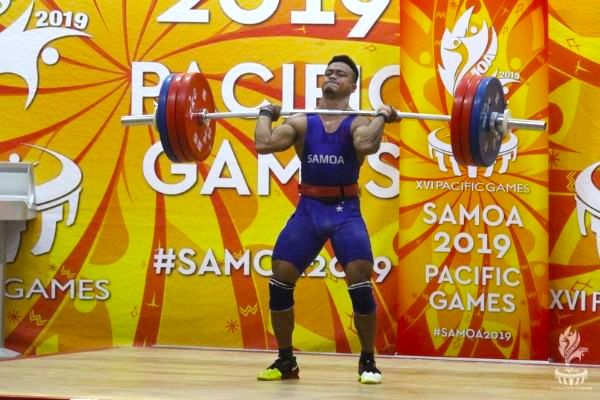 Vaipava Nevo Ioane set three records. (Image: Pacific Games News Service)
Day four of the Games saw medal events in four weightlifting categories.
In women's 71kg division, Maximina Uepa from Nauru was the overall gold medalist by claiming silver with snatch and gold with clean and jerk.
Tiiau Bakaekini of Kiribati won silver in the overall by claiming silver in the clean and jerk category.
Sandra Ako claimed bronze in the overall category by winning bronze in both the snatch and clean and jerk category.
Ebony Gorineu from Australia won gold in the snatch category but couldn't complete a single lift of the clean and jerk category. "I'm very disappointed, I know I could have done better," said Gorineu.
In the women's 76kg, a close battle was fought between two New Zealanders Kanah Andrews Nahu and Bailey Morgan Rogers with a difference of just 4kg.
Andrews-Nahu went on to win gold with a total of 206kg (overall) while Rogers claimed silver with a total of 204kg (overall). Stephanie Davies won bronze with a total of 196kg.
The last medal event was the men's 73kg division. Brandon Wakeling (Australia) won gold with a total of 290kg while Taretika Tabaroua (Kiribati) claimed silver with a total of 282kg. Larko Doguape (Nauru) won bronze.