New Caledonia wins 4 medals in open water swimming
New Caledonia has topped the medal table at the Samoa 2019 XVI Pacific Games, winning one gold, two silver and one bronze on day one.
Open water swimming gold medalist from 2015 Charlotte Robin repeated her victory from Port Moresby, in the 5-kilometer event at the Sheraton Samoa Beach Resort Mulifanua, by finishing ahead of compatriot Maiana Flament.
Robin finished in 1 hour, 10 minutes and 40.00 seconds (1:10:40.00), just ahead of Flament in 1:11:41.00.
In an emotional finish, Fiji's Matelita Buadromo came in at 1:19:27.00 to claim the bronze medal. She said through tears: "It's been a rough and stressful couple of weeks leading to the Games for me and I'm emotional because I have finished the race and walk away with a medal."
Read more: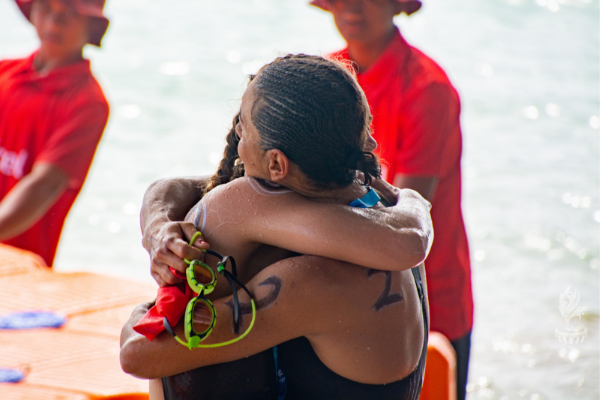 Charlotte Robin embraces a fellow swimmer after the 5km swim in rough conditions (Image: Ben Bowles/Pacific Games News Service)
But it was the men's competition that was the narrowest margin. Rahiti De Vos of Tahiti won the gold medal in with an impressive time of 1:03:20.00, beating New Caledonian Hugo Savignac's 1:03:21.00.
New Caledonian Benoit Riviere followed 20 seconds behind his fellow countryman to take the bronze medal (1:03:41.00).
A triumphant De Vos said: "I was pretty happy and kind of tired. I wasn't sure if I touched first. I don't have much experience but just trying to follow the leading group and push out to the finish."
The athletes described the overall experience as difficult because of moderate to rough waves, yet it was worth swimming.
The entire atmosphere was mixed with excitement and nervousness for the swimmers in the unusual weather conditions for Samoa at this time of year, but the support from spectators was amazing and encouraging as each swimmer made their way to the finish line.
Medics on duty did a great job assisting swimmers as exhaustion was witnessed upon exit.