Fiji repeats 2015 gold in single-barrel shooting
Fiji's Pacific Games 2015 gold medalist Glenn Kable has successfully defended his title for the single-barrel shooting competition at Samoa 2019.
He beat Samoa's Franco Jr. Caffarelli after they were tied at 98 points at the Tafaigata Shooting Range. Tahiti's Tuanua Degage won bronze.
Kabel said: "I'm very pleased with the scores that are coming in. I'm over the moon to see the level of competition displayed here.
"Franco from Samoa has a very promising talent, for a 19-year-old doing what he's doing.
"It's a pleasure to be able to shoot with him and hopefully we can foster that talent into the Olympic sports, taking it all the way."
RESULTS
DTL SINGLE BARREL
DTL DOUBLE BARREL
Read more: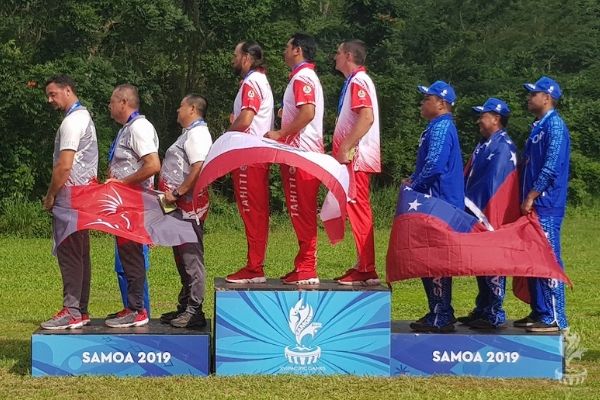 New Caledonia stood on the top spot for the team event. (Image: Maria Caffarelli/Pacific Games News Service)
He described the shoot off as the "hard way" to win.
"I'm obviously very, very happy, [but we] had to do it the hard way. Suddenly we had shoot off at the end, but if you're going to win it, it's the way to win it properly."
Caffarelli said the first two rounds of shooting were intense.
"Medal or no medal, I'm happy that I gave my 100 percent best," he said, a day after winning his first gold of the competition.
Tahiti, gold medalists in the team single-barrel event, was emphatically pleased with their result.
Degage, speaking on behalf of his Tahitian team, said: "We feel very good because when we looked at the scores in the middle of the day we were not too far away [from the other teams], but at the end we made it.
"So we are very, very happy and this is the second day we take the gold medal so we are very, very, very happy."
New Caledonia took silver, and Samoa bronze in the team event.
Degage also commented about Friday's final event with enthusiasm, saying the team will try to win gold again.
"Yes, we will try and win gold medal tomorrow, but we know that the other team would love to win the gold medal. So, there will be a lot of competition tomorrow."