Northern Marianas hope gold will kickstart tennis revolution
Northern Mariana Islands did not win a single medal at the last Pacific Games, but the dark horses of the tennis tournament at Samoa 2019 have scooped one gold already, and could yet collect more silverware in the final two days of competition.
Despite not having entered a tennis team since the 2005 Pacific Mini Games, NMI have impressed at Apia Park Tennis Courts, winning gold in the men's tennis teams event against Papua New Guinea.
But, behind the scenes during their long absence, plenty of work has been taking place, much of it led by NMI tennis coach Jeff Race. He began training young players on the islands 30 years ago, knowing that it would take long-term vision and commitment to establish a consistently high-performing sport.
Read more: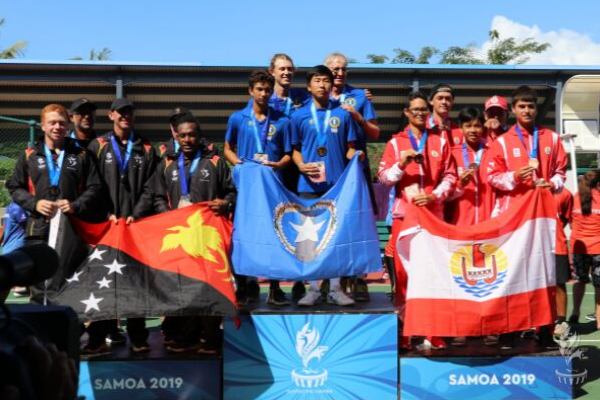 Northern Mariana Islands won gold in the men's tennis teams event despite having one of the youngest and least experienced teams (Credit: Pacific Games News Service)
Three decades on, the programme is bearing fruit. "It takes time to build, but we are arguably the most successful sports programme in terms of results in NMI," Race told the Pacific Games News Service.
"This results in parents wanting their children involved. We now have 114 juniors competing against professionals."
The aim is not just high performance but access to educational and professional opportunities for his athletes as well.
Race continued: "My big goal is to get kids to play college tennis. They go to the USA for a college education, but often fail without a support system. Sport gives them an instant support system. They are now playing at all levels in the USA and we are getting better academic outcomes."
Race is all too aware of how important the Pacific Games are as a vehicle for promotion of the sport, as well as exposure for his players.
With little government support, most funding is sourced from locals and through sponsorship.
"The Pacific Games is hugely important for our tennis team and for NMI," Race explained. "Pacific Games medals are few and far between. This time we have the potential for most of our players to come away with a medal. This is important for our tennis programme, as success inspires young athletes."
The next Pacific Mini Games will be hosted by NMI in 2021 and, although tennis is not currently on the programme of proposed sports, Race hopes his team's success at Samoa 2019 could change that.
"Our tennis players are young and will only be stronger in two years. We would be likely to win medals in tennis. Without tennis it is quite likely NMI may not win any medals, so my mission is to convince government officials to put tennis in. The government would have to find additional funds, so bringing back medals from Samoa 2019 is crucial to stoke the fire," he asserted.
Race's dedication is more than just a passion for the sport, but a commitment to his team. "I sit with each young player and help them develop personal goals, make posters of their goals, and stick up pictures of their favourite players," Race revealed. "Pacific Games success is part of that."
For youngsters Robbie Schorr and Colin Sinclair, who claimed gold against PNG, competing at the Games has been a huge step up.
"It's awesome to come here to Samoa and represent NMI at the Pacific Games," a delighted Schorr said. "I'm happy to compete at my best and bring home the gold to my country."
Sinclair was also humbled to win a rare gold for NMI. "I'm very happy that we have won. This is our first gold medal for tennis, and I'm really happy to win a medal for coach Jeff Race, he really wanted us to win this year," said Sinclair.
The 21-year-old was drawn to tennis at a young age by the way the sport works and the routine it brought to his daily schedule.
"Everything I do is related to tennis," Sinclair revealed. "It controls my life in a sense that you need to work hard and put in as much effort as you can, and hope for the best.
"I play around four to five hours every day so it's a big part of my life right now. My driving force behind everything I do is hard work. Hard work is waking up every day, and doing the right thing off court. The right thing is waking up in the morning, stretching, and going to the gym, get my work done, and eat well."
With several tough tests ahead for NMI in their quest to collect more historic silverware, Sinclair revealed his mantra: "It is better to aim high and miss than to aim low and hit. It strengthens me to play every point as hard as I can."
Tennis continues at Apia Park Tennis Courts until Friday. Entry is $5 and free for children under 15.