Fijian and Samoan swimmers come of age at Samoa 2019
The lasting images of an incredible five days of swimming at the Samoa 2019 XVI Pacific Games will be the number of Fijian and Samoan swimmers to reach the podium.
In a sport traditionally dominated by New Caledonia, the emergence of several talented swimmers from other nations has been a highlight at these Games. Cook Islands won their first ever Pacific Games swimming medals courtesy of Wesley Roberts, while Tilali Scanlan claimed the first gongs for American Samoa in women's swimming. But it was hosts Samoa, along with Fiji, who really caught the eye.
Fiji, who only won one gold at the Port Moresby 2015 XV Pacific Games, claimed 27 medals at Samoa 2019 – 6 gold, 10 silver and 11 bronze.
Read more: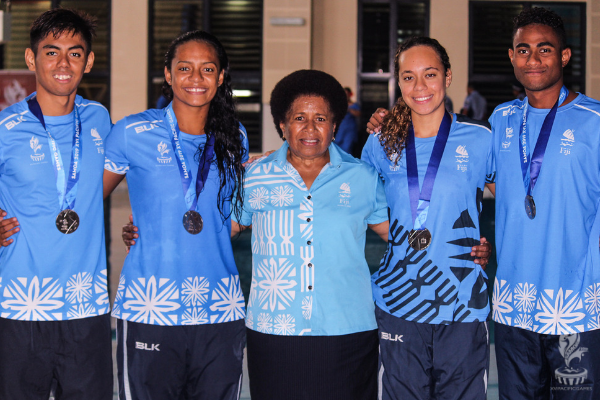 Fiji's swimming team have enjoyed huge success in the pool at Samoa 2019 (Credit: Pacific Games News Service)
"We have a five year plan and it's finally coming together," a delighted Fiji swimming coach Sharon Smith told the Pacific Games News Service as she reflected on her team's overall performance.
"We didn't do very well in the last Pacific Games, with one gold. My secret goal was to win at least three golds here, that was Fiji Swimming's target, but we doubled that by winning six. I think it's just the development and keeping the plan together, educating the coaches, and keeping the kids with their training."
One of Fiji's stars of the week was Taichi Vakasama, who set a new Pacific Games record as he claimed gold in the men's 100m breaststroke on Saturday night and also won silver with his teammates in the mixed medley relay.
"He is amazing and he didn't (even) do his personal best here," Smith enthused. "Three weeks ago in New Zealand, he swam his personal best, yet he still won the gold here. Taichi works very hard and is a very good trainer. He's just a great person to have around on the team."
Samoa have also been a surprise package at these Games winning 16 medals on home soil after collecting only two at Port Moresby 2015.
"This by far exceeds my expectations" admitted Samoa's swimming coach, Suzie Schuster. "I am here to support my swimmers and do everything to help them, and for them to come out on top is just the icing on the cake.
"It' has been a long, hard road. And a road that I enjoy. That's what coaches love. But this is the time for the athletes to celebrate and really embrace the fact that they've done an amazing job this year."
Brandon Schuster, who was instrumental in Samoa's medal haul, said: "It's exciting to see how competitive the islands have become about swimming. You've probably seen a record broken almost every night and that's just insane to see that Samoa swimming, and Pacific swimming in general, has been uplifted.
"Seeing all these people you have swam against for the past four or five years and how everyone has got faster is something that you're just happy about for all the other countries.
"Pacific swimming is a big aiga [the Samoan word for 'family'] here. And it's a big Oceania family that I've come to love."