Day 1 Round-up of Pacific Games 3x3 Basketball Tournament
Both the Men's and Women's team of Fiji opened their respective campaigns in style, sweeping their counterparts so far in Day 1 of the 2019 Pacific Games 3x3 basketball.
After being dethroned by American Samoa in the Pacific Games 5-on-5 Women's basketball, the now silver medalist, Fiji, just its ire on 3x3 basketball.
With All-Star Five member Letava Whippy at the helm, Fiji dominated Marshall Islands (21-5), Vanuatu (18-7) and Cook Islands (10-7) for a 3-0 start in Pool A of the Women's 3x3 basketball.
The Cook Islands also impressed in Pool A with a 3-1 record followed by Solomon Islands (2-1), Marshal Islands (2-2), Vanuatu (1-2), Kiribati (1-3) and American Samoa (0-3).
In women's Pool B, New Caledonia and Tahiti were the pace-setters for Day 1 after a similar 3-0 slates.
Nicky Francois and Elia Massette led the way for NCL which defeated Nauru (16-5), Samoa (18-12) and Guam (17-11).
Sisters Alizee and Oceane LeFranc, meanwhile, spearheaded Tahiti in their huge wins over Samoa (15-10), Guam (11-7) and Papua New Guinea (21-4) albeit Oceane missed the last win because of an injury.
Way behind them in Pool B are Guam (1-2), PNG (1-2), Samoa (1-2) and Nauru (0-3).
Read more: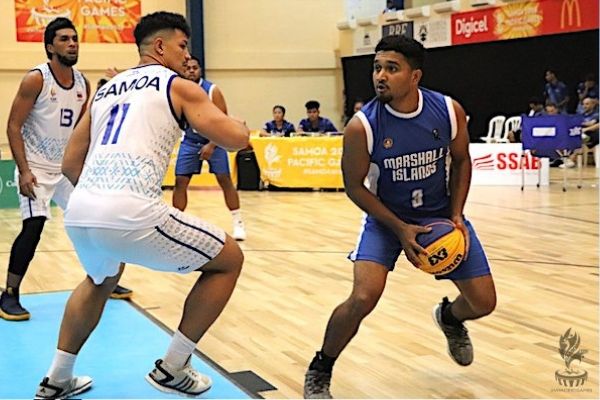 A successful debut at the Pacific Games for Basketball 3x3 (Pacific Games News)
Following its women's team, the Fiji men's 3x3 team also scored three straight victories in Pool A.
Bannered by Fiji's ace player Marques Whippy, Fiji defeated Solomon Islands (18-4), Marshall Islands (21-14) and Nauru (21-11) to gain a share of the top spot in Pool A with 5-on-5 basketball champion Guam with identical 3-0 cards.
Behind Ben Borja, Seve Susuico, Andrew Carlos and Robert Case, Guam also sported a 3-0 card after wins over American Samoa (22-13), Nauru (20-4) and Solomon Islands (21-11).
Right behind Fiji and Guam in the Men's Pool A were Vanuatu (2-1), American Samoa (1-2), Nauru (0-3) and Solomon Islands (0-3).
Over at men's Pool B, Marshall Islands (2-0) had a sensational performance with a 3-0 record including wins over host Samoa (21-12) and Cook Islands (21-17).
Dru-Leo Leosugi Ape and Theo McFarland led the way for host Samoa so far with a 2-1 card after wins over Tahiti (17-16) and New Caledonia (21-16) and a loss to the Marshall Islands 12-21.
Tahiti gunner Reihiti Sommers extended his fine play in the 3x3 basketball after towing his squad to a 2-1 slate to join Samoa in at the second spot of Pool B.
Coming off a silver medal finish in the 5-on-5 basketball, Tahiti clobbered Cook Islands (16-6) and Papua New Guinea (21-15). Its lone loss came at the expense of Samoa with a 16-17 nail-biter.
Staying within striking distance from them in Pool B are, New Caledonia (1-1), PNG (0-2) and Cook Islands (0-2).
All teams plunge back to action in Day in the continuation of Group Play in a bid to finish in the top four of their respective pools as only the top four squads from each pool of the Men's and Women's divisions will get to advance in the knockout Quarterfinals of this historic Pacific Games 3x3 basketball this coming Saturday.
This article is published from FIBA with permission.