Guam retains crown and completes Pacific Games Basketball tournament sweep
Guam successfully defended its crown after holding off the gritty stand of Tahiti, 83-74, in the Gold Medal match of the 2019 Pacific Games Men's Basketball event.
Tai Wesley registered 24 points, eight rebounds, and two steals to spearhead the attack of Guam which set the pace of this championship match with a 25-15 opening gap.
Steady gunner JP Cruz also chipped in 21 points built on four triples while Daren Hechanova and Jonathan Galloway added 13 and 10 markers, respectively.
With this, Guam thus completed a clean sweep of the prestigious quadrennial basketball conclave in the Pacific to hoist the trophy anew.
Guam also won the last edition in 2015.
The win, however, did not come on a silver platter for Guam as Tahiti proved its mettle as a fitting Finals challenger.
Coming off a massive 75-72 win over last edition runner-up Fiji in the Semi-Finals, Tahiti made it tough for Guam as ace gunner Reihiti Sommers spearheaded a rally from 18 points down highlighted by a trey halfway through the fourth period to inch on within 62-67.
But Guam kept its cool, putting Tahiti at bay since then and fending off its repeated uprisings to earn the gritty win.
Sommers, who nailed the game-winner against Fiji, finished with 22 points including five triples while Raimoana Tinirauarii added 19 in the loss.
Scoring ace Ariirimarau Meuel struggled for just 11 points but was clearly hampered by a hamstring injury he suffered in their Semi-Final win.
Amidst the loss, however, Tahiti still surpassed its Bronze Medal finish in 2015 and has booked an all-important ticket to the FIBA Asia Cup Pre-Qualifiers together with Gold Medalist Guam.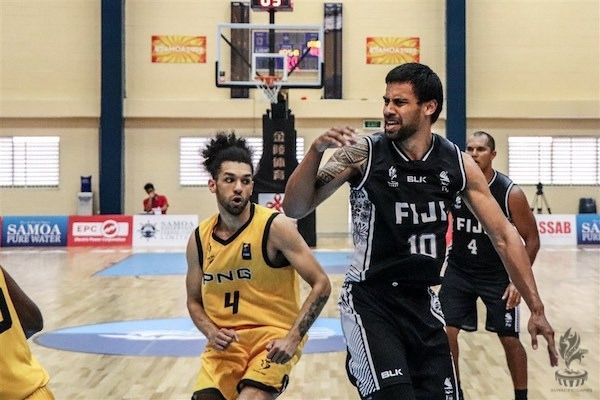 Meanwhile, Fiji trounced Papua New Guinea, 72-49, to clinch the Bronze Medal in the 2019 Pacific Games Men's Basketball event.
Fresh from a painful 72-75 nail-biting loss against Tahiti in the Semi-Finals, Fiji vented its ire on PNG, ripping the game wide open with a 26-9 score after the first period.
There was no looking back for Fiji since then as it even led by 26 points en route to the win.
Marques Whippy piled up 19 points, 10 rebounds, and two steals to lead from the front in Fiji's Bronze Medal conquest.
Fiji finished with the Silver Medal in the last edition behind defending champion Guam.
Mataika Koyamainavure and Filimone Waqabaca also added 15 and 14 markers, respectively while Joshua Fox had five points and 12 boards.
Meanwhile, Lloyd Wright put up 11 while Liam Wright and Moses Apiko added 10 each in a losing cause for PNG which missed out on the podium for the second straight edition.
PNG also settled for fourth place in the 2015 Pacific Games.
This article is published from FIBA with permission.