Cricket gold for Samoa women and PNG men
Samoa defeated Papua New Guinea in the women's cricket gold medal match for the second Pacific Games in a row at Samoa 2019 on Saturday, but there was some consolation for PNG in the men's event at Faleata Cricket Grounds, where they claimed gold.
In the women's decider, Samoa won the toss and sent PNG in to bat first. They scored 72 runs which Samoa chased down with 4 wickets in hand.
"Winning this gold medal in our home country is a dream come true," said Samoa player Langi Telea. "I want to leave a legacy for all the girls here in Samoa, and encourage them to continue playing cricket."
Read more: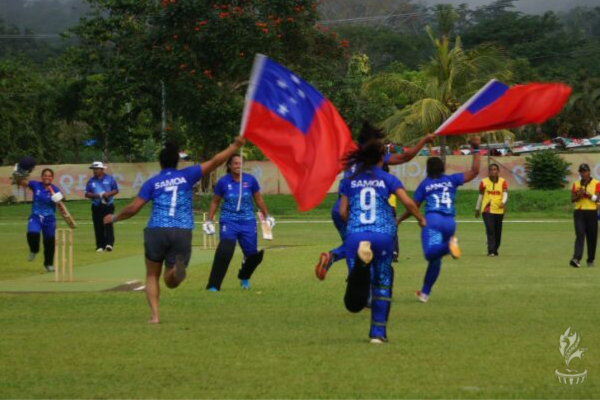 Samoa retained their women's cricket gold medal (Credit: Pacific Games News Service/Karen Anaya)
A disappointed PNG captain, Kaia Arua, said: "We fought hard and wanted to win gold but we didn't. Silver is not bad, but gold would have been better."
A tearful Arua also revealed that it was her daughter's birthday. "I wish she was here to see me play and win this silver medal, especially as it's her birthday today and a birthday without a mum is hard, but I did it for her and for my country."
In the women's bronze medal match, Vanuatu defeated Fiji, chasing down Fiji's total of 79/9 in just 8 overs with 8 wickets to spare.
It was a hard-earned reward for Vanuatu's women, who had to crowd-fund their way to compete at Samoa 2019 and will now go home having recorded the most significant result in their country's women's cricket history.
In the men's final, PNG defeated Vanuatu by 32 runs to claim gold in a reversal of the result at the Port Moresby 2015 XV Pacific Games, where Vanuatu had defeated PNG on home soil.
Vanuatu won the toss and sent PNG in to bat. They scored 138, which Vanuatu were unable to match in their innings, as they were bowled out for 105.
"We are very happy to win this gold after losing to Vanuatu at home at the last Games," admitted PNG captain Assad Vala.
"We've worked really hard for four years to be able to win this medal back."
Vanuatu player Simpson Obed said: "I'm really proud of how the boys handled the final today and that we really gave a fight to PNG, but they managed to sneak away from us. Skill-wise, we are just the same as PNG, but maybe they are stronger mentally."
In the men's bronze medal match, Samoa comfortably defeated New Caledonia by 157 runs.
Samoa won the toss and elected to bat first, amassing a huge total of 241. New Caledonia's chase was nowhere near as they posted just 84 runs from 20 overs.
The medal matches attracted a healthy crowd of supporters and fellow athletes at Faleata Cricket Ovals on a sunny Saturday afternoon to cheer on their countrymen and women.