Australia scores five golds in men's taekwondo at Pacific Games
Australia had a successful first day at taekwondo, winning five of the six men's events at Samoa 2019 XVI Pacific Games.
The stand out match of the day was Alan Salek's gold medal fight against the hometown favourite Kaino Thomsen. Thomsen took an early lead in the fight and remained out in front by a few points for the majority of the match, much to the delight of the roaring crowd.
However, Salek landed two strong blows to the head in the final four seconds to nudge in front and take the win by three points.
"I watched Thomsen's earlier fight and I saw him actually knock out his previous opponent, so that was in my mind going into the fight," Salek was quoted on the Australian Olympic Committee website.
Read more: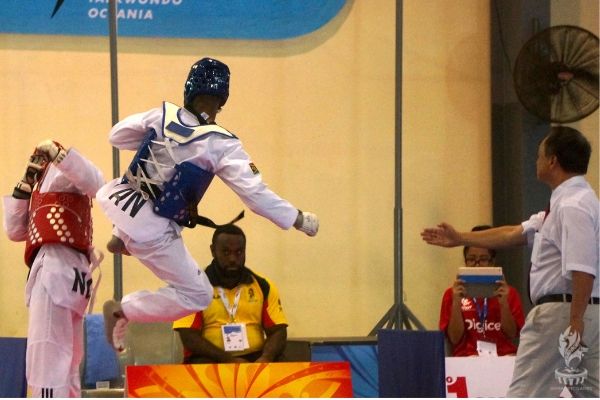 "I was sticking to my game plan, but he kept shutting me down. In the last 20 seconds I got a hit and got one point above him and then ten seconds later he got another kick and was one point above me.
"I knew I had to do something or I was going to lose. Those last four seconds felt like everything slowed down, it felt like another 30 seconds of time, and I got two kicks in those four seconds. I genuinely thought I was going to cry when that final buzzer went."
After copping a fist to the face in his earlier fight and sporting a swollen eye for the final, Salek said today's victory was the most memorable moment in his 12-year taekwondo career.
"I have never done anything like this before, it's my first international comp outside of one I did in Australia a few weeks ago," he said.
"You train for so long and to get the opportunity to represent Australia in front of that massive crowd, in that environment, with that energy, it's just amazing."
The 22-year-old was born with a cyst on his kidney and had his entire kidney removed when he was a baby.
"I never thought competing at this level was something I'd actually get to do. Growing up I was always told I wouldn't be strong enough or good enough because I only had one kidney.
"But now that I have done this, it's just the best feeling. This tournament was like the tester for me, to show me that I want to keep pushing to see how far I can go in the sport."
Other results:
• Damon Cavey defeated Papua New Guinea: 39-4 (-63kg)
• Tom Afonczenko defeated Kiribati: 59-5 (-68kg)
• Leon Sejranovic defeated Guam: 48-1 (-74kg)
• Jack Marton defeated New Zealand: 40-9 (-80kg)
• Alan Salek defeated Samoa: 25-22 (+87kg)
The only event not won by an Australian, was Tonga's Moala Apolo Latu Takelo defeating Solomon Island's Fred Junior Gwali 73-61 (-87)
Another stand-out performance came from 17-year-old Sejranovic, who only recently made the move to the senior ranks, even though he's still young enough to be considered a junior.
The Melbournian said the jump into seniors has "been challenging," but today's win shows he's making the right improvements.
"In competitions earlier this year I struggled as the competitors are a lot stronger than me," he said.
"Technically I am quite strong, but I've been losing at Australian events and in Europe because I've been getting overpowered in clinch [a close blocking technique]. Since I got back from Europe I've been hitting the gym three times a week working on upper body and squats, and developing the muscles that help with clinch, which has helped my fighting a lot.
"It's really nice to see the work paying off and to get the gold today at my first Pacific Games."
This article was published on the Australian Olympic Committee website and is reprinted with permission.