What to watch on day 10
We are heading towards the business end of the Samoa 2019 Pacific Games as we look at what is happening on the third to last day of action.

Football is back after a two-day rest and basketball 3x3 and powerlifting finally take the stage!
Lucky thirteen SPORTS are on offer today - Athletics, Basketball 3 x 3, Boxing, Football, Netball, Powerlifting, Sailing, Shooting, Squash, Taekwondo, Tennis, Touch and Volleyball - with VENUES from Apia Park to Faleata Sports Complex, Taifagata Shooting Range, west to Mulifania and across the Apolima Strait to Saleloga on Savai'i. Samoa We ON!

We are halfway through the spectator visual feast that is Athletics on day 4 of 6.
The nonstop action starts at 9.30am and doesn't stop until 8.30pm and every day includes a medal ceremony.
Entry is SAT$5.00 at Apia Park.

Basketball 5 x 5 may have finished yesterday, but Basketball 3 x 3 is featuring for the first time today. Spectators can watch Men's and Women's 3x3 over the next 3 days.
So basketball lovers can still head to Gym 2, Falearta to see all the action starting at 12 noon until 9pm p.m.
Entry is SAT$5.00
PREVIEW
Day 3 of Boxing is on at Don Bosco College on Savai'i - the place to be for all boxing fans.
Starting at 11:30am and the ringside lights go off at 5pm.
Entry is SAT$5.00 at the venue.
Football is back.
Teams have had a two-day rest and will be pumped to get back on the field on the fifth day of competition.
Men's kicks off at 10am and women's at midday at the JS Blatter Football Complex.
Entry is SAT$5.00 at the complex.
This is the last day of Netball before medals are decided on Friday.
This fast paced attacking sport is attracting large, spirited crowds so be court side at 1pm for the first game of the day and stay until 9pm at the Multi-Sport Centre at Faleata.
Entry is SAT$5.00.
Powerlifting starts today.
Power, strength, concentration and courage will be on show at Gym 1, Faleata, today and tomorrow when the Powerlifting flexes its muscles.
Entry is SAT$5.00 at the venue.
15 medals will be contested over the two day event with 8 Men's and 7 Women's up for grabs.
PREVIEW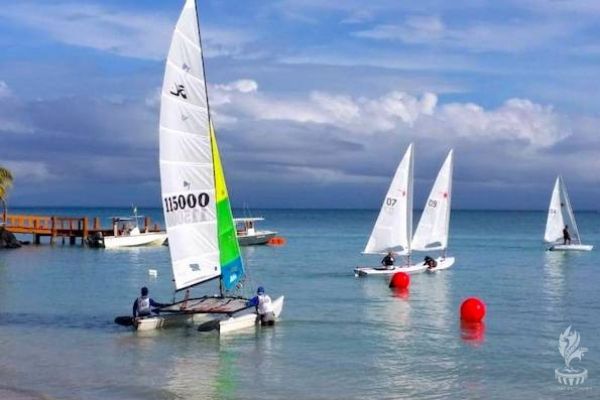 Sailing is on day 9 of 10 and it's another medal day.
Medals will be decided today and tomorrow.
Entry is free at Mulifanua.
Shooting continues on day 4 of their competition at Tafaigata Shooting Range today.
The first shot goes off at 9am and cease fire is at 5pm.
Entry is free.
It's going to be a smashing day at Squash on day 10 of the 11 day competition.
Be there at 10.30am to see the first serve. Action will continue until 7.30pm.
Entry is free.
Taekwondo will see athletes kicking and leaping through the air at the Harvest Centre on day 3 of the 4.
Every day is medal day at Taekwondo.
Competition starts at 9am and concludes at 8pm.
Entry is free.
This is the last day of Tennis action before the medals are handed out tomorrow.
Day 10 of competition and it never disappoints! Watch the action at Apia Park from 9am with the last match scheduled to finish at 8pm.
Entry $5.00 at Apia Park.
Touch continues at Marist St Joseph's Stadium in Lotopa.
Excitement is building with games starting at 8.30am and continuing until 4.30pm
Be early as the stands fill up quickly.
Entry is SAT$5.00 at the venue.
Volleyball is drawing standing room only crowds and continues to excite spectators on day 7 of competition at the NUS gym from 11am.
Be early to get a good seat to see all the action.
It is day 5 of Women's volleyball while the Men's competition is up to day 7.
Entry is SAT$5.00 at the National University of Samoa Gym.
DAY 10, THURSDAY 18 July
0800
SQUASH Men's, Women's & Mixed Doubles Preliminary Rounds
0830
TOUCH RUGBY Mixed Teams Fiji vs Samoa
0900
SHOOTING DTL Double Barrel (Team)
0900
SHOOTING DTL Double Barrel (Individual)
0900
FOOTBALL Men's Papua New Guinea vs Tonga
0920
TOUCH RUGBY Mixed Teams Cook Islands vs Tonga
1000
FOOTBALL Men's New Caledonia vs Tuvalu
1000
POWERLIFTING Women's 47kg
1000
POWERLIFTING Women's 52kg
1100
VOLLEYBALL Men's SF Kiribati vs Papua New Guinea
1200
BASKETBALL 3x3 Women's Cook Islands vs Solomon Islands
1200
BASKETBALL 3x3 Women's Fiji vs Marshall Islands
1200
FOOTBALL Women's Tonga vs Fiji
1200
POWERLIFTING Women's 75kg
1220
BASKETBALL 3x3 Women's New Caledonia vs Nauru
1220
BASKETBALL 3x3 Women's Kiribati vs American Samoa
1240
BASKETBALL 3x3 Women's Samoa vs Tahiti
1300
FOOTBALL Men's Tahiti vs American Samoa
1300
NETBALL Semifinal
1300
POWERLIFTING Women's 63kg
1320
BASKETBALL 3x3 Women's Marshall Islands vs Cook Islands
1320
BASKETBALL 3x3 Women's Solomon Islands vs Kiribati
1330
FOOTBALL Women's Cook Islands vs Papua New Guinea
1330
POWERLIFTING Men's 59kg
1330
VOLLEYBALL Men's SF Tuvalu vs American Samoa
1340
BASKETBALL 3x3 Women's Vanuatu vs Fiji
1340
BASKETBALL 3x3 Women's Nauru vs Papua New Guinea
1345
ATHLETICS Men's 1110M Hurdles
1400
ATHLETICS Heptathlon Event 5 Women's Long Jump
1400
BASKETBALL 3x3 Women's Tahiti vs Guam
1400
BASKETBALL 3x3 Women's New Caledonia vs Samoa
1420
BASKETBALL 3x3 Men's Fiji vs Solomon Islands
1420
BASKETBALL 3x3 Men's Vanuatu vs Nauru
1430
VOLLEYBALL Women's American Samoa vs Guam
1440
BASKETBALL 3x3 Men's New Caledonia vs Marshall Islands
1440
BASKETBALL 3x3 Men's American Samoa vs Guam
1500
ATHLETICS Men's Long Jump
1500
BASKETBALL 3x3 Men's Papua New Guinea vs Cook Islands
1500
BASKETBALL 3x3 Men's Samoa vs Tahiti
1500
FOOTBALL Women's New Caledonia vs Samoa
1515
ATHLETICS Women's 200M
1530
ATHLETICS Men's 200M
1530
ATHLETICS Heptathlon Event 6 Women's Javelin 600-Entrance
1530
ATHLETICS Men's Discus
1530
FOOTBALL Women's Vanuatu vs Tahiti
1530
NETBALL Semifinal
1530
POWERLIFTING Men's 66kg
1540
BASKETBALL 3x3 Solomon Islands vs American Samoa
1540
BASKETBALL 3x3 Men's Nauru vs Guam
1600
ATHLETICS Women's 1500M
1600
BASKETBALL 3x3 Men's Vanuatu vs Fiji
1600
BASKETBALL 3x3 Men's Marshall Islands vs Cook Islands
1600
VOLLEYBALL Men's SF Tahiti vs New Caledonia
1600
FOOTBALL Men's Vanuatu vs Samoa
1615
ATHLETICS Men's Shot Put Secured Throw
1620
ATHLETICS Women's 100M Hurdles
1620
BASKETBALL 3x3 Men's Tahiti vs Papua New Guinea
1620
BASKETBALL 3x3 Men's New Caledonia vs Samoa
1640
ATHLETICS Men's 110 M Hurdles
1640
BASKETBALL 3x3 Women's Kiribati vs Marshall Islands
1640
BASKETBALL 3x3 Women's Cook Islands vs Vanuatu
1645
ATHLETICS Women's 100M Hurdles MP
1652
ATHLETICS Women's 1500M MP
1700
ATHLETICS Men's 5000M
1700
BASKETBALL 3x3 Women's Samoa vs Nauru
1700
BASKETBALL 3x3 Women's American Samoa vs Solomon Islands
1700
VOLLEYBALL Women's Wallis & Futuna vs New Caledonia
1715
ATHLETICS Women's Javelin 600g - Ent
1720
BASKETBALL 3x3 Women's Papua New Guinea vs Tahiti
1720
BASKETBALL 3x3 Women's Guam vs New Caledonia
1730
ATHLETICS Heptathlon Event 7 Women's 800M
1730
ATHLETICS Women's Triple Jump
1740
ATHLETICS Men's 110M Hurdles MP
1750
ATHLETICS Women's 200M
1800
ATHLETICS Men's Discus MP
1800
BASKETBALL 3x3 Women's Vanuatu vs Kiribati
1800
BASKETBALL 3x3 Women's Marshall Islands vs American Samoa
1800
NETBALL Semifinal
1800
POWERLIFTING Women's 84kg
1807
ATHLETICS Men's Long Jump MP
1815
ATHLETICS Men's 200M
1820
ATHLETICS Men's 5000M MP
1820
BASKETBALL 3x3 Women's Fiji vs Cook Islands
1820
BASKETBALL 3x3 Men's Fiji vs Nauru
1827
ATHLETICS Men's Shot Put Secured MP
1830
VOLLEYBALL Men's SF Samoa vs Wallis & Futuna
1840
BASKETBALL 3x3 Men's American Samoa vs Vanuatu
1840
BASKETBALL 3x3 Men's Guam vs Solomon Islands
1900
ATHLETICS Women's 4x400M Relay
1900
BASKETBALL 3x3 Men's Samoa vs Marshall Islands
1900
BASKETBALL 3x3 Men's Papua New Guinea vs New Caledonia
1900
FOOTBALL Men's Fiji vs Solomon Islands
1900
POWERLIFTING Women's +84kg
1900
VOLLEYBALL Women's Samoa vs Tahiti
1910
ATHLETICS Women's Triple Jump MP
1920
ATHLETICS Men's 4x400M Relay
1920
BASKETBALL 3x3 Men's Cook Islands vs Tahiti
1930
ATHLETICS Women's Javelin MP
1937
ATHLETICS Women's 200M MP
1944
ATHLETICS Men's 200M MP
1951
ATHLETICS Women's 4x400M Relay MP
2018
ATHLETICS Men's 4x400M Relay MP
2030
NETBALL Semifinal