What to watch on day 8 Tuesday
As we settle into another big week of elite level sports the big news today is Boxing, Judo and Taekwondo will be on show for the first time at the Samoa 2019 XVI Pacific Games.
Twelve SPORTS are on offer today: Athletics, Basketball 5 x 5, Boxing, Judo, Netball, Sailing, Shooting, Squash, Taekwondo, Tennis, Touch and Volleyball.
Medals are at stake in some.
Athletics sprints into day 2. This is the first full day of competition so head to the stands at Apia Park Stadium for a bird's eye view of the whole arena.
Today's action starts at 9.30am and doesn't stop until 8.30pm.
Entry is SAT$5.00 at Apia Park.

Basketball 5 x 5 will see frenzied action today as we head to the finals tomorrow. Competition is fierce as both Men's and Women's teams vie for the gold, silver and bronze medals. Today is another twelve hour day starting at 9am until 9pm
Entry is SAT$5.00 at Gym 2, Faleata.
Boxing is set to go off today at Don Bosco College, on the big island of Savaii for the first time.
With 10 weight classes for the Men's competition and three for the Women's, the action kicks off today at 11:30am.
This is the start of four days of fierce competition as boxers fight to win every point before the medal bouts on the 19 July.
Entry is SAT$5.00 at the venue.
PREVIEW
Judo will be welcomed back as a Pacific Games sport in Gym 1, Faleata during week two of the Samoa 2019 XVI Pacific Games. Thirteen nations will compete for medals decided over a 2 day event from 16-17 July.
Entry is SAT$5.00.
Athletes will be keen to demonstrate their skills after being absent from the 2015 Pacific Games in Papua New Guinea.
PREVIEW
Netball will throw itself into day 2 of the 5 day competition. Action starts at 1pm and will continue until 9pm at the magnificent Multi-Sport Centre at Faleata.
Reigning gold medalists Fiji are not attending the Games, this year, so, the field is wide open.
Entry is SAT$5.00.
Sailing is on day 7 of the 10 day competition.
Entry is free at Sheraton Beach Resort at Mulifanua.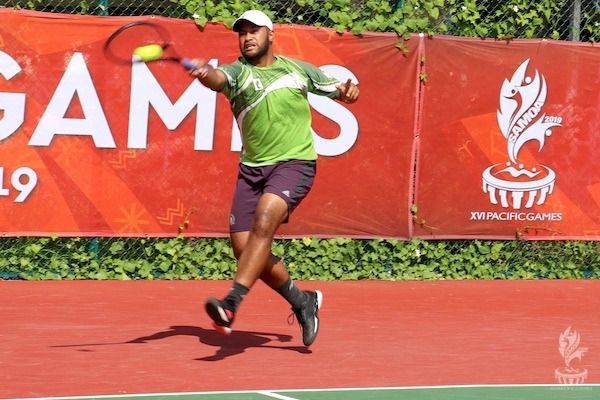 Shooters will be looking for the target as they settle into day 2 of competition at the Samoa 2019 XVI Pacific Games at Tafaigata Shooting Range today.
The first shot goes off at 9am and cease fire is at 5pm.
Entry is free.
Squash smashes its way into day 8 of 11.
Some players will find their way onto the podium today as medals are decided. Be there at 9.30am to see the first serve. Action will continue until 7.30pm at the Squash Courts, Faleata.
Entry is free.
Taekwondo will kick off at the Harvest Centre, for 4 days from today until the 19 July.
Historically, Tahiti has been a dominant force to be reckoned with so they will be the team to watch.
Entry is free.
PREVIEW
Day 8 of Tennis will serve up the action at Apia Park from 9am. Medals are decided in 3 days so every point counts. The lights go out at 8pm.
Entry $5.00 at Apia Park.
RESULTS
Afio mai, welcome to the second day of the incredibly popular Touch competition at Marist St Joseph's Stadium in Lotopa.
Day 2 of the 5 day competition starts today at 8.30am and concludes at 4.30pm.
Spectators can expect to see some high quality sport as the top three teams feature in the world rankings.
Entry is SAT$5.00 at the venue.
Volleyball continues to be a crowd pleaser on day 5 of competition at the National University of Samoa Gym at 11am.
It is day 3 of Women's tournament while the Men's competition is up to day 5.
Entry is SAT$5.00 at the Gym.
DAY 8, TUESDAY 16 July

0900
BASKETBALL 5x5 Women's CL 5-6 Tahiti vs Cook Islands
0900
SHOOTING 25M Standard Pistol (Individual)
0900
SHOOTING 25M Standard Pistol (Team)
0900
JUDO Senior Women Under 57kg Pool A Match 1 Papua New Guinea vs Tahiti
0900
JUDO Senior Women Under 57kg Pool C Match 3 Fiji Islands vs New Caledonia
0900
JUDO Senior Women Under 70kg Match 1 Tahiti vs Samoa
0900
JUDO Senior Women Under 70kg Match 2 Tahiti vs Fiji
0900
JUDO Senior Women Under 70kg Match 3 Samoa vs Fiji
0900
JUDO Senior Women Under 78kg Pool A Match 1 Solomon Islands vs Fiji
0900
JUDO Senior Women Under 78kg Pool B Match 2 Papua New Guinea vs Fiji
0900
JUDO Senior Women Under 63kg Pool A Match 1 Kiribati vs Fiji
0900
JUDO Senior Women Under 63kg Pool B Match 2 Tahiti vs New Caledonia
0900
JUDO Senior Women Under 63kg Pool C Match 3 Tahiti vs Guam
0900
JUDO Senior Women Under 63kg Pool D Match 4 Fiji vs Solomon Islands
0900
JUDO Senior Women Over 78kg Match 1 Tahiti vs Papua New Guinea
0900
JUDO Senior Women Over 78kg Match 2 Tahiti vs Samoa
0900
JUDO Senior Women Over 78kg Match 3 Papua New Guinea vs Samoa
0900
JUDO Senior Men Under 60kg Pool A Match 1 Kiribati vs New Caledonia
0900
JUDO Senior Men Under 60kg Pool B Match 2 Tahiti vs Nauru
0900
JUDO Senior Men Under 60kg Pool C Match 3 Vanuatu vs Tahiti
0900
JUDO Senior Men Under 60kg Pool D Match 4 New Caledonia vs Solomon Islands
0900
JUDO Senior Men Under 66kg Pool A Match 2 Tahiti vs Palau
0900
JUDO Senior Men Under 66kg Pool D Match 8 Samoa vs Solomon Islands
0900
TAEKWONDO Men's Under 68kg
0900
TAEKWONDO Men's G4 WT-Sanctioned Kyorugi Competition Under 74kg
0900
TAEKWONDO Men's Under 80kg
0900
TAEKWONDO Men's Under 87kg
0900
TAEKWONDO Men's Under 74kg
0900
TAEKWONDO Men's Under 54kg
0900
TAEKWONDO Men's Under 58kg
0920
TOUCH RUGBY Men's Tonga vs Fiji / Field 2
0930
ATHLETICS Women's Javelin Ambulant-Ent
0930
SQUASH Men's Singles Finals
1000
ATHLETICS Men's High Jump
1000
ATHLETICS Decathlon Event 6 Men's 110M Hurdles
1010
TOUCH RUGBY Men's Tokelau vs Solomon Islands / Field 1
1025
ATHLETICS Women's 400M Heats
1040
ATHLETICS Decathlon Event 7 Men's Discus 2kg
1045
ATHLETICS Men's 400M Heats
1100
BASKETBALL 5x5 Men's CL 5-6 Samoa vs New Caledonia
1100
BOXING Bantam 56kg AMRAM Christon (NRU) vs ILLAHA Denis Moses (SOL)
1100
TOUCH RUGBY Women's Fiji vs Solomon Islands / Field 1
1100
TOUCH RUGBY Women's Papua New Guinea vs Cook Islands / Field 2
1110
ATHLETICS Women's Javelin Ambulant-MP
1115
BOXING Bantam 56kg AAREE Betero (KIR) vs RON Lanson (VAN)
1130
ATHLETICS Men's High Jump MP
1130
BOXING Middle 75kg MAI Heiarii (FPO) vs WARUPI Neville Potter (PNG)
1145
BOXING Middle 75kg NONU Lopeti Lauvao (TGA) vs TOVOR Josky (VAN)
1150
TOUCH RUGBY Women's Tonga vs Samoa / Field 1
1150
TOUCH RUGBY Men's Tonga vs Samoa / Field 2
1200
BOXING Heavy 91kg TAPATUETOA Travis Motu Junior Sani (NIU) vs WHIPPY Daniel Josephy Stanley (FIJ)
1215
BOXING Heavy 91kg LAVALOU Arthur Ray (PNG) vs TUAKOI Bishop Sioeli (TGA)
1230
BOXING Heavy 91kg NEUFFER Heimata (FPO) vs ROBIN Peter (VAN)
1240
TOUCH RUGBY Men's Solomon Islands vs Fiji / Field 1
1240
TOUCH RUGBY Men's Tokelau vs Papua New Guinea / Field 2
1245
BOXING Heavy 91kg FATA KALEPI Afaese Hugo (SAM) vs KIDOE Graham Miabule (SOL)
1250
SQUASH Women's Singles Finals
1300
BASKETBALL 5x5 Women's Semifinal 1 Amerian Samoa vs Samoa
1300
NETBALL Pool A, Game 5 Tonga vs American Samoa
1300
VOLLEYBALL Men's Federated States of Micronesia vs Papua New Guinea
1330
ATHLETICS Decathlon Event 8 Men's Pole Vault
1330
TOUCH RUGBY Women's Fiji vs Papua New Guinea / Field 2
1400
ATHLETICS Women's Hammer 4kg
1420
TOUCH RUGBY Women's Tonga vs Solomon Islands / Field 1
1420
TOUCH RUGBY Women's Samoa vs Cook Islands / Field 2
1430
VOLLEYBALL Women's Solomon Islands vs Wallis & Futuna
1500
ATHLETICS Men's Javelin Ambulant-Ent
1500
BASKETBALL 5x5 Men's Semifinal 1 Fiji vs Tahiti
1500
VOLLEYBALL Men's New Caledonia vs Wallis & Futuna
1500
BOXING Women's Fly 48-51kg CHARLOT Mahina (NCL) vs APEANG-BENNETT Meheani (FPO)
1510
TOUCH RUGBY Men's Solomon Islands vs Samoa / Field 1
1510
TOUCH RUGBY Men's Cook Islands vs Tonga / Field 2
1515
BOXING Light 60kg CALEB Colan (NRU) vs MOSE Nuuuli (SAM)
1530
BOXING Light 60kg TAUREI Terauri Rowan (FPO) vs LELE Pemberton (SOL)
1530
NETBALL Pool B, Game 6 Cook Islands vs Norfolk Island
1545
BOXING Light 60kg ROKOBULI Elia (FIJ) vs REBOAM Arania (KIR)
1550
ATHLETICS Women's Hammer MP
1600
ATHLETICS Women's 100M Heats
1600
ATHLETICS Women's High Jump SH1.40
1600
BOXING Welter 69kg CASTAN Franck (NCL) vs BABANISI Gerrard (SOL)
1600
TOUCH RUGBY Men's Fiji vs Papua New Guinea / Field 1
1615
ATHLETICS Men's 100M Ambulant Heats
1615
BOXING Light Heavy 81kg MAU Jone (FIJ) vs TAALA Jolando Lala Lupe (ASA)
1630
ATHLETICS Men's 100M Semis
1630
ATHLETICS Decathlon Event 9 Men's Javelin 800-Entrance
1630
BOXING Light Heavy 81kg HEMA Luke (NCL) vs HURRELL Ken Stone William (TGA)
1645
ATHLETICS Men's Javelin Ambulant-MP AMB
1645
BOXING Light Heavy 81kg WAKORE Lucas Wakore Kembu (PNG) vs PLODZICKI FAOAGALI Ato Leau (SAM)
1650
ATHLETICS Men's 10000M
1700
BASKETBALL 5x5 Women's Semifinal 2 Guam vs Fiji
1700
BOXING Super Heavy +91kg LAVEMAI Sepasitiano Hurrell (TGA) vs ATIU Amoroa (FPO)
1700
VOLLEYBALL Women's New Caledonia vs Tahiti
1715
ATHLETICS Women's High Jump MP
1715
BOXING Super Heavy +91kg HALA Filimaua (SAM) vs 'A'ASA Alapati Jr. (TUV)
1730
VOLLEYBALL Men's Tahiti vs Tuvalu
1740
ATHLETICS Women's 800M
1750
ATHLETICS Men's 800M Finals
1800
ATHLETICS Women's 100M Ambulant
1800
NETBALL Pool B, Game 7 Samoa vs Tokelau
1810
ATHLETICS Men's 100M Ambulant Finals
1825
ATHLETICS Men's 10000M Ambulant Finals
1830
ATHLETICS Decathlon Event 10 Men's 1500M
1841
ATHLETICS Women's 800M MP
1847
ATHLETICS Men's 800M MP
1854
ATHLETICS Women's 100M MP AMB
1900
ATHLETICS Men's 100M MP AMB
1900
BASKETBALL 5x5 Men's Semifinal 2 Papua New Guinea vs Guam
1900
VOLLEYBALL Women's Samoa vs Guam
1910
ATHLETICS Men's 100M Finals
1920
ATHLETICS Women's 100M Finals
1930
VOLLEYBALL Samoa vs Kiribati
1937
ATHLETICS Men's 100M MP
1944
ATHLETICS Women's 100M MP
2030
NETBALL Pool A, Game 8 Papua New Guinea vs Solomon Islands