What to watch on day 7
What will week 2 bring?
After a well-deserved rest day on Sunday we move into the second stanza at the Samoa 2019 Pacific Games with VENUES from Apia Park to Mulifanua.
Ten SPORTS are on offer today with Athletics, Netball, Shooting and Touch all kicking off.
Fans have been waiting for a chance to cheer on their athletes and today is the day when those sports show what they can do at this Pacific Games.
Athletics is on and will be huge.
Apia Park Stadium will be the place to be as 21 nations compete in 50 events.
The action will be frenetic as some athletes are using the Pacific Games as a path to the 2020 Olympics in Tokyo. The first event is schedule for 3.30pm - the Decathlon Men's 100m.
Entry is SAT$5.00 at the Stadium.
PREVIEW
Basketball 5 x 5 bounces into week 2 and the last three days of spirited competition.
Today is another full day starting at the earlier time of 9am and running till 9pm.
Medal day is Wednesday so the action is hotting up at Gym 2, Faleata.
Entry is SAT$5.00 at gym 2 stadium.
Football heads into the fourth day of completion after a 2 day break. The Men's competition kicks off at 10am and the Women's at 12 midday. All the action is at the JS Blatter Football Complex, Faleata.
Entry is SAT$5.00 at the complex.
Netball athletes, coaches, families and supporters have been waiting for today.
Nine nations will vie for gold during the 5 day competition.
Action starts at 1pm at the new Multi-Sport Centre at Faleata.
Entry is SAT$5.00.
PREVIEW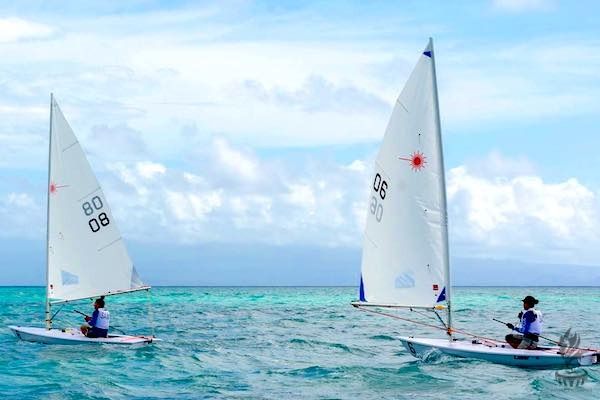 Ahoy there as Sailing continues after a rest day yesterday.
Weather conditions were improving at the end of last week so sailors and spectators will be watching the wind and waves with a keen eye.
Entry is free at the Sheraton Beach Resort, Mulifanua.
Shooting will go off with a bang for the first time at this Games at Tafaigata Shooting Range today.
This year 8 countries will compete in 6 different categories: Single Barrel – Mixed, Single Barrel – Mixed, Double Barrel – Mixed, Points Score – Mixed, 25m Pistol – Women, 25m standard pistol - Mixed.
Entry is free.
PREVIEW
Squash moves into day 7 of 11.
Every point counts as some medals will be decided tomorrow.
Be there at 9.30am as the first ball bounces off the walls.
Action will continue until 6.30pm at the Squash Courts, Faleata.
Entry is free.
Rally your friends and head to Apia Park at 9am. for day 7 of the Tennis.
The weather will hopefully let spectators see a full day of full court action before close of play at 8pm.
Entry is SAT$5.00 at the venue.
Touch enthusiasts will flock to Marist St Joseph's Stadium.
Seven nations will compete in 3 divisions of mens, womens and mixed touch teams. The five day competition starts today at 8.30am and runs to the 20 July.
Entry is SAT$5.00 at the venue.
PREVIEW
Hugely popular Pacific Island sport, Volleyball serves up the action on day 4 of competition at the National University of Samoa Gym from 11am.
It is day 2 of Women's volleyball while the Men's competition is up to day 4.
Entry is SAT$5.00 at the Gym.

| | |
| --- | --- |
| 0830 | TOUCH RUGBY Men's Solomon Islands vs Cook Islands / Field 1 |
| 0830 | TOUCH RUGBY Men's Fiji vs Tokelau / Field 2 |
| 0900 | BASKETBALL 5x5 Women's New Caledonia vs Papua New Guinea |
| 0900 | FOOTBALL Men's Tonga vs Vanuatu |
| 0900 | SAILING Laser Team - Men's One Person Dinghy |
| 0900 | SAILING Hobie Cat 16 - Individual |
| 0900 | SAILING Hobie Cat 16 - Team |
| 0900 | SAILING Laser Individual - Men's One Person Dinghy |
| 0900 | SHOOTING 25M Sports Pistol (Individual) |
| 0900 | SHOOTING 25M Sports Pistol (Team) |
| 0920 | TOUCH RUGBY Men's Papua New Guinea vs Tonga / Field 1 |
| 1000 | FOOTBALL Men's New Zealand vs Papua New Guinea |
| 1010 | TOUCH RUGBY Women's Fiji vs Samoa / Field 1 |
| 1010 | TOUCH RUGBY Women's Cook Islands vs Tokelau / Field 2 |
| 1050 | SQUASH Women's Singles Semifinal 1 |
| 1050 | SQUASH Women's Singles Semifinal 2 |
| 1100 | BASKETBALL 5x5 Men's Solomon Islands vs Tonga |
| 1100 | TOUCH RUGBY Women's Papua New Guinea vs Solomon Islands / Field 1 |
| 1100 | TOUCH RUGBY Men's Samoa vs Tokelau / Field 2 |
| 1100 | VOLLEYBALL Men's Guam vs Solomon Islands |
| 1150 | TOUCH RUGBY Men's Papua New Guinea vs Solomon Islands / Field 1 |
| 1150 | TOUCH RUGBY Men's Cook Islands vs Fiji / Field 2 |
| 1200 | FOOTBALL Women's Papua New Guinea vs Vanuatu |
| 1210 | SQUASH Men's Singles Semifinal 1 |
| 1210 | SQUASH Men's Singles Semifinal 2 |
| 1240 | TOUCH RUGBY Women's Fiji vs Cook Islands / Field 2 |
| 1300 | BASKETBALL 5x5 Men's Quarterfinal 1 Tahiti vs New Caledonia |
| 1300 | FOOTBALL Men's Fiji vs Tuvalu |
| 1300 | NETBALL Pool B, Game 1 Samoa vs Norfolk Island |
| 1300 | VOLLEYBALL Men's Samoa vs Kiribati |
| 1330 | FOOTBALL Women's Fiji vs New Caledonia |
| 1330 | TOUCH RUGBY Women's Solomon Islands vs Samoa / Field 1 |
| 1330 | TOUCH RUGBY Women's Papua New Guinea vs Tonga / Field 2 |
| 1420 | TOUCH RUGBY Men's Cook Islands vs Papua New Guinea / Field 1 |
| 1420 | TOUCH RUGBY Men's Samoa vs Fiji / Field 1 |
| 1430 | VOLLEYBALL Women's Solomon Islands vs Guam |
| 1500 | BASKETBALL 5x5 Women's Quarterfinal 1 Samoa vs Tahiti |
| 1500 | FOOTBALL Women's Solomon Islands vs Cook Islands |
| 1500 | VOLLEYBALL Men's Papua New Guinea vs American Samoa |
| 1510 | TOUCH RUGBY Men's Tonga vs Tokelau / Field 1 |
| 1530 | ATHLETICS Decathlon Event 1 Men's 100M |
| 1530 | FOOTBALL Women's American Samoa vs Tonga |
| 1530 | NETBALL Pool A, Game 2 Papua New Guinea vs American Samoa |
| 1600 | ATHLETICS Decathlon Event 2 Men's Long Jump |
| 1600 | FOOTBALL Men's Solomon Islands vs American Samoa |
| 1600 | TOUCH RUGBY Women's Samoa vs Papua New Guinea / Field 1 |
| 1600 | TOUCH RUGBY Women's Fiji vs Tonga / Field 2 |
| 1650 | TOUCH RUGBY Women's Cook Islands vs Solomon Islands / Field 2 |
| 1700 | BASKETBALL 5x5 Women's Quarterfinal 2 Guam vs Cook Islands |
| 1700 | VOLLEYBALL Women's New Caledonia vs American Samoa |
| 1730 | ATHLETICS Decathlon Event 3 Men's Shot Put |
| 1730 | VOLLEYBALL Men's Tahiti vs Tuvalu |
| 1745 | ATHLETICS Men's 800M |
| 1800 | ATHLETICS Men's Javelin |
| 1800 | NETBALL Pool A, Game 3 Tonga vs Solomon Islands |
| 1815 | ATHLETICS Decathlon Even 4 Men's High Jump |
| 1815 | ATHLETICS Women's Pole Vault |
| 1830 | ATHLETICS Men's 3000M Steeplechase |
| 1900 | BASKETBALL 5x5 Men's Quarterfinal 2 Papua New Guinea vs Samoa |
| 1900 | FOOTBALL Men's Tahiti vs New Caledonia |
| 1900 | VOLLEYBALL Women's Samoa vs Wallis & Futuna |
| 1910 | ATHLETICS Men's 100M |
| 1930 | ATHLETICS Women's Shot Put |
| 1930 | VOLLEYBALL Men's Wallis & Futuna vs New Caledonia |
| 1940 | ATHLETICS Women's 5000M |
| 2030 | NETBALL Pool B, Game 4 Cook Islands vs Tokelau |