What to watch on day 5
Day five at Samoa 2019 XVI Pacific Games offers up 17 opportunities to watch SPORTS, from archery to weightlifting, across a range of VENUES.
Results are on the individual SPORTS pages and you can keep up with the all-important MEDAL TALLY
The much anticipated Rugby 7s tournament kicks off at Marist St Joseph's Stadium, Lotopa at 8am.
Twelve nations will compete: American Samoa, Cook Islands, Fiji, Nauru, New Caledonia, Papua New Guinea, Samoa, Solomon Islands, Tahiti, Tonga Tuvalu and Wallis and Futuna.
Tickets for Friday are adults $5 and children are free. The first game is Fiji v Solomon Islands in the women's competition.
Elsewhere in the Faleata Sports Complex, Archery will begin its final day at 9.30am.
Don't miss the last day of action in the sport that has captured a nation. Medals will be decided throughout the day. Entry is free.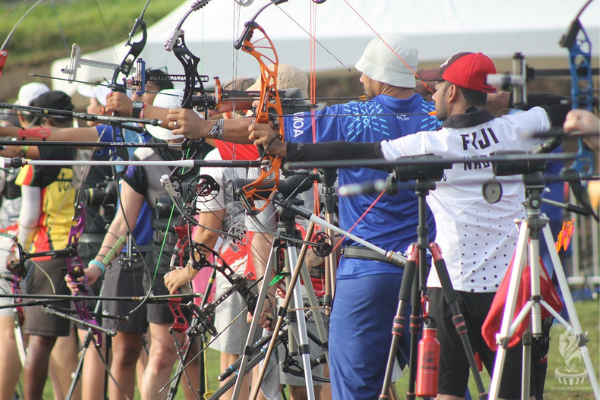 Archery is one of 17 events running on Friday, day 5 of the Games. (Image: Pacific Games News Service)
Up the road at the Multi-Sport Centre, badminton continues for a fifth day, running from 9am to 9pm. Entry is free.
Basketball has not let up in pace or intensity since it started in Gym 2 on Monday. From noon until 9pm, the raucous fans will be cheering their teams on. Entry is $5 at the gate.
Cricket starts at 0900 at the cricket oval Faleata. Rain delays have been problematic but matches have been played in great spirit.
Football returns after a day of rest. Matches kick off at 10am with men's teams Solomon Islands versing Tahiti. Womens teams Vanuatu versing Solomon Islands. All the action is at the JS Blatter Football Complex. Entry is $5 at the complex.
Golf tees off for the third day of competition at the largest sporting event in the Pacific at the Fagalii Golf Course from 7.30am. This is the last chance to watch the golf before the medal placings are decided on Saturday. Entry is free.
Lawn bowls goes into the fifth day of the six-day competition. The fantastic atmosphere has been commented on many times with laughter, music and hugs at the end of each day. Entry is free.
Squash continues at the squash courts at Faleata. Entry is free.
Swimming will start with a splash at 9am and finish at 8pm. Considering there were 25 personal bests broken yesterday morning alone there is a real buzz in the swimming community.
Table tennis starts at 9am and finishes at 9pm at the Harvest Centre Faleata. Entry is free.
Tennis will be served up to spectators at 0900 at Apia Park Tennis courts. Tennis continues through the rain delays. The upcoming women's semifinals will see New Caledonia play Samoa and American Samoa play Papua New Guinea. Entry is $5 at the gate.
Weightlifting continues at Faleata Gym 1. Records were broken in the Oceania and commonwealth records have been broken. Entry is $5 at the stadium.

Volleyball goes into day two of competition at the NUS Gym. At 2pm in the men's division Guam plays American Samoa. In the women's competition Tahiti plays American Samoa at 2.30pm. Entry is $5.
Sailing at Mulifanua continues.
Entry for both sailing and Va'a is free. Va'a has had a day's rest but resumes today at 8am at Mulifanua. Start and stop winds prevailed yesterday so sailors will have their eye on the sky. Para sailors will compete in day two of their competition.
Finally, down to the Apia waterfront, the fun will be on the Beach volleyball courts from 9.45. It's the final chance to watch this hotly contested sport and it's medal day!
Samoa are in the semifinals so expect a loud home crowd!
Entry is free.
DAY 5, FRIDAY 11 July
0800
RUGBY 7s Women's/Solomon Islands vs Fiji
0800
VA'A V1 Marathon 16Km Elite Women
0822
RUGBY 7s Women's/Papua New Guinea vs Nauru
0830
GOLF 10th Tee, Ryan Kim (CNMI), Polo Fruean (ASM)
0839
GOLF 1st Tee, Margaret Siosikefu (NIU), Haven Siosikefu (NIU), Norma Woperis (SOL)
0839
GOLF 10th Tee, Tuli Fruean (ASM), Marco Peter (CNMI), Tom Greenwood (NFK)
0844
RUGBY 7s Women's/American Samoa vs Australia
0848
GOLF 1st Tee, Ravatu Tabe (SOL), Amelie Chen (ASM), Micah Fuhiniu-Viviani (NIU)
0848
GOLF 10th Tee, Masiniholo Lagaloga (NIU), Toma Vakanidua (NIU), Peme Gillet (ASM), Waimanu Pulu (NIU)
0857
GOLF 1st Tee, Emi Subam (FIJ), Tupito Gadalla (ASM), Moe Hardman (ASM)
0857
GOLF 10th Tee, Paul Foeadi (SOL), Ali Hollister (ASM), Cassie Koma (PNG), John Anthony Muna (GUM)
0900
FOOTBALL Men's/American Samoa vs Tuvalu
0900
LAWN BOWL Men's Singles, Fours, Women's Pairs, Triples
0900
TABLE TENNIS Mixed Doubles
0900
WEIGHTLIFTING Women's 81kg B & 87kg B
0906
GOLF 1st Tee, Kim Tolmie-Brewster (ASM), Coral Pasisi (NIU), Emiri Sunga (GUM)
0906
GOLF 10th Tee, Anthony Nabanga (VAN), Jessie Atalig (CNMI), Tasiso Lolesio (TON), Dustin Pulu (NIU)
0906
RUGBY 7s Women's/Samoa vs New Caledonia
0915
GOLF 1st Tee, Natalie Mok (PNG), Everlyn Maelasi (SOL), Rowena Newbigging (COK)
0915
GOLF 10th Tee, Ari de Mayer (PYF), Olaf Allen (FIJ), Jared Magni (NFK), Joe Camacho (CNMI)
0924
GOLF 1st Tee, Merlita McCarthy (FIJ), Siru Hickie (SOL), Memory Akama (COK)
0924
GOLF 10th Tee, Beau Magri (NFK), Jeremy Biau (PYF), Ricardo Terlaje (GUM), Baarroon Hussain (FIJ)
0928
RUGBY 7s Men's/Cook Islands vs Nauru
0930
ARCHERY Compound Female Individual Finals - Bronze (Matchplay format: Alternating)
0930
SQUASH/Men's Singles: Nicholas Stulfauth (TAH) vs Jordan Chewlit (SAM) /Court 1
0930
SQUASH/Men's Singles: Nathaniel Kalsrap (NI) vs Michael Rucklinger (PNG) /Court 2
0930
SQUASH/Men's Singles: Chad Rankin (SAM) vs Zonal Ali (FIJ) /Court 3
0930
TABLE TENNIS Mixed Doubles
0933
GOLF 1st Tee, Rose Tarpley (GUM), Ata Mansale (VAN), Kristine Seko (PNG), Etevise Latu (TON)
0933
GOLF 10th Tee, Michael Sterling (NFK), Morgan Annato (PNG), Matai Karati (COK), Josepho Matauatu (VAN)
0942
GOLF 1st Tee, Moea Simon (PYF), Raetania Weiki (PNG), Raina Kumar (FIJ), Katey Karati (COK)
0942
GOLF 10th Tee, Gideon Tikili (PNG), George Rukabo (SOL), Ben Felani (SOL), Daniel Webb (COK)
0950
ARCHERY Compound Female Individual Finals - Gold (Matchplay format: Alternating)
0950
RUGBY 7s Men's/Fiji vs Wallis & Futuna
0951
GOLF 1st Tee, Vaea Nauta (PYF), Flavia Reid-Amaru (PYF), Shavina Maras (PNG), Kristin Oberiano (GUM)
0951
GOLF 10th Tee, Tom Felani (SOL), Daniel Mansale (VAN), Asish Chand (FIJ), Robert Manalo (GUM)
1000
BEACH VOLLEYBALL Men's/Australia vs Papua New Guinea
1000
FOOTBALL Men's/Solomon Islands vs Tahiti
1000
GOLF 1st Tee, Losa Fapiano (TON), Rotana Howard (COK), Faith Vui (SAM), Leleaga Meredith (SAM)
1000
GOLF 10th Tee, Eduardo Terlaje (GUM), Adrien Peres (NCL), Niko Vui (SAM), Samu Matulino (SAM)
1000
TABLE TENNIS Mixed Doubles
1009
GOLF 1st Tee, Maggy Dury (PYF), Ines Lavelua-Tufele (NCL), Mathilde Guepy (NCL), Dawi Jee (FIJ)
1009
GOLF 10th Tee, William Howard (COK), Morgan Dufour (NCL), Kristopher Williamson (COK), Guillame Bernier (VAN)
1010
ARCHERY Compound Male Individual Finals - Bronze (Matchplay format: Alternating)
1010
SQUASH/Men's Singles: Gael Gosse (NC) vs Kamal Soussi (TAH)/Court 1
1010
SQUASH/Men's Singles: Daniel Fong (FIJ) vs Ivan Chewlit(SAM)/Court 2
1010
SQUASH/Men's Singles: Eamon Kennerly (NI) vs Kevin Pons (TAH)/Court 3
1012
RUGBY 7s Men's/Tonga vs Tuvalu
1018
GOLF 1st Tee, Aileen Meredith (SAM), Olive Tapu (SAM), Ariane Klotz (NCL), Emilie Ricaud (NCL)
1018
GOLF 10th Tee, Matahiapo Wohler (PYF), Abid Hussain (FIJ), Soti Dinki (PNG), Robert Faaaliga (SAM)
1027
GOLF 10th Tee, Van Wright (SAM), Nicolas Changarnier (PYF), Guillame Castagne (NCL), Dylan Benoit (NCL)
1030
ARCHERY Compound Male Individual Finals - Gold (Matchplay format: Alternating)
1030
TABLE TENNIS Men's/Women's Doubles
1030
VA'A V1 Marathon 16km Elite Men
1034
RUGBY 7s Men's/Samoa vs American Samoa
1050
SQUASH/Men's Singles: Maverick Wetzell (SAM) vs Aidan Rowston (NI) /Court 1
1050
SQUASH/Men's Singles: Nicolas Faure (NC) vs Christopher Whitchurch (PNG) /Court 2
1050
SQUASH/Men's Singles: Andre Roxburgh (FIJ) vs Laurent Louder (TAH) /Court 3
1056
RUGBY 7s Women's/Solomon Islands vs Papua New Guinea
1100
ARCHERY Compound Mixed Team Finals - Bronze (Matchplay format: Alternating)
1100
BEACH VOLLEYBALL Men's/Tonga vs Kiribati
1100
TABLE TENNIS Women's Doubles
1100
WEIGHTLIFTING Men's 89kg B & 96kg B
1118
RUGBY 7s Women's/Fiji vs Nauru
1120
ARCHERY Compound Mixed Team Finals - Gold (Matchplay format: Alternating)
1130
SQUASH/Men's Singles: Semo Old (SAM) vs Sailesh Pala (FIJ) / Court 1
1130
SQUASH/Men's Singles: Marky Kalsrap (NI) vs Lokes Brooksbank (PNG) / Court 2
1130
SQUASH/Men's Singles: Nitesh Prasad (FIJ) vs Phillipe Franchet (TAH) / Court 3
1130
TABLE TENNIS Men's/Women's Doubles
1140
RUGBY 7s Women's/American Samoa vs Samoa
1200
BASKETBALL 5X5 Women's/New Caledonia vs Cook Islands
1200
CRICKET Women's/Fiji vs Samoa (Ground 1)
1200
CRICKET Women's/Vanuatu vs Papua New Guinea (Ground 2)
1200
FOOTBALL Women's/Vanuatu vs Solomon Islands
1200
LAWN BOWL Men's Singles, Fours, Women's Pairs, Triples
1200
TABLE TENNIS Men's Doubles
1200
VOLLEYBALL Men's New Caledonia vs Tahiti
1202
RUGBY 7s Women's/Australia vs New Caledonia
1210
SQUASH/Women's Singles: Olding Suari vs Makita Sokidi / Court 1
1210
SQUASH/Women's Singles: Christelle Nagle vs Robyn Samisoni / Court 2
1210
SQUASH/Women's Singles: Vaitiare Coulon vs Christine Deneufbourg / Court 3
1224
RUGBY 7s Men's/New Caledonia vs Fiji
1230
TABLE TENNIS Women's Doubles
1246
RUGBY 7s Men's/Nauru vs Wallis & Futuna
1300
FOOTBALL Men's/New Caledonia vs Fiji
1300
TABLE TENNIS Men's Doubles
1308
RUGBY 7s Men's/Solomon Islands vs Samoa
1330
ARCHERY Recurve Female Individual Finals - Bronze (Matchplay format: Alternating)
1330
FOOTBALL Women's/New Caledonia vs American Samoa
1330
RUGBY 7s Men's/Tuvalu vs Amerian Samoa
1330
TABLE TENNIS ParaTT Groups
1330
WEIGHTLIFTING Women's 76kg A & 81kg A
1350
ARCHERY Recurve Female Individual Finals - Gold (Matchplay format: Alternating)
1400
VOLLEYBALL Men's Kiribati vs Solomon Islands
1410
ARCHERY Recurve Male Individual Finals - Bronze (Matchplay format: Alternating)
1410
SQUASH/Women's Singles: Samantha Marfleet-Manu vs Mavilivia Matanatabu / Court 1
1410
SQUASH/Women's Singles: Phyonna Silikara-Gangloff vs Rebecca Brocard / Court 2
1410
SQUASH/Women's Singles: Vanessa Quach vs Beatrice Villa / Court 3
1415
BASKETBALL Men's/Solomon Islands vs Tahiti
1416
RUGBY 7s Women's/Nauru vs Solomon Islands
1430
ARCHERY Recurve Male Individual Finals - Gold (Matchplay format: Alternating)
1438
RUGBY 7s Women's/Papua New Guinea vs Fiji
1445
LAWN BOWL Men's Singles, Fours, Women's Pairs, Triples
1450
SQUASH/Men's Singles: Quarterfinals / Court 1
1450
SQUASH/Men's Singles: Quarterfinals / Court 2
1500
ARCHERY Recurve Mixed Team Finals - Bronze (Matchplay format: Alternating)
1500
FOOTBALL Women's/Tahiti vs Papua New Guinea
1500
RUGBY 7s Women's/New Caledonia vs American Samoa
1520
ARCHERY Recurve Mixed Team Finals - Gold (Matchplay format: Alternating)
1522
RUGBY 7s Women's/Samoa vs Australia
1530
FOOTBALL Women's/Samoa vs Fiji
1530
SQUASH/Men's Singles: Quarterfinals / Court 1
1530
SQUASH/Men's Singles: Quarterfinals / Court 2
1530
WEIGHTLIFTING Men's 81kg A
1600
FOOTBALL Men's/Vanuatu vs NZU23
1600
RUGBY 7s Men's/Wallis & Futuna vs New Caledonia
1606
RUGBY 7s Men's/Fiji vs Cook Islands
1628
RUGBY 7s Men's/American Samoa vs Solomon Islands
1630
BASKETBALL 5X5 Men's/Fiji vs Papua New Guinea
1650
RUGBY 7s Men's/Samoa vs Tonga
1730
VOLLEYBALL Men's Wallis & Futuna vs Tuvalu
1730
WEIGHTLIFTING Men's 89kg A
1801
SWIMMING 200M IM, Women's Final
1808
200M IM, Men's Final
1825
SWIMMING 1500M Free, Men's Final
1845
BASKETBALL 5X5 Women's/Samoa vs Fiji
1855
SWIMMING 100M Free, Women's Final
1900
FOOTBALL Men's/Samoa vs Tonga
1911
SWIMMING 100M Free, Men's Final
1930
VOLLEYBALL Men's Samoa vs American Samoa
1936
SWIMMING Mixed 4 x 50M Free Relay Final