Volunteers turn out for Apia river clean-up
Volunteers from throughout Samoa came together on Saturday to help clean up rivers in preparation for the Samoa 2019 XVI Pacific Games.
The event, organised by SPREP, the Ministry of Natural Resources and Environment, the Ministry of Women, Community and Social Development, and Samoa Tourism, was part of the Greening of the Games initiative ahead of the July sporting event.
Organisers estimated about 1,000 volunteers gathered at Malaefatu Reserve as the sun rose, before donning rubber gloves and grabbing sacks.
Dispersing to four rivers – Vaisigano, Loimata o Apaula, Gasegase and Fuluasou – the volunteers spent several hours picking up rubbish of all shapes, sizes, and types.
Walking over riverstones, they picked up everything from scraps of polystyrene and shards of glass to metal items that required two people to uncover them from mud and rocks.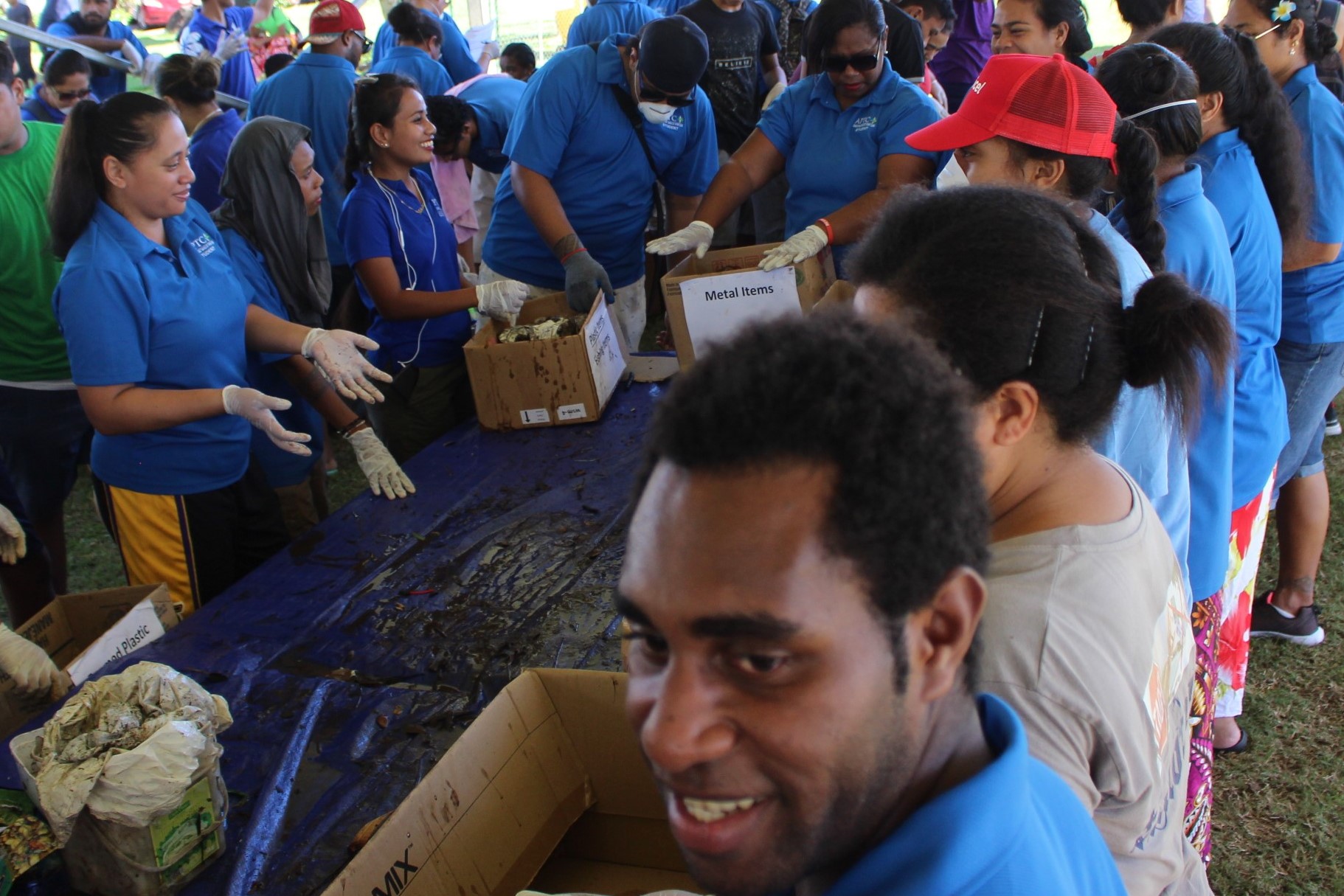 Dozens of volunteers sorted the rubbish PHOTO: PGO
Staff from many ministries, government agencies and NGOs, Games' sponsors, plus schools and members of the public were out in force.
MNRE's Anne Rasmussen, the assistant CEO of the climate change division, helped at Vaisigano with members of her ministry.
"It's really fulfilling for us to see so many people turn up. It shows that people really care and are mindful of keeping the environment clean. People are more aware of climate change impacts now. It shows that they are doing their part, not just for the Games but also for the future of Samoa."
She said she wasn't surprised at the amount of rubbish collected, but was surprised that people were not learning about waste management, particularly as there are programmes in place.
To get people to change behaviour is "really about their mindset".
Tony Talouli, pollution advisor at SPREP, speaking as volunteers enjoyed a BBQ back at Sogi, said the event was a success in terms of getting volunteers along and collecting so much rubbish.
As volunteers sorted the rubbish to collect data about what types of rubbish was being discarded, he said that a lot was organic.
"This reflects how cleaning up is done at Samoan houses. They collect both organic and inorganic, and then burn it all together."
This means plastics are burnt, releasing toxins into the air, so reducing plastics (such as through the single-use plastic bag ban, and banning plastic straws) helps.
Two more clean-up events will be held in June before the Games start on 7 July.