2007 Pacific Games veteran is Director of Transport in 2019
When you need a job done, give it to a busy person.
Samau Etuale Sefo is Director of Transport for the Samoa 2019 Pacific Games from 7-20 July.
He brings vast experience to this role in the Organising Committee, wearing the same hat he wore the last time Samoa hosted in 2007.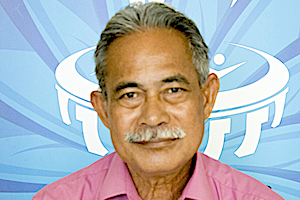 Samau Etuale Sefo, Director of Transport for the Samoa 2019 Pacific Games
Transporting of athletes and officials to and from the venues is a key to the success of any major sports event.
Samau is volunteering his time to spearhead this – regardless of the many hats he already wears.
He is the Managing Director for Petroleum Products Supplies, Pacific Oil and Serendi Coco Samoa.
In the past, he served as the Managing Director of Polynesian Shipping Line, Regional Manager of Pacific Forum Line and was General Manager of Samoa Airport Authority for 13 years.
While it is a challenge organising the various transport requirements for each team, he is ensuring officials and athletes will be well looked after.
"The aim is to have all transport arrangements in place well before the Games start, so that we provide an efficient transport service for them," he says.

As Director of Transport, he will oversee operations and manage day to day logistics and transport movements at various locations.
He will be responsible for directing traffic to ensure it flows, as well as maintaining a high level of service, efficiency and awareness throughout the Games.
One of the busiest routes will be from the Games Village at Faleula to the two main venues at Faleata Sports Complex and Apia Park and he is counting on the public for their support.
"We'd ask them to display their usual friendly and helpful nature towards the visiting athletes and officials," he adds. "Be helpful in any way and provide any help when needed."
A video overview of the Samoa 2019 Pacific Games venues: