Top netball teams use Pacific Games pool matches to finesse game
Netball pool matches at Samoa 2019 XVI Pacific Games are continuing to help the top teams finesse their game in less pressured environments.
In pool A, Tonga used their match against American Samoa, which they provisionally won 142-11, to work on communication between players.
Jacquard Pori Makea Simpson, head coach of Tonga, said: "We have only had a week together - last week in Tonga we came together. We are working on connecting with each other and create understandings.
"The thing I was most proud of today is the team maintained intensity for 60 minutes of one-sided netball. That is really hard to do. We are heading in the right direction going towards the end of the week."
Read more: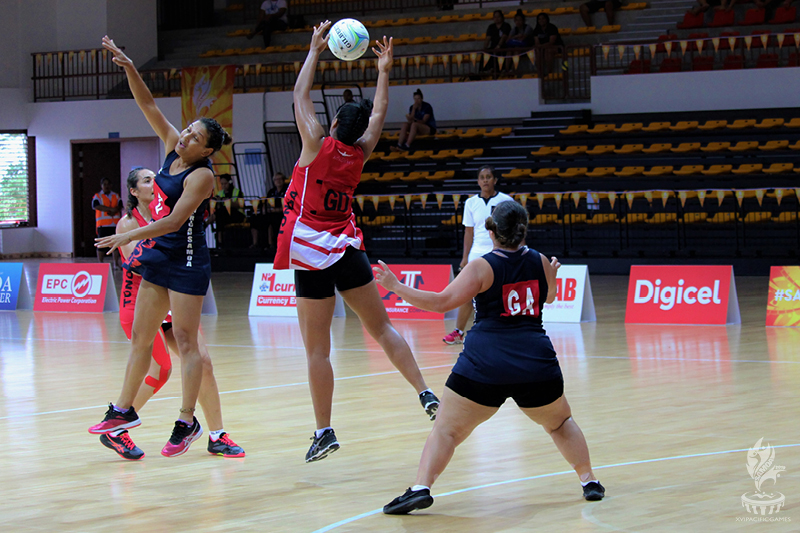 Tonga and American Samoa met on Tuesday. (Image: Therese Rivers/Pacific Games News Service)
American Samoa team manager Ana Atoa said they were proud that they had put a team together for the Games.
"We just wanted to play. We put a team together in May, but were unable to register two players from America. Our 65-year-old netball president has pulled on a uniform," said team manager Ana Atoa.
Tonga started with their open-court running style, while America Samoa defence (Agnes Chan Sau at goal defence and Julia Schmidt-Meyer at goal keeper) tried with some success to stop Tongan goal shooter Uneeq Palavi receiving continual overhead lobs which was a feature of Tonga's offence on Monday.
The second quarter saw American Samoa make changes to bring their more experienced players to court.
Tongan goal attack Marie Hansen had the run of the court and used her fitness advantage to push the ball forward. In the fourth quarter Tonga changed their team around, reinforcing their plan to use their large lead for court practice.
Norfolk Islands fought hard against their pool B opponent Cook Islands, but ultimately lost 91-16.
Cook Islands coach Anna Andrews-Tasola commented after their win: "We are really excited to see Norfolk Island in the competition. It's about one in spirit.
"It's also great to experience different styles of netball. We meet Samoa next. It will be a challenging game for us and we look forward to seeing where we are in our performance. We are grateful for the Samoan hospitality shown to us. It's been wonderful."
Samoa's 80-26 victory over Tokelau had the home crowd applauding from the first goal.
The game took a while to settle as both teams missed passes in the respective goal circles. Wing defence Tatnoga Tavae and goal attack AJ Savelio controlled the Samoan offence, putting carefully placed lobs to shooter Tanilla-Stowers.
Second quarter started with a lot of mid court action as teams struggled to convert play into goals. Erratic passes and continual interceptions slowed scoring initially but Samoa continued to widen the gap.
Samoan coach Serephine Mataia said after the match: "We are happy with the win but taking each game a day at a time. We are so thankful for the support of the Samoan supporters."
Assistant coach Rita Schwalger added: "We are tweaking the team after each game. It is great to see improvement with each match".
Samoa play Cook Islands on Wednesday at 8.30pm.
In the last match of the day for pool A, Papua New Guinea and Solomon Islands both came out fighting.
PNG opened the scoring, then followed up by strongly defending the Solomon Island goal circle, forcing them to make errors.
PNG's Boio Peter was agile in goal attack, showing great control in the air.
As soon as Solomon Islands got the ball PNG went into full court defence stalling any possible run on play.
In the second quarter, Solomon Islands kept trying to get the ball to their goalies but PNG was far too strong. Solomon Island made a raft of changes in the third quarter which initially proved effective in slowing PNG's scoring rate but not enough, losing 75-11.