The action continues at the Boxing on Savai'i - Finals Day
There is a hometown advantage for many of the Samoan boxers competing at the Last Man Standing Tournament on Savai'i.
The venue for the tournament is at the Don Bosco Hall, Salelologa on Savai'i and is home ring for most of the boxers competing to represent Samoa at the Samoa 2019 Pacific Games from 7-20 July.

The event is doubling as a test event as part of the preparation for the Games. After two successful days of action the finals are on Saturday 29 March all livestreamed - powered by Digicel and brought to you in partnership with TV3 Samoa and Talamua Media.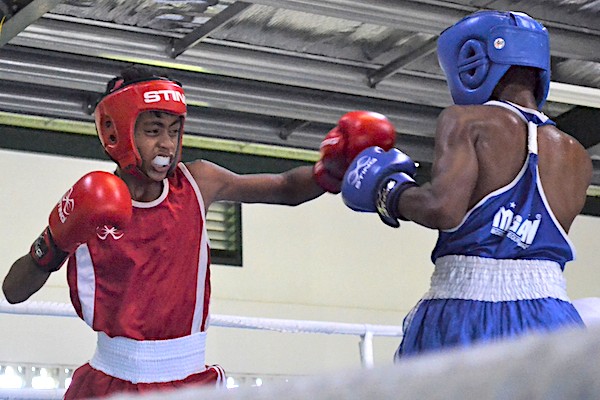 Lots of action at the Last Man Standing Tournament on Savai'i.
Tavu'i Mike Lemisio, President of Marist Boxing Samoa is positive about the decision to take boxing to Savai'i during the second week of Pacific Games from 16 -19 July with families and friends able to watch and support the boxers.
"About 80% of the boxers fighting for Samoa are from the villages such as Palauli, Salelologa and Sapapalii on Savai'i, moving to Apia for a better education," says Tavu'i. "The boxers are happy to have loved ones watch them fight in the ring because not all the families can travel to cheer for them.
"Having Savai'i as the venue for the sport of Boxing at the Pacific Games was no accident because, in the history of Samoa, it is the island where most of our warriors are born."
Last Man Standing is the fourth tournament organised by the Marist Sports Club and the first one that is an international event. Teams from Australia and New Zealand have travelled to Samoa to compete.
"For the first three years, the Fight for Marist tournament was aimed at developing the event to an international stage. This year it is an opportunity for the local boxers to compete with boxers from overseas," says Tavu'i. "We have these kinds of events so our boxers are physically and mentally conditioned to fight for three to four days straight. Development of our boxers is the key objective.
Saturday 30 March – FINALS
7 - 8am: Weigh in at Jet Over Hotel
10am: Weigh in Corporate Boxers – SSAB
12pm - 3pm: Session 1, Bronze Medal Bouts
6 - 9pm: Session 2, Silver and Gold Medal Bouts and Corporate Bouts