Team Fiji are looking forward to July
Having the Games Village for the XVI Pacific Games at Faleula is proving to be a popular choice for many countries.
Patrick Bower is the Chef De Mission from Fiji Islands. As a CDM, he's responsible for the welfare of his team and he's impressed by Faleula.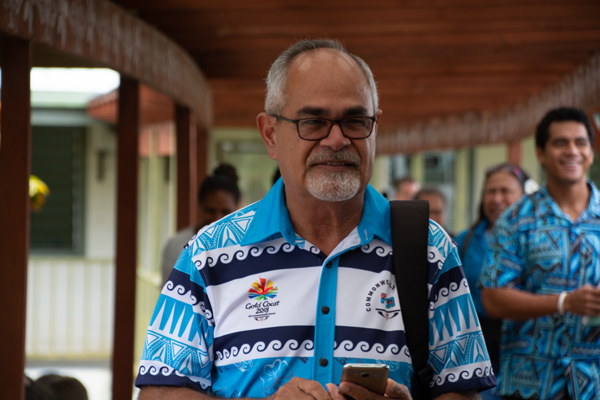 Chef de Mission for Fiji, Patrick Bower, is a proud Christian.
"The Wesleyans at the Methodist Church Compound at Falelula have walked the talk." he says. "I'm so impressed with the quality of the accommodation they're providing."
Hosting thousands of athletes isn't easy and he gives his full support to the team at Faleula.
Mr Bower is a proud Methodist and Christian.
"It is an avenue to share God's love as I work with a huge team," he says.
He knows Team Fiji will be in good hands while living in the Church grounds during the Games. Staying there will give him a sense that he never left home and that it will unite all Pacific Island countries, to be One in Spirit as the Games slogan goes.
"I'm so excited to meet the students and families at Faleula because as Pacific Islanders we are family orientated, which is lost so easily in the world today," he adds. "The Games is all about us in the Pacific. So, get real, make it happen for your team and stand beside Samoa."
"And as we always say in Team Fiji, leave the place as tidy as you found it and in a state that is respectable, showing gratitude to your host."
Fiji hosted the first Pacific Games in 1963 and again in 1979 and 2003.
They are fourth on the all-time medal winner's list with 1289.