Vanuatu scores four golds in table tennis
Vanuatu has taken gold medal in table tennis in four events in an exciting evening at Samoa 2019 XVI Pacific Games.
Vanuatu won gold in the women's doubles at Harvest Centre, Faleata, beating Fiji. New Caledonia took the bronze. Vanuatu took the lead early on, and defeated Fiji with a score of 3-0.
Vanuatu also won gold in the men's doubles beating Papua New Guinea 3-1. Tahiti took bronze.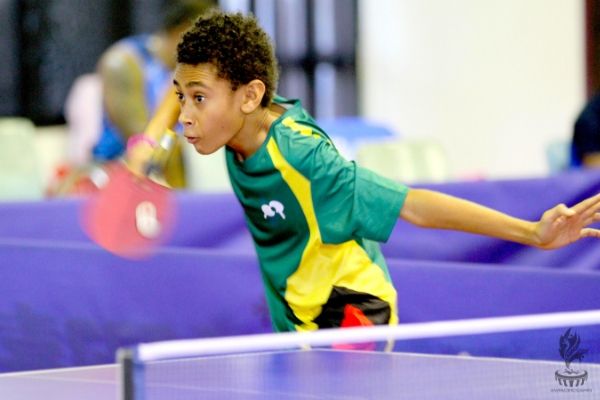 Brilliant talent on display at the Table Tennis (Pacific Games News)
Team member Ham Lulu, speaking on behalf of both men's and women's teams, said their success was down to good communication.
"Well, we talk a lot, we talk within partners, we communicate and find strategies to play and perform. If we fail, we have to find another way. I think that's the one thing that helps a lot."
He gave a message of encouragement to people back in Vanuatu. "Do whatever you like. If you enjoy sports, do it with your heart. If you love whatever sport you're playing, whatever you do, enjoy it because life is too short."
Silver medalists Grace and Sally Yee of Fiji said they were philosophical about their placing. "We feel very happy, it's something at least," said Grace Yee.
Asked if it would change their preparation for future games, Sally Yee said they'd "be more aggressive and have more fighting spirit."
For men's doubles silver medalist Geoffrey Loi of Papua New Guinea the experience was worthwhile.
"We learned many things. We learn from our mistakes so maybe next time we should move forward together for gold."
Vanuatu's Priscila Tommy won gold in the women's singles, beating Fiji's Sally Yee. New Caledonia's Solenn Danger took the bronze.
Vanuatu took the match with a score of 3-0.
With table tennis now complete at the Games, Tommy said: "I just want to say thank you and I'm really excited about the result. I really want to say thank you to my family, they encourage me and support me."
Vanuatu's Yoshua Shing won gold in the men's singles, beating Tahiti's Kenji Hotan. Vanuatu took the match with a score of 3-1. Ocean Melrose of Tahiti took the bronze.
Shing said: "I think I played well tonight compared to some of the matches I played. I wasn't really nervous - I told myself, 'I'm already in the finals, what can happen?'
"I just played my game. That was the first finals that I wasn't nervous, I was just having fun. But I played really well and I'm happy for the team and for myself. I'm really happy."