SSAB helping Samoans with Games sponsorship
Samoa Stationery and Books' founder describes being involved in the Samoa 2019 XVI Pacific Games as a way to help fellow Samoans.
SSAB is a Silver Sponsor and generously contributed $200,000 to the Games, which run from 7-20 July.
To help has always been a core aspect of SSAB, said Chief Executive Officer, founder and only shareholder of SSAB, Tofilau Fiti Lafaele Leung Wai.
"My prayer when I first started this business is for God to bless me so I could be a blessing to others. So I make sure that I keep my end of the bargain."
She said she and her staff are proud to be involved with the Games, but it was through the support of her loyal customers that made it possible.
Read more: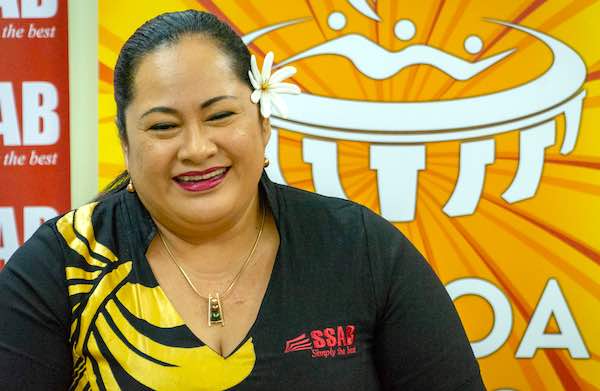 Photo: Chief Executive Officer of SSAB, Tofilau Fiti Lafaele Leung Wai.
Tofilau has seen the hard work of people leading up to the Games and she has acknowledged the Government for taking up the Games.
"I take my hat off to the Government for taking up this big challenge. If there is anything that I know about Samoans is that they are capable of doing the impossible especially in difficult situations. Our people are known for having brave hearts," she said.
SSAB has been a dominant player in the local market for ten years, with a branch in American Samoa and one in New Zealand.
"SSAB started from the direction of the Lord. I used to work in the National University of Samoa as the Head of Department for Commerce. One of my duties involved the ordering of educational resources of the lecturers and it was hard to source all the materials required.
"As a mother of young children and a law lecturer then at NUS, I saw this huge gap in Samoa in relation to books and educational materials," she said.
Tofilau's dream was to eventually set up a law and consultancy firm, but when her plans to pursue a doctorate in law fell through, she "knew it was time" for her to do something different, by starting up the bookshop.
"I knew that selling books at the time was not enough to sustain my business, so I ended up selling stationery too," she said.