Sport preview: Basketball 3x3
Basketball 3 x 3 debuts at the Pacific Games from July 18-20.
Spectators can watch Men's and Women's division over the next 3 days at Faleata, Gym 2.
Large crowds are expected to support the Men's and Women's Basketball 3x3 as it is the first time this version of the fast paced sport has been included in the Pacific Games. Entry is SAT$5.00 at the venue.
12 men's teams and 13 women's teams will be battling for the inaugural title over the next twelve days of action.
FIBA Oceania Competitions Manager and Tournament Director Amanda Jenkins shared her enthusiasm for the 3x3's inclusion to the Games.
"We are excited for 3x3 to be played at the Games for the first time. The Mini Games were hugely successful, and we look forward to more teams participating this time. It will be a great end to the Pacific Games," Jenkins said.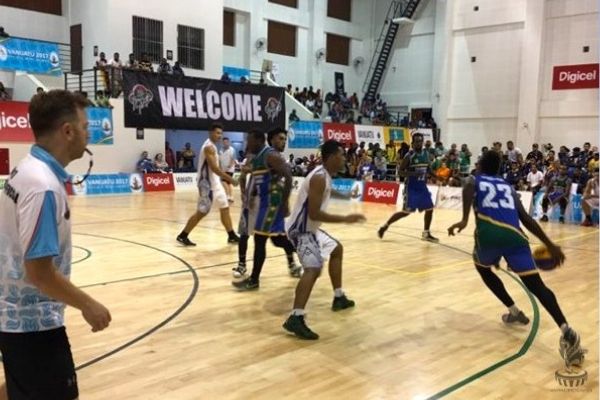 3x3 Basketball was an introductory sport in the 2017 Mini Games in Vanuatu and was received warmly by sports enthusiasts in Port Vila.
The discipline will also make its debut at the Olympics in Tokyo in 2020.
In the Mini Games, Samoa and the Cook Islands took home the Gold Medals in the Men's and Women's division and are viewed as one of the favourites at the Pacific Games.
The teams will be pooled based on the National Federation's FIBA 3x3 rankings at the start of June 2019 with Vanuatu and New Caledonia entering as the top teams going into the event.
The format of the tournament will includes 2 pools of 6 teams in the Men's division and two pools of seven and six teams for the Women's division.
The Top 4 of each pool will advance to the Knockout round play a crossover Quarter Final, Semi-Final and Final Round.
Competing countries in Men's: Vanuatu, Fiji , American Samoa, Guam, Nauru, Solomon Islands, New Caledonia, Samoa, Cook Islands, Papua New Guinea, Marshall Islands, Tahiti.
Women 3x3: Vanuatu, Fiji, Cook Islands, American Samoa, Kiribati, Marshall Islands, Solomon Islands, New Caledonia, Samoa, Papua New Guinea, Guam, Nauru, Tahiti.
The development of 3x3 has been spearheaded by FIBA Oceania 3x3 Development Manager Annie La Fleur with various visits, workshops, and clinics in the last few years to introduce the sport in the Pacific region.
La Fleur highlighted the rising popularity of 3x3 basketball and the added opportunity for the National Federations to participate in more basketball events with the inclusion of 3x3 to the Pacific Games.
"The growth of 3x3 in the region has been phenomenal in the last few years, it is also a testament to the region's warm reception to the urban sport. The introduction of 3x3 to the Pacific Games will give more opportunities to our National Federations to send teams to represent their countries," La Fleur said.