Shirtless Tongan Olympian seeks successor while chasing his next dream
Tongan Olympian Pita Taufatofua put his country on the map when he appeared shirtless and covered in traditional oil as his nation's flagbearer in the opening ceremony of the Rio 2016 Olympic Games. In the week following his eye-catching moment on global television, there were more than 230 million Google searches for 'where is Tonga?'.
The taekwondo athlete, who has since also competed in cross-country skiing at the Pyeongchang 2018 Olympic Winter Games, again appearing shirtless at the opening ceremony despite sub-zero temperatures, is currently attending the Samoa 2019 XVI Pacific Games as an assistant coach of the Tongan taekwondo team.
The 35-year-old got involved in helping the team prepare last month in Australia, and has clearly had an impact, with Tonga enjoying its biggest ever taekwondo medal haul at the Samoa 2019 XVI Pacific Games.
"It has been going well, which is a big win for Tonga," Taufatofua told the Pacific Games News Service in Apia, Samoa.
"There's a lot of potential here. You know, we look at this being the largest medal haul, but we told the guys, 'this is just the beginning for you guys'. There's a lot more that we can draw out of them to take them to the world championships and to Olympic level, and that's going to happen soon."
Read more: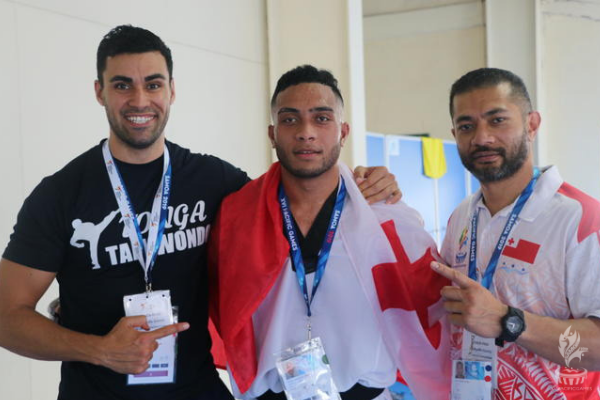 Pita Taufatofua (left) is helping coach the Tonga taekwondo team at Samoa 2019 while preparing for a bold bid to qualify for Tokyo 2020 (Credit: Vinnie Wylie/RNZ Pacific)
At the same time as helping the taekwondo athletes, Taufatofua has been pursuing the next stage of his own Olympic dream: training in canoe sprint in an attempt to qualify for Tokyo 2020 and become the first athlete in the modern era to represent his country in three unrelated sports at successive Olympic Games.
But, he reveals, there have been numerous obstacles so far. "Just staying in the kayak is probably the biggest challenge at the moment, that thing tips so easily!" And then financially. "I work at a homeless shelter to pay bills, to pay rent, to go to all these events. And while I love working there, to be a world-class athlete, you have to focus like a world-class athlete."
Taufatofua has two chances to qualify for Tokyo 2020, and the first, the 2019 Canoe Sprint World Championships in Szeged, Hungary, held in August, is fast approaching. If he fails to qualify there, his last chance to qualify in either taekwondo or canoe sprint will be next February.
Despite the difficulties, Taufatofua maintains a healthy balance of humour and determination: "We don't have a boat or a paddle yet—let alone being able to stay on the boat. If not I'll be swimming for those 200 metres, and I can't swim 200 metres, I'll probably drown trying—but all or nothing, huh? So those are the challenges, but they certainly aren't excuses. We were here before, and we just embrace it for what it is. We know we'll get there, because the heart's there. It's just a matter of time."
Taufatofua's religion is a significant source of inspiration for him. "I'm a Christian. I've always called on the big man upstairs, he helps out," he reveals. "But he only ever answers when I put in the work. He doesn't give anything for free. He tests and pushes and sees if I'm worthy."
And while Taufatofua's sights are set on making history for Tonga on the Olympic stage, he believes the importance of the Pacific Games for his taekwondo teammates is huge.
"The Pacific Games is something unique because it builds spirit," he enthuses. "You have the best from the Pacific competing against each other, and this is really important for us because we brought our team here so that they can feel the heart and the spirit of taekwondo and of competition."
When asked what he would say to aspiring athletes hoping to compete at this level, Taufatofua said simply: "The number one message is that they have to believe. They have to believe that they're doing it for something bigger than themselves, and they have to believe that within them is the potential to achieve what they say they're going to achieve. So for any of the aspiring athletes – say it and feel it. And then it'll come."