Samoan wins surprise long jump gold
Samoa's Kelvin Masoe thrilled a packed crowd at Apia Park Stadium as he claimed gold in the men's long jump at the Samoa 2019 XVI Pacific Games.
The 20-year-old leapt 7.65 metres for a comfortable, but surprise, victory ahead of New Caledonia's Mar Delaunay-Belleville, who jumped 7.27m and Papua New Guinea's Peniel Richard, whose jump of 7.01m secured him bronze by one centimetre over teammate Roland Hure.
Masoe admitted that he did not think he had jumped well enough to top the podium. "I felt uncomfortable with my jump, but I'm so proud to win gold," he told the Pacific Games News Service. "I am so surprised to win today since it's my first time. I gave it my all, plus the support of my coach and Team Samoa helped me."
Read more: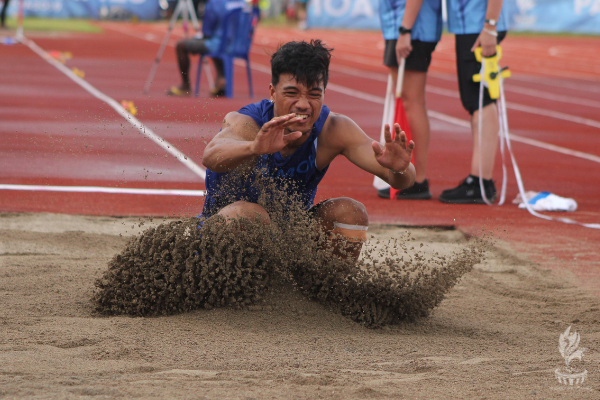 Samoa's Kelvin Masoe surprised even himself, winning gold in the men's long jump at Samoa 2019 (Credit: Pacific Games News Service)
Delaunay-Belleville was satisfied with his silver, although Richard expressed his disappointment with bronze.
"I'm not used to getting bronze. This was not one of my best performances but I guess we don't really know what to expect. But I am grateful to compete with these great guys. Overall I am happy and I just need to train more and next time I will come strong."
The medalists came as some surprise in this event, which is often dominated by New Caledonia and Tahiti.