Samoan teams squeak through to tennis semi-finals
Samoa's men's tennis team were ecstatic to reach the semi-finals of the men's teams event at the Samoa 2019 XVI Pacific Games, matching the women in their last-minute achievement.
Leon So'onalole of Samoa defeated Tamarua Payne of Cook Islands 6-2, 6-3 to the wild cheers of Samoan supporters at Apia Park Tennis Courts.
The singles match win was all that was needed to give Samoa the contested fourth spot in the semis.
After his victory, So'onalole said: "I feel amazing. I was listed to play at 8am but the court was declared unfit to play on so I've waited all day to play after everyone else has finished. It was all worth it."
Read more: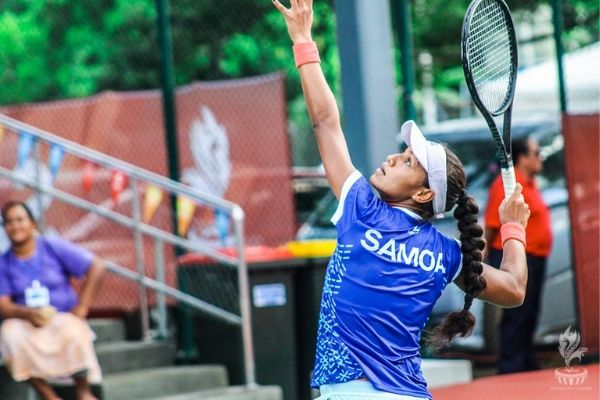 Steffi Carruthers (pictured at an earlier match) brought the crowd alive. (Image: Trina Edwards/Pacific Games News Service)
Samoa will now play New Caledonia in Friday's semi-finals, and American Samoa will face Papua New Guinea to determine who makes the medal round.
Samoa's women's tennis team also squeaked through to the semi-finals of the women's team event.
They had to win one match of the three against PNG to take the final spot in the semis.
After losing both singles matches (Steffi Carruthers to Abigail Tere-Apisah, and Eleanor Schuster to Violet Apisah), it all came down to the doubles.
The all-important clash saw Marcia Tere-Apisah team up with niece Patricia Apisah to take on Carruthers and Schuster.
The local crowd's spirits slumped when PNG took the first set convincingly 6-1.
After a long rain break and with very vocal crowd support, Schuster and Carruthers took the second set 6-3.
Even the ball kids couldn't resist joining in cheering for their home heroes as the match went to a tie-break. PNG played strongly, but the Samoan women won through 10-6.
Schuster said: "It feels great to get the win. The rain break gave me time to settle. We communicated much better when we got back on and it made the difference."
Friday's women's team semi-finals will see New Caledonia play Samoa, and American Samoa play Papua New Guinea. The action begins at Apia Park Tennis Courts at 9am with free entry.