Samoan sets world powerlifting record amid Nauru gold rush
Samoan powerlifter Tavita Lipine has provisionally set a new world record in front of a home crowd at Samoa 2019 XVI Pacific Games in a day dominated by Nauru's strength.
In the men's up to120kg division, Lipine lifted first 300kg in the squat, breaking the record, and then immediately lifted 320kg to raise the record higher.
But it was Nauru, a powerlifting powerhouse, had the biggest gold haul of the day at Gym 1, Faleata Sports Complex, winning four golds in the men's competition.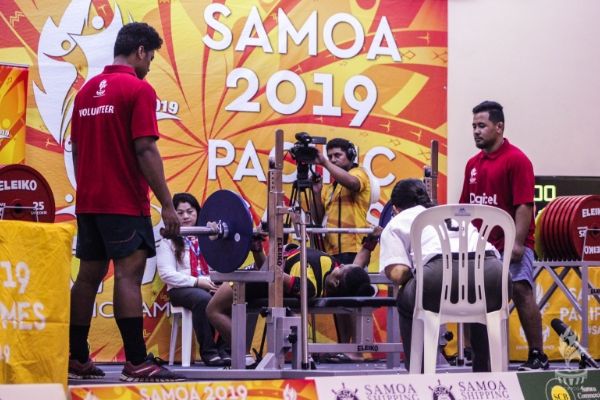 Powerlifting was held over two days during the Samoa 2019 XVI Pacific Games (Image: Pacific Games News Service)
Nauru (Nitram Dagagio) won gold in the under 74kg, with Papua New Guinea winning silver and Kiribati bronze.
In the 83kg category, Nauru also took gold and silver, with Tahiti winning bronze.
In the up to 93kg category, Nauru (Jesse Roland) again took gold, with Tahiti (Miguel Hopuetai) taking silver and bronze going to New Caledonia's (Frederick Warsdi).
Roland said: "I am very happy about the result, and of course this is what I was dreaming of - to take home my gold medal."
In the up to 105kg category, Nauru scored gold, silver went to Samoa and bronze to Papua New Guinea.