Samoa women's volleyball underestimates Wallis and Futuna
Samoa's women's volleyball team made the mistake of underestimating Wallis and Futuna in front of a home crowd, losing 3-2, on day 8 of the Samoa 2019 XVI Pacific Games.
With NUS Gym packed with Samoan supporters, the host nation must have thought the game would be a piece of cake.
Instead it turned into a battle. Wallis and Fatuna won the first set (25 - 23) despite Samoa leading the game most of the time.
A wake-up call for the Samoan coaches saw change in the second and third sets, when the Samoans seemed to find their rhythm.
Read more: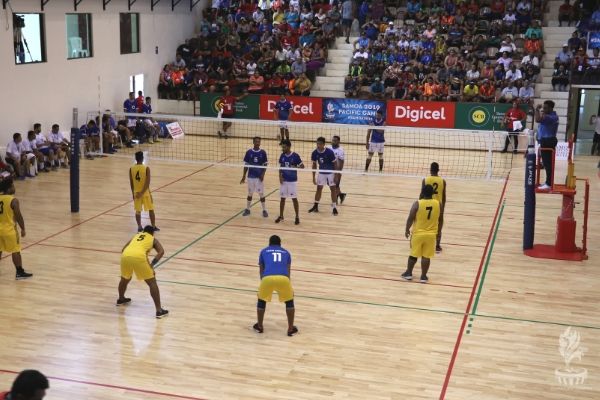 Volleyball has been attracting huge crowds to NUS Gym throughout Samoa 2019. (Image: Pacific Games News Service)
But that rhythm was short-lived. Introducing a handful of new Samoa players to the court in set 4 allowed Wallis and Futuna to take advantage of the newcomers.
When the coach realised what was happening, he switched back to his starting six, but the damage was already done. Wallis and Futuna won comfortably by 25 - 11. The next set went with the flow, with Wallis and Futuna easily winning set 5 by 15 - 9.
Samoa had better luck in men's volleyball, easily nabbing a three-set match from Kiribati 25-15, 25-16, and 25-13.
The women's match between Guam and Solomon Islands teams saw Guam edge past their opponent. Guam won the first two sets (25 - 22 and 25 - 20). The Solomon Islands women's team fought back to win the third set by 25 - 17. Set 4 saw a strong come back by the Solomon Islands, nearly catching up to Guam's game point, unfortunately Guam was too strong and won by 25 to 21.
American Samoa's women's team fought back against New Caledonia when they were two sets down, to equal the scoreboard. Everybody thought that it was all over for American Samoa when NCL won the first two sets comfortably 25 - 15 and 25 - 15.
But a comeback saw NCL struggle to face American Samoa's new strength, with both teams reaching game points at set 3 and set 4 playing deuce points. NCL changed their tactics of attack and strengthened their defence, winning set 5 by 15 – 9, despite two injured players.
In the other men's matches, Papua New Guinea swept three sets against American Samoa (25-19, 25-16, 25-19) to win their match, despite taking a tough blow in the third set with George David, injuring his left ankle during a spike attempt. The win pushes Papua New Guinea to a better position to reach the men's volleyball medaling podium later this week.

In a fiery point-for-point match, Wallis and Futuna men's team won three of the four sets against well performing New Caledonia.
Strong rallying, continuous back and forth, and tough official calls were seen throughout the men's match up of Tahiti and Tuvalu. In the end, Tahiti won 3-0.