Samoa leads in planting trees to offset environmental impact of Games travel
As part of the Greening of the Games initiative, international teams arriving by plane in Samoa for the XVI Pacific Games were encouraged to off-set their roundtrip air travel emissions by planting trees before and after their arrival in Samoa.
Daily, tree-planting activities are happening morning and afternoon in and around Samoa's national parks and reserves.
To date, 2215 native seedlings have been planted at the Faleata Recreational Reserve at Tuanaimato by Samoa, Fiji, Tonga, PNG, Vanuatu and Voices of Athletes (VoA) with Kiribati, Micronesia, Norfolk Islands, and Tuvalu teams expected to plant trees this Saturday!
Country teams who planted trees before their arrival were Papua New Guinea and New Zealand.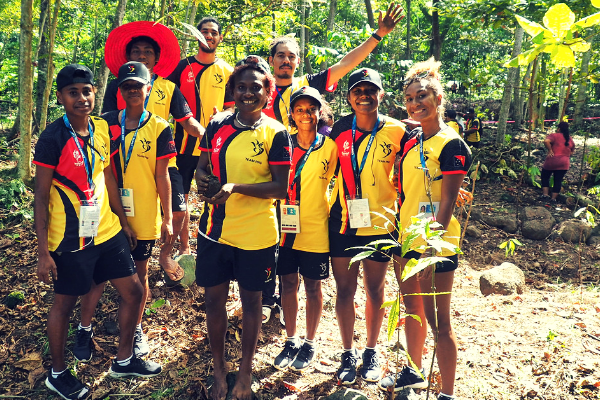 Team PNG (Full story on Loop PNG)
The Greening of the Games partnered with the Two Million Tree Planting Campaign - a national initiative to help advance the cause for sustainable forest management, rehabilitate degraded land areas, preserve water resources and protect biological areas.
The tree planting project is led by the Ministry of Natural Resources and the Environment (MNRE) coordinated by the Forestry Division who are also working in schools enhancing the knowledge and skills of students on forestry and biodiversity as well as contributing to meeting the campaign target of 2,000,000 trees.
The Samoa Conservation Society is assisting to calculate the carbon footprint offsets.
The carbon off-setting initiative supports the 17 Sustainable Development Goals (SDG) relating to climate action, life below water and life on land.
The SDGs are a set of aims set by the United Nations that all countries are working together to achieve by 2030. Its objective is to achieve a better and more sustainable future for all.
For more information please contact Ms. Susau Siolo at [email protected]or Ms. Moeumu Uili at [email protected]
Greening of the Games Committee consists of members from:
Ministry of Natural Resources and the Environment (MNRE) of Samoa
Secretariat of the Pacific Regional Environment Programme (SPREP)
Pacific Games Office
Ministry of Women Community and Social Development
Samoa Tourism Authority
Japanese Technical Cooperation Project for Promotion Initiative on Solid Waste Management (J-PRISM2)
Ministry of Education Sports and Culture
Samoa Recycling and Waste Management Association.
Read more: