Greening of the Games a part of Pacific Games In schools programme
As the countdown to Samoa 2019 Pacific Games from 7-20 July continues, schools in Samoa are adopting one of the 24 participating countries.
The adopt-a-country campaign is run by the Ministry of Education, Sport and Culture and encourages pupils to learn about different Pacific cultures as well as the environment.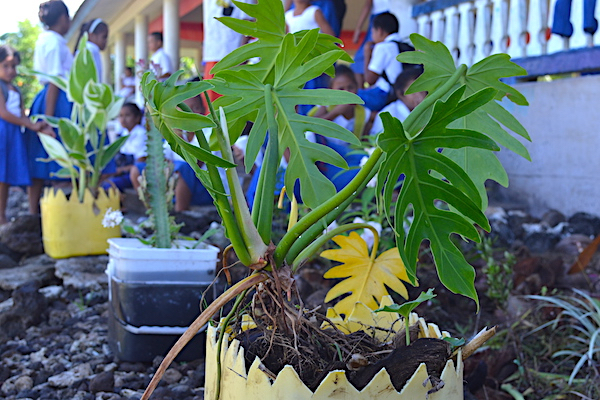 Sala'ilua Primary School
Greening of the Games is part of that and is a priority for Sala'ilua Primary School on the big island, Savai'i.
Climate change is a key issue for Pacific Island nations, and Sala'ilua students have adopted New Zealand, a nation at the forefront in fighting climate change.
"You take care of the environment, it will take care of you," says Principal Tapuai Filipo. "And it's become one of the core aspects we are trying to develop in families. This is a great help to all families.
"The Greening of the Games is one of the main focus areas we are trying to develop in our young ones to be spread to families and into the country."
All the students and the Parents and Teachers Association from Sala'ilua are working to grow plants and recycle plastic containers to make pots for them.
"It's a primary school and our biggest supporters are the parents."
Fighting climate change is difficult. However, he is positive that taking action is better than taking no action at all.
"And it is soothing to watch a plant grow, because it really teaches you patience."
Read more
Don Bosco College in Salelologa on Savai'i will host the sport of Boxing in the second week of Pacific Games competition from 15-19 July.

There will be a festival village set up at the College so people from Savai'i can gather to watch the Games on big screens.
They will broadcast the opening and closing ceremonies, the first week of competition and other sports during the second week, along with the boxing bouts.
Everyone involved in the Boxing in July will travel to Savai'i thanks to Samoa Shipping Corporation