Pure Pacific Water Joins the Family of Sponsors in support of Greening the Games
The Pacific Games Office is excited to announce that Pure Pacific Water has joined the family of Sponsors for the Samoa 2019 Pacific Games. The signing of the MoU agreement between the two parties concluded the today's launch of the Greening of the Games campaign.
This announcement was made by the Chief Executive Officer of the Pacific Games Office, Falefata Hele-Ei Matatia, together with the Directors of Pure Pacific Water, Neal Stephens and Lucky Seumanu.
During the signing, Falefata acknowledged the support shown by the Pure Paific Water, in support of Greening of the Games.
"In an effort to go Plastic-Free for the Samoa 2019 Pacific Games, the Organising Committee is partnering together with Pure Pacific Water who specialise in delivering UV Water Filtration Units." said Falefata.
Read more:
"Hyrdation plays an important role in sports and to achieve the goal of a plastic-free Games the Organising Committee has looked at innovative ways to deliver water to all customer groups – athletes, officials, spectators and the Games workforce." said Falefata.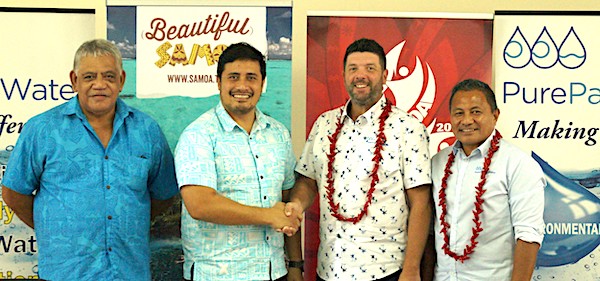 The sponsorship package is valued at $109,000 and Lucky Seumanu co-director spoke on behalf of the Pure Pacific Water to reaffirm their support in the success of the Greening Campaign for the Games.
"We are very privileged and happy to be a part of the Pacific Games 2019. The company is a very young company here in Samoa, we only started last year. With the vast experience that both Neal and I have, we are confident that we can deliver for the Pacific Games," he said.
He continues, "It is a real privilege to be part of this Greening of the Games. One of the core values that we at Pure Pacific Water bring, that has been reinforced today, is environmental and that is the part that we are so happy to be associated with."
Through this Memorandum of Understanding the Pure Pacific Water will be supplying the Games with 250 UV water filtration systems that will help to reduce the use of plastics during the Games. After the Games, 150 of the systems will be donated to schools around Samoa.