PNG to meet Samoa in women's football gold match
Papua New Guinea women's football team will play host nation Samoa for gold at Samoa 2019 XVI Pacific Games.
PNG beat the Cook Islands 5-1 at the JS Blatter Football Field, Faleata, on Thursday to progress through to the gold-medal match. Earlier Samoa had beaten New Caledonia 3-2 to take the first spot.
Team PNG danced with joy when the match finished. "Prayer is a powerful tool behind every win," said PNG's women's football team manager Eunice Rooseje Suwae.
PNG's Meagen Gunemba scored the first goal, followed by her team mate Ramona Padio in the first half.
Goal keeper Betty Sam said: "How I managed to block many balls is by only studying the movement and timing of the ball so that I knew where to stand and defend the ball from going into the net."
Read more: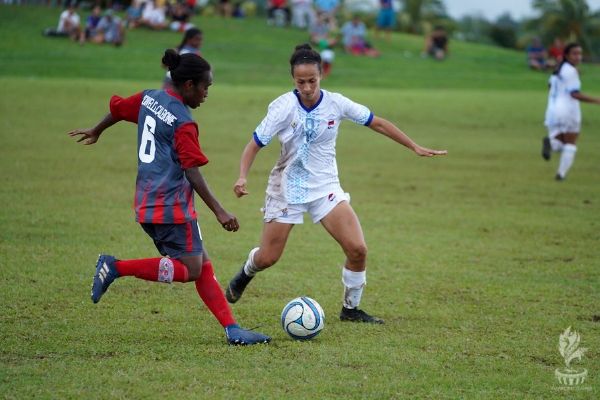 Samoa beat New Caledonia to progress to the gold medal match. (Image: Alvaro Hoyos/Pacific Games News Service)
Cook Islands' Kura Mose scored their sole goal, but in the second half, PNG's Meagen Gunemba and Yvonne Gabong continued to increase the lead.
Despite several substitutions by the Cook Islands, PNG kept fighting hard to secure more points in the second half, with Gunemba scoring the fifth and final goal.
"I am super proud of them. I knew that coming into this game would not be easy, and we come in to set the rhythm of the game and we knew we have to work hard for it," said PNG defender and captain Lucy Maino, who received a yellow card during the match.
"Our normal routine before each match [is to] form a circle and give encouraging thoughts to all and sing songs of praise to calm our hearts and make us think positive before each game," she added.
Earlier the group A match saw Fiji beat Tonga 3-1.
Fiji's Cema Nasau score their first point, followed by Annette Nainima, and last was scored by Jotivini Tabua. Four substitutions were made by Fiji.
Tonga made only one substitution. They secured a point in the second half by Vea Funaki, but Ofaloto Laakulu received a yellow card.
In other games, Vanuatu had a goalless draw with Tahiti in torrential rain.
Vanuatu's assistant captain Elmah Aiviji said they had not had enough training back home, which meant they played a little bit rough in their previous matches, but they would learn from them in preparation for the next Pacific Games in 2023.