PNG streak to double relay gold
Papua New Guinea capped another spectacular evening on the track at the Samoa 2019 XVI Pacific Games, claiming gold in both the men's and women's 4x400m relays at Apia Park Stadium on Thursday night.
In front of a packed grandstand, PNG's women's and men's teams dominated each race, while Fiji won silver in both relays and Vanuatu collected bronze in each.
The PNG women's team of Leonie Beu, Isilia Apkup, Donna Koniel and Toea Wisil swept to gold in 3 minutes, 44.86 seconds.
Read more: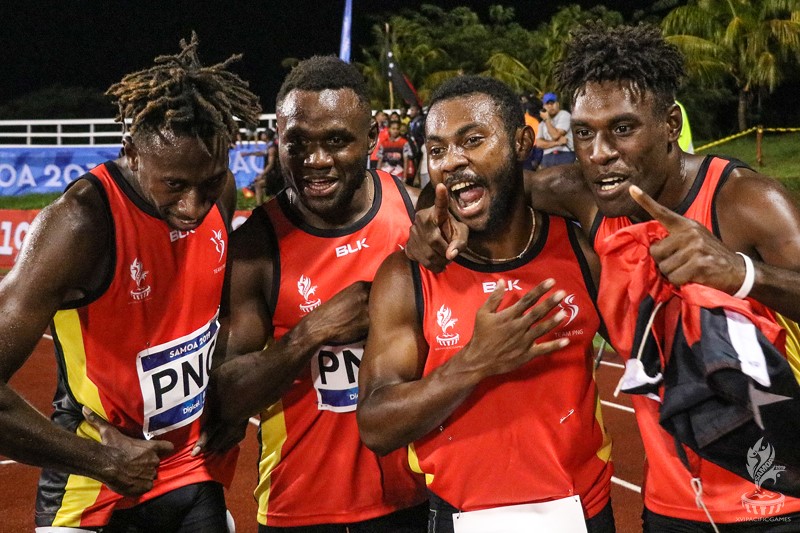 PNG's men's and women's teams won gold in both 4x400m relays (Credit: Pacific Games News Service)
Fiji's Heleina Young, Ana Baleveicau, Serenia Ragatu and Elenani Tinai finished in 3:46.72 while Vanuatu's Valentine Hello, Lespeth Kalopong, Lyza Malres and Roslyn Nalin crossed the line in 3:59.54.
"After our other races, our heads were up and we're happy to win this race against the other teams," a delighted Koniel (PNG) told the Pacific Games News Service. "We had good team spirit and I'm just really proud about this win. Especially because the boys won their relay too, it's a great achievement for all of us."
Fiji's Young said it was a good team effort. "We've been working for our own individual events so we gave our heart out during this last race. For all of our girls I was really proud of them and amazed by their power, and their strength, and it's all thanks to God."
Vanuatu's Nalin admitted that reaching the podium was a nice surprise. "We thought that we couldn't do it, even when trying so hard, but we made it. My advice to young athletes, if they want to represent their country, is that they must train hard and they must have self-discipline, to aim for a medal."
In the men's race, PNG's Benjamin Aliel, Emmanuel Wanga, Shadrick Tansi and Daniel Baul won in 3 minutes, 13.06 seconds. Fiji's Ratu Romuakalu, Petero Veitaqomaki, Samuela Railoa and Kameli Ravuci finished in 3:15.98 and Vanuatu's Tikie Mael, Andrew Mahittatan, Obediah Timbaci and Nathan Kalman crossed the line in 3:17.90.
PNG's Tansi revealed that his quartet's motivation was greater than winning. "We weren't running for the gold, we were running for our time. Our goal is to break the PNG national record, which was set in 1991 by Baobo Neuendorf and his boys. We could not do that this time, but we will try next time."
Fiji's Railoa said: "Our aim was to come out with the gold but unfortunately we had to settle for the silver. Most of my teammates are still high school students, I am the oldest, I'm 25, and I'm a school teacher so it's like they are my students. I'm very proud of them and our performance."
Vanuatu's Mael said his team was delighted to reach the podium in the relay after failing to do so in the individual events. "The only thing on my mind was to put my teammates in the best position to win a medal because, in the individual events, we did not get any medals. So the relay, was just for us to win that medal. Most of us, it's our first Pacific Games, so winning this, it's a really big deal for all of us."
Athletics concludes on Friday at Apia Park Stadium with action from 2.30pm to 6.45pm. Entry is $5 or free for children under 15.