PNG and Samoa dominate men's rugby league 9s openers
Day one of the men's rugby league 9s competition at the Samoa 2019 XVI Pacific Games saw a number of tight contests in torrential rain and mud at Apia Park Stadium, with Papua New Guinea and Samoa ending the day as the top ranked teams.
Fiji and Tonga are the other two nations vying for silverware, while Cook Islands, Tokelau and Solomon Islands dropped have out of medal contention.
Top seeds PNG, looking to defend their title from the Port Moresby 2015 Pacific Games, opened the day with a 10-0 win against Tonga in pool A.
Read more: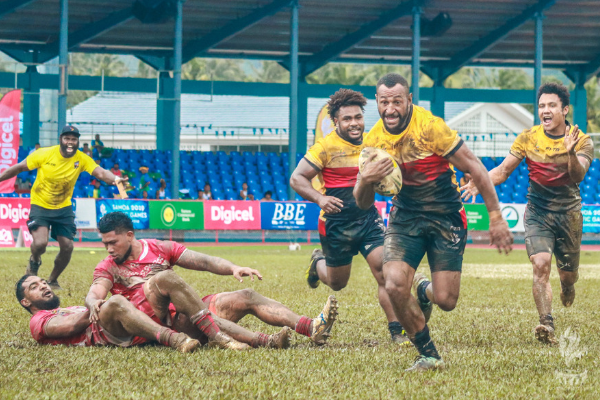 PNG impressed in wins over Tonga, Fiji and Samoa on day one (Photo: Pacific Games News Service)
Also in pool A, Fiji edged Samoa 14-12 in a tight contest early in the afternoon before the weather deteriorated.
In subsequent matches PNG beat Fiji 10-4 and Samoa beat Tonga 10-8.
In pool B, Cook Islands comfortably defeated Tokelau (22-4) and Solomon Islands (20-4) but lost their ranking round match to Tonga 8-4 and failed to progress to the semi-finals.
Despite the inclement weather, Apia Park Stadium was filled with supporters from all eight countries competing across the men's and women's events, including men's debutants Tokelau and women's debutants Niue and Solomon Islands.
Samoa's Jesse Matafeo remained positive that his team would win medals on day two, despite a loss to PNG in the ranking round match.
"We have the whole day tomorrow to regroup and come back strong. It's a massive experience for us Samoan boys to play in front of our people, it gives us that extra boost to aim high and go for gold," he said.
"It's my first time playing in the Pacific Games," Matafeo added. "I reside in Australia and we have put our hands up to come over to help our boys and our country. Like the saying goes in Samoa, 'E lele le lupe ae maau i le vai', or 'wherever we go, we will always want to come back to give back to our community and to our people'.
"We want to set that bar high for all the other Samoan athletes to go for gold and do it for their country. We have to start from the bottom, start with God and end with God," he said.
In Tuesday's semi-finals, PNG will play Tonga and Fiji will face off against Samoa. The winners of each will progress to the gold medal match and the losers will play for bronze.
The action kicks off at 2pm at Apia Park Stadium. Entry is $5 on the gate and matches will be broadcast and live streamed.