Platinum Sponsor SCB aiming for best Games
Samoa Commercial Bank is the official bank of the Samoa 2019 XVI Pacific Games, and such sponsorship is a key part of making the Games a success.
Samoa Commercial Bank, the Platinum sponsor, generously sponsored $2 million tala to assist the Government in preparations and the successful running of the Games. It was the first locally-owned entity to throw its support behind the Games.
It is a locally-owned and private bank, established in 2003. It is a well known and strong player in the banking industry, offering retail, lending and international services.
Managing Director Lemalu Ray Ah Liki says the Games stand to provide a lot of benefits for Samoa. "It will be a good opportunity to showcase our people, our talent, our culture, our hospitality and country to the world. It is such a joy to welcome friends from afar and I wish everyone participating success. I hope you will take lasting memories of our beautiful Samoa and may the 2019 Pacific Games be the best in the history of Pacific Games in the region."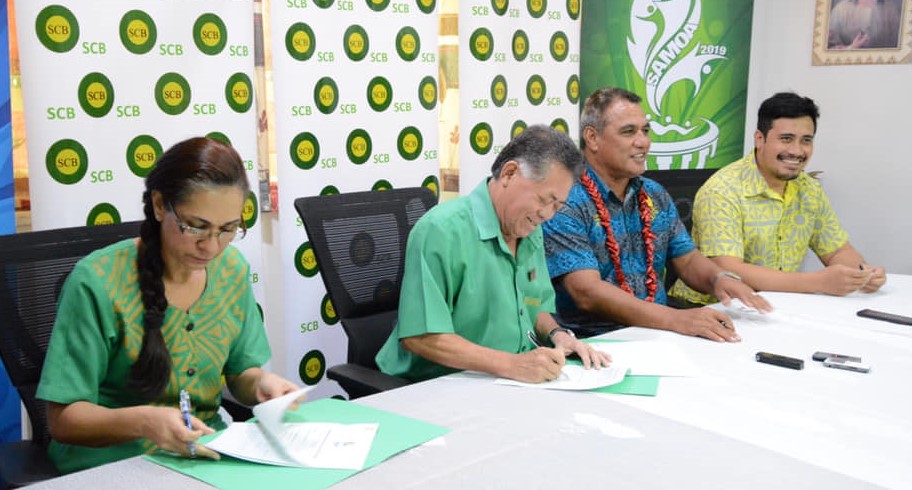 Photo: Managing Director Lemalu Ray Ah Liki (second left) at the sponsorship signing event with the Pacific Games office
As part of its Games presence, SCB will be offering full banking services at the Games Village, Faleula, and at Apia Park.
It employs over 100 people, and it operates under the slogan "We are Samoa's Best Choice for Banking." Its core values include serving customers promptly through honest, loyal and dedicated staff.
Customer service is at the very heart of everything they do and their staff are encouraged to maintain highest level of professional conduct at all times.
Electronic banking services include ATM, EFTPOS, internet and SMS Banking. SCB's ATM network covers 14 different locations and over 20 EFTPOS terminals.
Aside from its main office in Central Apia, the bank has seven branches in urban Upolu, five in rural Upolu and two on Savai'i Island. SCB is a leading bank in terms of service, reach and physical presence around Samoa and a service champion in promoting financial inclusion and financial literacy.