PNG's clean sweep on touch opening day
Papua New Guinea has dominated the opening day of touch at Samoa 2019 XVI Pacific Games, winning all their games in both men's and women's open.
The men's team won against Tonga 21-3; against Solomon Islands 15-2; and Cook Islands 7-3.
The women's team won 30-1 against the Solomons; 20-0 against Tonga; and 8-0 against host nation Samoa.
The majority of the PNG men's team arrived in Samoa only the night before competition began and were recovering from jet lag, their coach said.
PNG men's coach Paul Kasisi said the players were tired, but managed to push through with confidence and came out on top today.
As the first of six days of touch got under way, he said he was "very honoured and privileged to be representing my country and my family at the Pacific Games."
He'll be hoping to add to his country's tally of 40 medals, including 10 gold, at the Games.
Cook Islands, Fiji, Solomon Islands, Tonga, Samoa and Tokelau are all competing, with Tokelau being the only country not to field a women's or mixed team.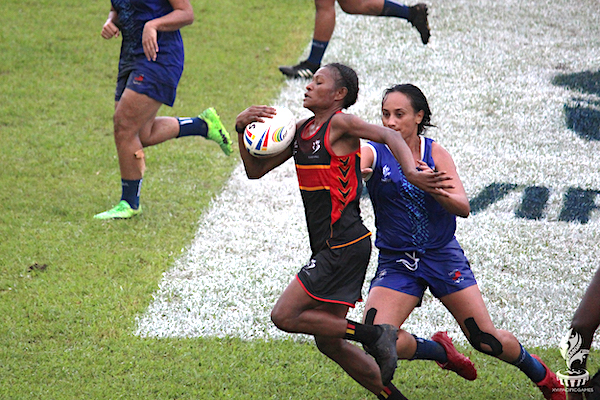 Cook Islands women's touch player Kura Moeka'a she said she was very proud of her players today, describing the day as a "great performance".
Although it was a bit of a shaky start as the team had also just landed in Samoa the day before, they managed to win their first game against Tonga 12-3 and drew their second game against Fiji 5-5.
Moeka'a had confidence in her Cook Island players, and their processes both on and off-field, but believed they need to work on their passes so that they are quick and not lazy. She also said they needed a stronger defence.
Samoa 2019 Pacific Games is her first international sporting event for touch, and her first time in Samoa. Her twin sister Rima Moeka'a is competing with her in the women's and mixed team.
Kura Moeka'a said: "It has been a tough but rewarding journey leading up to the Pacific Games".