Opening and closing ceremonies to showcase 'One in Spirit'
The opening and closing ceremonies for Samoa 2019 XVI Pacific Games will be spectacles that weave together Samoan culture, sports and the Games slogan "One in Spirit".
Both staged at Apia Park Stadium, the ceremonies are led by the Ministry of Education, Sports and Culture (MESC) and feature over 2,000 student performers from 16 secondary schools.
Planning began last year, with the Ministry using the Games slogan to develop the overall concept of the production.
Opening Ceremony
More than 2,000 students performing
First Games Opening Ceremony on a Sunday
3 acts featuring Samoan legend
Staged at Apia Park
Finishes with fireworks
Ticket information available in coming weeks
Featuring three acts in the Opening Ceremony, the legend of Leatiogie and his father Fe'epo, and the ancient game of Aigofie is woven throughout.
"The story portrays the spirit of blessings. The legend tells of how a son sought the blessing of his father before leaving for battle.
"It portrays many parts of our Samoan identity and spirituality… our ancient warrior spirit and the importance of being blessed before we set forth to fight and conquer," said Assisstant CEO, Papali'i Peone Fuimaono Solomona.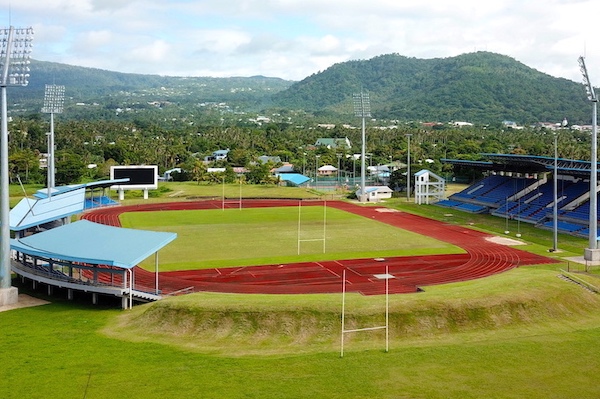 The legend was selected as the winning concept from the annual festival, Samoa Ne'i Galo, last year.
Over the past six months, MESC has worked hard to use the regional stage to convey the message of unity.
"There are many issues facing our region which require us to be united. The narrative calls for us all to be one in spirit to address these challenges," said Fuimaono.
Read more:
Rehearsals are well under way and excitement is growing. Last month a team of choreographers and trainers returned from a three-week training programme in Hunan, China, where they learned more about calisthenics and the technicalities involved in a large-scale production.
The shows include large props designed in Samoa and manufactured in China, adding another dimension to the overall production. A 20-minute fireworks display, courtesy of the Government of the People's Republic of China, will conclude both shows.
The Opening Ceremony will be held at Apia Park Stadium on Sunday 7 July, 2019. It will be the first time an opening ceremony for the Games will be held on a Sunday.
The Closing Ceremony will be held on Saturday, 20 July. Ticket information will be released in the coming weeks.