New Caledonia shoot their way to gold again
A trio of countries are dominating the shooting at Samoa 2019 XVI Pacific Games, repeating their podium finishes for a second day.
New Caledonia's team of Cedric Limousin and Johan Perchard won gold again on Tuesday, for the team event in the 25M pistol relay.
Limousin, who scored 504 in the individual events, said he feels "more relaxed" after a successful competition at Tafaigata Shooting Range.
Asked what he would do now, he said: "I'm going to see other sports with our friends. There's plenty of sports to watch."
Silver went to Maeva Normand and Freddy Yen Kway of Tahiti, while bronze went to Kevin Coulter and Douglas Creek of Norfolk Island.
Read more: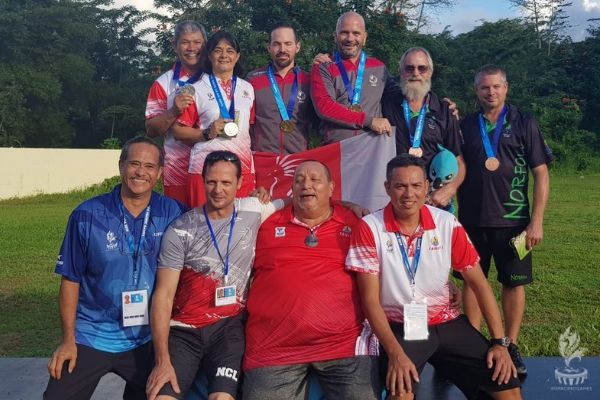 Medalists at Tafaigata Shooting Range. (Image: Pacific Games News Service)
Yen Kway, who won gold medal during yesterday's match, received silver in today's match with a close call of 502 points in individual event.
Bronze medalist Perchard scored 498 points.
Even though nerves and excitement were mixed amongst competitors and spectators, everyone had a great time networking and exchanging country badges as a memoir of Samoa 2019.
During the first day of shooting competition it was difficult for competitors from Tahitit, Fiji, New Caledonia, and Norfolk Island to adjust to the environment and facilities at the Tafaigata Shooting Range.
However, on the second day the shooters adjusted quite well and have so far enjoyed their shooting experience in Samoa.
"It's been a great experience. It's different to what we're used to at home and where we've shot in NZ and Australia.
"It's been really, really good. I'm disappointed in my performance. I've shot better but it's what it is on the day. There's nothing you can do about it. No point getting upset," said Coulter.
Medalist Norman had words of encouragement for women interested in taking up shooting. "It's not just a sport. It helps us to get more concentration, to be calmer. It's a good sport that you can get some good skills.
"We always have this kind of family feeling with the shooters and I don't see this in other sports. It's shooting where you'll find family and unity...One in Spirit!"