Samoa and Tonga reach tennis men's doubles semis
It was a stop-start day of tennis at the Samoa 2019 XVI Pacific Games on Wednesday, with showers again causing disruption, but the competition is now hotting up as the semi-finals approach.
In the men's doubles quarter finals, Tongan brothers Matavano and Semisi Fanguna upset second seeds, PNG's Mark Gibbons and Matthew Stubbings, to progress to the semi-finals. An excited Matavano Fanguna said: "This win means a lot. It's our second Pacific Games but our first time to progress to the semis".
It was a tight match decided by a super tie break (3-6, 6-0, 10-7) with a very tense crowd enthusiastically supporting their favourites. But the crowd's response couldn't compete with the roars that greeted the win of home town Samoan brothers, Marvin and Leon So'onalole when they defeated Vanuatu's Cyril Jacob and Clement Mainguy in another super tiebreak (3-6, 6-2, 10-8).
Read more: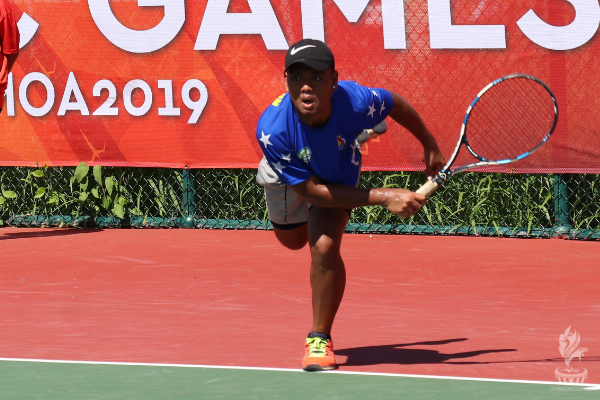 The action is hotting up in tennis as the doubles and singles events reach crunch time (Credit: Pacific Games News Service)
Leon So'onalole simply stated: "I'm just happy". In other men's doubles quarter finals, Robert Schorr and Colin Sinclair of the Northern Mariana Islands defeated Christian Duchnak and Larry Magalasin of American Samoa 6-3, 6-1. Meanwhile, William Bruchard and Marco Rouas of New Caledonia prevailed in another very tight match 6-7, 6-4, 10-4 against Guam's Camden Camacho and Daniel Llarenas.
In women's doubles quarter finals, PNG's Marcia Tere-Apisah and her niece, Patricia Apisah, narrowly defeated Northern Mariana Islands' Maria Heras and Carol Lee in a super tie break.
NMI coach Jeff Race said: "We had our chances in the second set, then didn't play a strong tie break". "I'm still nervous!," Apisah admitted as she left the court after the victory.
Samoa's Steffi Carruthers and Eleanor Schuster also progressed to the semi-finals with a strong win over Vanuatu's Marie Liwuslili and Rosalie Molbaleh (6-1, 6-2). PNG's Violet Apisah and Abigal Tere-Apisah defeated Zennia Leamana and Dorrine Ningalo of the Solomon Islands, 6-0, 6-1.
In the men's singles quarterfinals, top seed Sinclair (NMI) said he was pleased to beat Fiji's William O'Connell 6-3, 6-3. "I felt Will played well and his style of play challenged me more than I expect Stubbings (second seed, PNG) to do, but we'll see," Sinclair said. Mainguy (VAN) defeated Rouas (NCL) 6-4, 6-3 and Stubbings (PNG) defeated Camacho (GUM) 6-1, 6-0.
The women's singles saw all four top seeds go through to the semis in straight sets. A. Tere-Apisah (PNG) defeated Lee (NMI) 6-0, 6-4. S. Carruthers (SAM) beat Saoirse Breen (FIJ) 6-0, 6-0, while Kalani Soli (ASA) beat P. Apisah (PNG) 6-2, 6-3.
The last matches of a long day were the mixed doubles quarterfinals. The crowd was on the edge of their seats for the clash between Samoa's L. So'onalole and E. Schuster against Sinclair and Lee (NMI). The NMI team fought back after losing the first set 2-6 to win the second set 6-2, taking the match to a tiebreak. Despite the overwhelming crowd support for the Samoans, NMI won the tiebreak 10-3.
Sinclair said the only difference between the first two sets was who won the frequent deciding points in tight games. "We tightened our game and won the close points in the second".
Two of the mixed doubles quarterfinals were conceded without being played. Duchnak/Soli (ASA) defeated M So'onalole/S. Carruthers (SAM) and Baudinet/Anderson (COK) defeated Gibbons/V. Apisah (PNG).
The action continues from 9am on Thursday with semi-finals at Apia Park Tennis Courts. Entry is $5, or free for children under 15.