Netball still warming up at Samoa 2019 Pacific Games
Samoa and Papua New Guinea netball teams began their 2019 Pacific Games campaign strongly as they attempt to both better their podium finishes from four years ago.
Papua New Guinea, silver medalists at the Games they hosted in 2015, trounced American Samoa 116 - 10.
Despite their top players being away at the World Cup in England, Samoa (2015 bronze medalists) thrashed Norfolk Islands 94 -12.
Papua New Guinea dominated from the start, with scrappy and disorganised play from American Samoa.
The highlight for American Samoa was the 100% long distance shooting accuracy from goal shooter Sara Sucuturaga.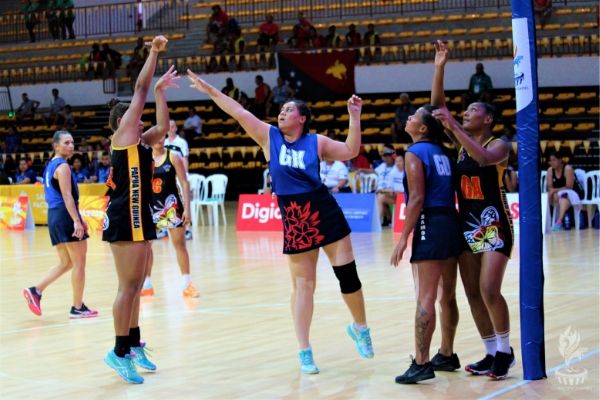 PNG thrashed American Samoa in their first game (Image: Therese Rivers/Pacific Games News Service)
The first quarter score was a one-sided 29-4 with PNG in the lead. In the second quarter American Samoa changed up their defense but to no avail. They added one goal during the quarter.
PNG goalies Jeperth Tulapi and Evanelliah Aua shot and rebounded strongly, building the score to 57-5 by half-time.
Throughout the third quarter, PNG looked to be on auto pilot as they shot another 30 goals to take the score to 87-7. Boio Peter had moved to goal attack and displayed graceful athleticism.
The fourth quarter was just court practice for PNG and they finished with a score of 116:10. PNG play Solomon Island on Tuesday night.
In the first pool B game, Samoa was strong from the get-go taking the opening pass from Norfolk Island.
Samoan goal shoot A J Savelio shot superbly after skillfully fed passes from the mid-court players.
Norfolk Island started making careless mistakes. By the third quarter Samoa tried out some different positions and scoring rates slowed initially, but nothing could stop Samoa. Alyssa NikoTuafao moved seamlessly into goals. The fourth quarter was uninspiring netball as it became nothing more than a training exercise for Samoa. The final score: 94-12. Samoa play Tokelau on Tuesday 6 p.m.
Tonga played Solomon Island in the second pool A game. Solomon Island had the first centre pass and Tonga turned it around setting the tone for the first quarter. Tonga were the taller team especially in the goal circles.
Solomon Island defenders went straight into a double defence on 188cm-tall, 18-year-old Tongan goal shooter Uneeq Palaui to try and stop the continual drop passes but height prevailed.
The final score saw Tonga win 94-24. Tonga play American Samoa on Tuesday at 1pm.
For Cook Islands v Tokelau, the audience came alive reacting to a more physical game. Cook Islands moved the ball more effortlessly, opening up the court and passing long.
Tokelau battled to get the ball into their goals and were forced to pass backwards often before gaining ground.
In the second quarter, Tokelau centre Parehuia Kitiseni intercepted strongly and Melehina Kilino-Lapana at wing attack was pushing hard to make space but Cook Islands as a team kept winning contests.
Cook Island won the third quarter simply by defending every single pass in every position on the court. The final score was 67-20.
Cook Island play Norfolk Island on Tuesday at 3.30pm.