Mulifanua venue is already a winner...
With just over four months to go till athletes take the plunge, confidence in the venue for Open Water Swimming is very high.
Mulifanua near Faleolo International Airport will also host Va'a and Sailing during the XVI Pacific Games from 7-20 July and is already ticking all the right boxes.
With the dramatic backdrop of the Apolima Strait and Savai'i, it is a magnificent environment for water sports.
"I think it's great," says John West, Technical Delegate for the International Swimming Federation (FINA).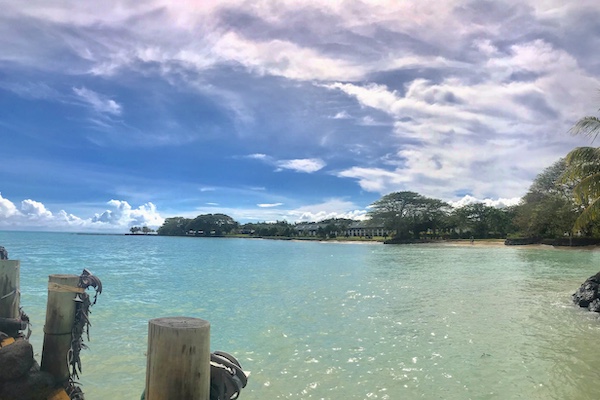 "The ability to use the same overlay as Va'a and some of the other sports means it's going to be simpler for us to work as a combined venue across all of those sports.
It makes everything easier for people."
John is from New Zealand and has ten years of experience at the very highest levels of FINA including Olympic and Commonwealth Games and Swimming World Championships.
He was in Samoa on a flying visit to evaluate the venue for the first time hosted by Jack Smith and Alex Mikaele from the Pacific Games Office operations team and Kerrie Punivalu, who wears many hats including Vice-President of both Samoa Swimming and the Samoan Association of Sports and National Olympic Committee (SASNOC), Sport Competition Manager for Swimming and Chair of the medical and anti-doping committee.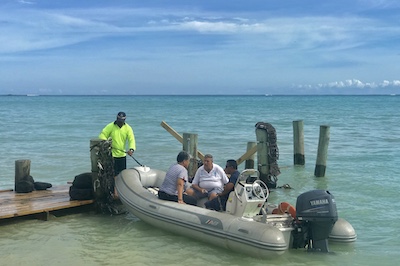 John and Kerrie test the waters.
"Today, we're here to look at the logistics of the venue," John continues. "We want to make sure, primarily, that the course is safe, that the water quality is good, so that we can run the competition in a way that's consistent with what we would do for another event at this level."
He feels the quality of the competition will match the beauty of the venue.
"The Pacific Games is quite high-league sport within the island nations and we see some strong competition," he says. "It'll be a challenge for those athletes, especially given that it's immediately prior to the world championships."
Now he's seen and successfully evaluated the venue, he is feeling very positive about the event and Mulifanua.
"It's something that, I think, will be a really, really nice location and I'm looking forward to it."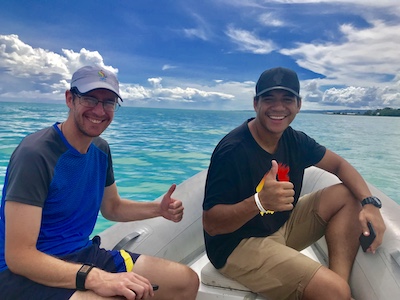 Jack and Alex from the Pacific Games Office operations team.

Mulifanua has important historical significance for Samoans. It is the site of the oldest evidence of human activity in the Samoan Islands, dating from 1050BC.
The sports:
Open Water Swimming will feature on the first day of competition on Monday 8 July.
Va'a starts the next day, continuing on 10, 11 and 12, 13 July.
Sailing also starts on Tuesday July 9 with competition running through till 19 July.